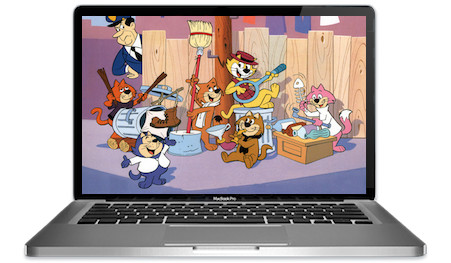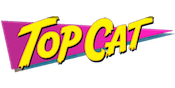 The whackiest cartoon cat to ever strut across an alley is back on the streets, and he's brought his whole gang with him. Now you can team up with Top Cat as he rolls through the neighborhood looking for free meals and cash prizes at every turn.
Tons of Bonus Features
Excellent Graphics
Very Entertaining
---
---
Review of Top Cat Slots
Like most people over 40, Hanna-Barbera are my favorite cartoon company of all time and I have probably spent thousands of hours watching their shows. Of course they will mostly be remembered for The Flintstones, but they were also responsible for creating other smash hits such as Scooby-Doo, The Jetsons, and The Smurfs.
To be honest, I'm not exactly sure why Blueprint Gaming decided to create an online slot machine based on the short-lived cartoon "Top Cat". It literally ran for a grand total of 30 episodes, so how many fans can this game be appealing to? Not to mention that it first aired in 1962, which was quite sometime ago. However, there were two feature length Top Cat films in 2011 and 2015, so perhaps those were successful in winning over some new fans.
To refresh my memory on this series I actually went back and watched some old episodes of the show, and I have to say that it was quite funny. Of course many of the topics that they touched on couldn't be done in today's cartoons, which makes it even better. Personally, I find it quite funny to watch a gang of stray cats constantly searching for free meals, girlfriends, and opportunities to gamble, but the days when shows like this were acceptable for children are unfortunately long gone.
So in a rare case of me not having any preexisting feelings for a slot game based on an old TV show, I'm happy to report that I'm coming at this game with an open mind. Not that it matters – biases really aren't a concern here because there are so many features rammed into this game that there's literally something for everyone.
The crew over at Blueprint Gaming totally hit this one out of the park and I think that it's one of the best television-themed slot games I've ever played. Here's why…
Screenshots
As you can see from the screenshots below, vibrant colors are splashed all over this game and it has a definite cartoon feel. It looks to me like the animations are a bit of a mix of the original show and the newer movies, which actually turned out pretty nice.
Please keep in mind that there are always characters walking onto the screen and tons of other graphics so it's hard to do this game justice with only a few images. You don't really understand what's going on until you play it and see for yourself.
Storyline
Manhattan has never been an affordable place to live – unless of course you live in Hoagy's Alley where cardboard boxes are free and there's all the trash you can eat. This is where Top Cat and his crew Brain, Choo-Choo, Spook, Benny the Ball, and Fancy-Fancy have all hung up their shingle. They're too poor to afford an apartment, and they're so street-smart that they know they don't need to pay for one.
So what do the members of Top Cat's crew get up to on a day to day basis? Well, they gamble, they womanize, and they scam any sucker who walks through their neighbourhood. What a great premise for a children's cartoon! I'd love to know how many petty crooks and second-rate casanovas got their start by studying T.C. and the boys.
All of the original characters are here, with some being saved to make appearances in the bonus rounds…including Officer Dibble, who's always trying to bust them and take them downtown. This slot stays true to the plot of the original cartoon, and all of the game features celebrate their whacky life in the alleys of the Big Apple.
In fact, I'm going to go so far as to say that Top Cat has one of the best storylines of any television-themed slot game I've ever played – there's always something going on that adds to the commotion.
Unique Symbols
The game's designers did a fantastic job on the unique symbols in this game, and were even smart enough to know that they should hold back Benny the Ball and Office Charlie Dibble for the bonus rounds. There's a perfect ratio of playing card symbols to character symbols, and the reels look perfectly balanced.
J (Jack)
Q (Queen)
K (King)
A (Ace)
Fancy-Fancy
Spook
Choo-Choo
Brain
Top Cat (Super Stacked)
Fish Bones (Wild)
Gang in Hoagy's Alley (Bonus)
The Fish Bones Wild symbol is the highest paying in the game with 500 coins for 5 in a spin, while Brain and Choo-Choo each give you 300 for the same. Top Cat himself slid right in between these payout amounts and offers 400 coins for Five of a Kind, with Spook and Fancy-Fancy finishing things off with 200 coins a piece for five across the reels.
These payouts are definitely low, but this is because there is so much cash to be won during the game's many bonus features. So if you're like me and willing to trade cash in the regular game for prizes in the bonus rounds, you'll be very happy with what's on offer here.
In addition to the above symbols there are also Dibble Wilds, Piano Wilds, Hot Dog Wilds and Water Wilds, with each of them triggering a different bonus feature. See – I told you there was a lot going on in this game!
Jackpots
There is a Top Cat Slots Jackpot available called the "Jackpot King Bonus" which can go off at any time once you hit 5 Jackpot King symbols on reels #1 to #5. This is a network jackpot that is available on many games, and it gives you the opportunity to win a massive cash prize if you're very lucky.
The Jackpot King is basically a totally different side game with a unique set of reels and symbols that you'll spin in the hopes of triggering the grand prize, which is always a different amount that is based on how much has gone into the pot. It can easily be over $100,000 so we're literally talking about life-changing money.
Bonus Rounds
There are a whopping five different bonus features in Top Cat Slots, with three of them technically being Free Games Modes which I will explain in the section below. You'll want to get comfortable while I go over everything because this game might break the world record for number of bonus rounds in a slot. The names of the five main features are:
Cash Picker Bonus
Maharajah Heist
Diner Free Spins
Dibble's Free Spins
Construction Site Wilds!
When you trigger the bonus area you are asked to choose one of the five plans that Top Cat has on his board, so you're in full control of which feature you're going to access. Once you've made your selection you can opt to "gamble" beforehand to try to gain access to a better bonus round with more prizes, or you can simply go directly to the bonus round that you picked by pressing "Collect".
Choose wisely because if you hit a booby prize it will boot you back to the regular game and you'll take whatever bonus cash you've earned as you leave. If you hit a booby prize before you've entered any of the bonus rounds you will receive a random cash amount as a consolation prize.
The Maharajah Heist is a fun feature where the gang is on some scaffolding outside of a building that has multipliers on every floor, increasing as you go up. You choose characters which will reveal numbers of how many levels they're going to go up the building, and the higher you go, the bigger your multiplier will become.
If you reveal "Collect" at any time you grab your winnings and go back to the regular game, but if you make it to the penthouse of the hotel you will then move onto the "Big Money Board" where Officer Dibble will chase the gang around until he catches them. The longer the gang's red die reveals higher numbers than Dibble's blue die, the more bonus cash you'll win.
The second feature is called the Cash Picker Bonus which is a nice little Pick Em' style game where you'll select bins that a garbage truck has scattered all over the street. Each bin will either reveal one of Top Cat's gang with a multiplier or Officer Dibble who will bust you and end the round. Once the feature is over you will gather all of your winnings and head back to the regular game.
True fans of the Top Cat cartoon are already going to know that a lot of their plans are made when illegally using Officer Dibble's police phone in the alley. In fact, the phone was such a centerpiece of the show that Blueprint Gaming decided to pay respect to it with their "Call or Nothing" bonus features. These will occur randomly in the regular game when Top Cat pops out of a garbage can and phones up a member of the crew.
Once triggered you'll receive one of four unique reel features which will play out while the reels continue to spin:
Benny's Colossal TVs: Benny appears and adds a "Colossal TV" that adds a bunch of TV symbols to the reels by pushing buttons on his remote control. The TVs will be hiding profitable symbols underneath them for you to cash in on.
Brain's Water Wilds: Brain appears and opens fire hydrants that have appeared next to each reel, which will turn random symbols into Wilds as he aims the water at them. He will soak all 5 reels before leaving.
Choo's Piano Wilds: Choo stumbles onto the screen and then Brain pulls a rope and drops a piano on him. As the stars spin around Choo's bump on his head they turn random symbols on the reels into Wilds.
Spook's Mice as Nice: This is the only reel feature that will occur once the reels have stopped spinning. Top Cat hangs up on a call from Spook and blows his whistle to have mice rearrange all of the symbols on the board to make a new winning combination. He will then keep blowing his whistle and rearranging symbols to pile up winnings until Officer Dibble rolls in and breaks up the shenanigans.
In addition to all of this there is even an extra mini-bonus feature called Fancy Fancy's Hot Dog Respins which results in a hot dog cart being wheeled out with a full stack Wild symbol. The hot dog cart starts on reel #5 and moves across the reels each spin as Fancy Fancy pulls it with his fishing line, with the Stacked Wild giving you more chances to win big as it makes it's way across the board. This is triggered by the Hot Dog Wild symbol falling in all 3 positions on reel #5 during any spin.
Free Spins
Why stop at offering tons of bonus features when you can offer tons of free games too? There are three different ways to get yourself some Top Cat free spins in this game, and all of the features are totally unique and fun. As mentioned above, they're all accessed in the Master Plan Bonus Area where you will select a plan to reveal a bonus feature.
First off we have Officer Dibble's Free Spins which gives you a new rainy background with a different set of game reels. As you spin you'll want to see lots of Dibble Wilds because they hang around until the end of the feature and even move freely around the board stopping at new positions every spin. And if 2 Dibble Wilds meet up in the same square they will combine to form a Stacked Wild that covers the entire reel.
If you happen to be hungry, Diner Free Spins will provide you with an all you can eat feast that's sure to satisfy. You and the gang set up shop at Mario's Diner where the chef rings a bell while the boys dig into their free meals…and we all know that free meals always taste better than the ones you have to pay for.
There is a section of dinner orders along the righthand side of the screen, and every time a special Scatter symbol falls on reel #5 an order will fall down and new meals are given out to the gang. You will increase your free games multiplier with the amounts found in the Scatters as they fall, and the round is over once the final ticket has dropped.
Finally, there is a 3rd free games option called Construction Site Free Spins which will of course take you to a building that's under construction, but it has 5 sets of reels with decreasing amounts of Wild symbols from top to bottom. You start on the ground floor and spin the reels in hopes of collecting enough Top Cat images to bump you up to the next floor of the building, and the corresponding set of reels that will have more Wild symbols on them.
Each time you go up a level you will be given extra free spins to assist you with your assent up the building, but if you run out of them your round is over and you'll collect whatever winnings you've stacked up and go back to the regular game.
Graphics
I simply can't overstate how great the graphics are in this game, or how many different animations are used throughout. There is always something going on whether it's wonky hot dog carts, symbols swirling around the board, or Officer Dibble dropping in to kick Top Cat off of his police telephone. This game is literally filled with non-stop action.
In all my years of playing television slots online, I don't think that I've ever played a game that truly felt like a tv show until now. The time and effort that it must have taken to create it all must be astounding. I won't tell you anymore because I don't want to ruin the fun you'll have seeing it all for yourself.
Audio & Soundtrack
The soundtrack during the regular game is simple but extremely pleasing to the ears, and it takes you back to the Big Band era of the U.S.A. Each spin has a different swinging drum beat with sassy cymbals that will have you nodding your head in absolute approval. There are about 4 different beats played on different sized cymbals and the game does a great job of mixing them up as you spin. The beats are accentuated with swinging music if you hit a large payline win, and it's a welcome sound every time you hear it.
All of the bonus rounds have a unique song that plays for its duration, and all of them are inspired by that old '50s Swing. I have no idea where they got all of this music from, but I'm certainly happy that they went to all the trouble.
In regards to sound effects, there are some great old school Hanna-Barbera audios in the game like studio audiences applauding gleefully, or when two bonus symbols fall on the reels and you don't hit a third there's an audio of slipping on a banana peel and a deflated crowd groaning, "awwww". There are way too many other audios to get into, but all of them fit perfectly in whatever situation that they're in, with nothing striking me as annoying or unnecessary.
Throughout the game there are also numerous quotes from various characters such as, "Delightful!", "I got ya this time, Top Cat", and "Errr I dunno what to say." However, the one line you'll want to hear as much as possible is T.C. belting out, "Good news boys, we've been paid!"
Conclusion
It's extremely rare that I can confidently say that a game is going to appeal to the vast majority of players, regardless of whether or not they were fans of the original source material. However, with Top Cat Slots I can say with absolute certainty that you should check it out because 99.99% of players are going to love it – the game simply has too much going on.
Although maybe I'm being presumptuous and assuming that everyone is like me and loves tons of different bonus features and excitement, so I guess if you're someone who hates being entertained you'll want to give this slot a pass. Seriously though, I just can't think of a problem that someone could possibly have with this game – it's amazing.
With nonstop bonus rounds and reel features, tons of free spins and respins, and the chance of hitting a massive progressive jackpot, Top Cat is hands-down one of the best online slots I've played in years. Not to mention that it has fantastic graphics, funny audios, and a swinging soundtrack that will keep you moving.
So whether you're an old fan of the show or new to the series like I was, I strongly recommend that you try out Top Cat Slots and experience all of the action for yourself. You won't want to miss out on the fun…or a big pay day.
Bonus Video of Top Cat
After such a glowing review I'm sure that most of you will want to learn even more about the original television show, so here's a great little documentary called, "Back to Hoagy's Alley: The Making of Top Cat", which was included in the box set of DVDs that was released a few years ago. It dishes out on all of the original cast members and what went on behind the scenes. Enjoy!