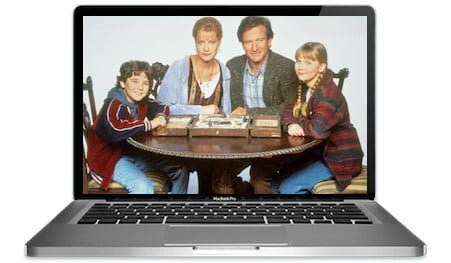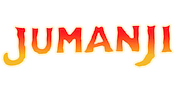 It's twenty years later and we're heading back into the jungle to play an ancient board game with Jumanji Slots from NetEnt. It's just as crazy as the film so watch out for the wild animals trying to take a bite of your bankroll!
Amazing Graphics
Tons of Bonus Features
Non-Stop Action
---
---
Review of Jumanji Slots
Family-friendly adventure films were all the rage in the mid-1990s and Jumanji was a perfect example of what audiences wanted to experience at the time. The critics hated it but in those days that usually meant that it was going to make lots of money since their opinions were so far out of step with the tastes of the general public, (it ended up finishing 10th at the box office that year).
When we heard that this machine was being released we assumed that it was going to be based on the recent reboot, but surprisingly it's actually rooted in the 1995 Robin Williams version and not on Jumanji: Welcome to the Jungle. This was the one that was released in 2017 starring Dwayne "The Rock" Johnson, Jack Black, and Kevin Hart, (although one can imagine that they'll quickly launch something for the reboot if this version is successful).
As soon as you load up this game you'll see that it's not like most of the others out there due to its 3-4-5-4-3 reel format and this style of machine can definitely take a little getting used to. It seems like there are a growing number of new releases that mess around with the reels these days so maybe it's just a fad.
In any event, this honest review of Jumanji Slots will tell you everything you'll want to know before playing it for yourself, including how to trigger the bonus features and win free spins. It's jam-packed with action so strap yourself in and grab your tranquilizer gun – these animals are restless.
Screenshots
This title has crystal clear graphics with extremely detailed backgrounds and as you can see in the third screenshot, occasionally it has alligators jumping at the screen to attack you. There are a lot of moving pieces in this beautifully-designed game and these images really don't do it all justice: you'll be blown away the first time you play.
With only 36 ways to win you'll want to check out the screenshot of the diagrams of the paylines so you know every winning combination that's available to you. Click them to enlarge.
Storyline
In 1889 a chest was buried by two boys in the hopes that it would be left forgotten until the end of time but it didn't even stay hidden for 100 years, and was found in 1969 by a young boy by the name of Alan Parrish. He had followed the sound of thundering drumbeats to a construction site which then led to him unearthing the buried relic. In the chest he found the Jumanji board and this is when things got really interesting.
He plays the game with his friend, Sarah Whittle, in his family's mansion and they're astonished as they watch the pieces move themselves around the board. With each roll of the dice things get crazier and the animals from the game appear in the mansion, and Alan gets sucked into the board as Sarah runs off scared, leaving him trapped in the other dimension.
A full 26 years later a pair of orphaned children, Judy and Peter Shepherd, find themselves living in the Parrish mansion with their aunt. They find the game in the attic and start to play it, releasing animals from the board as well as Alan who's now grown into an adult. The three go off to learn what happened after Alan's disappearance and soon discover that in order to return things to normal they need Sarah to finish the game. Reluctantly, the post-traumatic stress-riddled Sarah agrees to play and the wildness of the game quickly overtakes the mansion yet again.
A series of ridiculous events unfold, like the release of a big-game hunter called Van Pelt, the appearance of a troublemaking Pelican who steals the game, and even the arrest of Alan himself. The movie has many twists and turns as the group tries to retrieve Jumanji and restore order to the universe: expect a happy ending.
This slot from NetEnt does not touch on any of the storylines from the movie or its characters and instead focuses on the Jumanji board and the wild animals that are conjured up by its magic. After a while you forget that there's supposed to be humans in this game but until then you'll be quite conscious of the fact that there's no real plot. Thankfully, the action eventually takes over to transport you to a deeper corner of the jungle.
Unique Symbols
Prepare to be disappointed because we have some very bad news for you: there are zero characters from the original film included in this game, and yes, that includes the wonderful Robin Williams as Alan Parrish. It's not clear if NetEnt even tried to assemble the cast again for this release but heaven knows they should have at least tried.
It would have been fantastic to see Bonnie Hunt as Sarah Whittle, Bradley Pierce as Peter Shepherd, and a young Kirsten Dunst as Judy Shepherd. Even if they just threw in David Alan Grier as Carl Bentley it would have added some legitimacy to the symbols and made them 10 times better.
Since there aren't any humans on the reels, let's look at what we did get.
J (Jack)
Q (Queen)
K (King)
A (Ace)
Lion
Rhinoceros
Crocodile
Stork
Wild symbol ("WILD" engraved into a wooden plaque)
Jumanji Game Box (Scatter)
The Lion is the highest paying symbol in the game giving you 140 coins for five across the reels in a spin. This is followed by the Rhino, Crocodile, and Pelican which dish out 50, 30, and 25 coins respectively for 5 of a Kind.
Strangely, the Wilds and Scatters don't pay out anything for 3 or more of them in a spin, which is even more dumbfounding when you consider the fact that there's only a total of 10 symbols in the entire game. However, it might actually make sense when you see how many free spins it pumps out – as you'll read below, there are loads of freerolling opportunities so they do have to be paid for somehow.
Jackpots
The "real" prize in the original film was Alan getting himself released from the board game and being able to return to his normal life. In this game the real prize is the fun of watching animals run around and trigger bonus features because there sadly isn't a Jumanji Jackpot to chase after.
Bonus Rounds
A blockbuster release such as this has to have a massive bonus round and Jumanji Slots gives us exactly that every time 3 or more Scatter symbols fall in a spin. You'll be taken to your own private board where you roll dice to move your game piece along the trail, scooping up whatever prizes you land on along the way. The number of scatter symbols you hit to trigger the feature dictates the number of rolls you'll get:
3 Scatters: 6 dice rolls
4 Scatters: 7 dice rolls
5 Scatters: 8 dice rolls
The crazy thing about this machine is that once you're in the bonus area you could be in there for a very long time because you can trigger numerous rounds of free games and each of them take a while to play through. Obviously it's rare to go on extremely long freerolls because usually you'll just land on sections of the board that give you coin wins and whatnot. However, if you go on a hot streak and keep hitting re-rolls of the dice you can definitely stack up a nice pile of bonus cash while you're in there.
In addition to this insane bonus round there are also numerous reel features that can be triggered during the regular game that will pad your balance. First is the Sticky Vines feature which will see green vines sprout through the reels to grab ahold of all the winning and Wild symbols at the end of a spin. They then hold tight as the reels re-spin with the high-paying symbols locked in place to hopefully give you an even better payout when the other symbols fall again.
Watch out for natural disasters because Monsoon Wilds can be randomly triggered to cover 1 or 2 entire reels with Wilds while the others spin normally and then stop to give you a large win. Also, animals are unpredictable so you'll never know when you'll see a Wild Stampede across the reels, which has rhinos running diagonally across the screen to add anywhere between 4 and 9 Wilds to your spin result.
The last balance-boosting feature is called Monkey Mayhem and it can be triggered after any spin in regular mode, even a winning one. Those mischievous monkeys will spring from the corner of the screen and climb on the board to grab random symbols and shuffle them around into a new configuration that will give you a guaranteed win. Cha-ching!
Free Spins
The Jumanji bonus board contains tons of different goodies like coin wins and extra rolls, however, the four sections in the corners can award you with a unique free spins mode:
Vines Free Spins: 10 free games with multiple Sticky Vine Re-spins
Monsoon Free Spins: 7 free games with Monsoon Wild capability
Monkey Free Spins: 6 free games with Monkey Mayhem symbol shuffling
Stampede Free Spins: 5 free games with Wild Stampede capability
The board also has a Mystery Feature section that triggers a carousel if you land on it that could award you even more free games, coin wins of 2x to 10x your bet amount, or additional rolls of the dice. This machine is absolutely crammed with free spin opportunities and fun extra features so you'd better be ready for action.
Graphics
The graphics in this machine are of an amazing quality and are a step up from the same type of great visuals that NetEnt used in Jimi Hendrix Slots, which set the bar at the time. The way the vines blast out of the reels to wrap around winning symbols when a feature is triggered will remind you of how the flowers flawlessly burst through the reels in the Voodoo Child's version. It really is a beautiful special effect.
The background in Jumanji is one of the most detailed around and you can get lost in it if you stare too long. There are 3 monkeys who sit in the bottom left corner of the screen in the kitchen waiting to wreak havoc, and with their tails darting around and constantly fidgety movements, they're always ready to run onto your reels and cause trouble. In other areas there's a swaying chandelier with flickering flames and beautiful bookshelves and armoires, all being hugged by lush green vines: NetEnt did an amazing job of transporting us to a fantasy land.
Whenever the various reel features are triggered the animals involved will storm onto the screen and smash up losing symbols in a crazy way that'll improve your payout amount. The graphics of this happening are absolutely nuts and always welcome to see. Sadly, there are only a few animations on the symbols in regular winning paylines, although they do look good when activated.
Since this title was released in 2018, the graphics look great on all devices, including smart phones and tablet computers, so you can play Jumanji Slots on any gadget of your choosing.
Audio & Soundtrack
African rhythms and drums drive the soundtrack of the main game as horns blast to punctuate wins on the reels. If you just sit there for a minute and listen to the song it's quite tribal and menacing, which sets the perfect mood for the jungle-themed adventure. Also, it's quite a long tune and you can't notice when it loops: there are break downs, solos, and the audio engineers at NetEnt deserve high praise for their efforts.
The actual sound effects of crashes, smashes, snarls, and roars all come together perfectly to set the dangerous tone of the dark fantasy world. Other noises like the dice rolling on the game board and vines rustling in the wind are so real it's like they're happening in the room right beside you.
Every other audio in the game is perfectly fine and none of them should bother you whatsoever.
Conclusion
If you like rollicking, rumbling, non-stop adventure, Jumani Slots is going to be just what the doctor ordered. There's always something squirming in the background, running onto the reels, or jumping up at the screen, ensuring that there's never a dull moment while you're chasing big cash prizes.
The Jumanji bonus board is awesome and truly is a "game within a game" that can really pump up your balance: it definitely makes up for the fact that it's not attached to a network jackpot. However, it's very sad that NetEnt chose not to include any of the original characters from the film, but you do eventually get lost in the action as you play from the perspective of Alan, trapped in the jungle fantasy.
Everyone should want to try this one out due to it's amazing graphics and vibrant backgrounds because the design is absolutely stunning. And with so many angry animals ready to throw around bonus cash, the excitement just never stops.
So keep your ears open…it won't be thunder…it'll be a STAMPEDE!!
Welcome to the Jungle.
Bonus Video of Jumanji
We haven't called on the guys over at Cinema Sins in a while so let's see what they have to say about Jumanji. These are the dudes who break down an entire film in a few minutes to highlight its problems – maybe this time they'll actually like the movie that they're reviewing! Ummmm probably not…