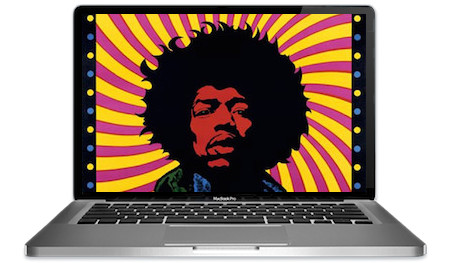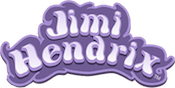 It's time to go back to the Purple Haze of the 1960s with Jimi Hendrix Slots and rock out with the master of the electric guitar. Float through Electric Ladyland listening to fantastic music while you stack up big cash prizes.
One of the Best Musicians Ever
Groovy Game Graphics
Loads of Free Spins
---
---
Review of Jimi Hendrix Slots
Well I stand up next to a mountain…and I chop it down with the edge of my hand… As a young teenager I remember being a little scared and confused by Jimi Hendrix's music. It was nothing like the sweet sounds of the Monkees, who had become the musical darlings of America due to their simple, non-offensive songs. My entire world changed when I was old enough to understand Jimi's ultimate question, "Are you experienced?"
From about the age of 16 until today I have enjoyed Hendrix and his sonic, psychedelic sound. It's hard to believe that it was so many years ago and that he was only alive long enough to release three studio albums. He, like Janis Joplin and Jim Morrison, were taken from us far too early at the age of 27, so we're all left wondering just what he could have achieved musically if he had avoided the pitfalls of stardom.
Since this review is being written by someone who actually remembers the 1960s, you can darn well expect that it's going to be showing some bias for one of the world's greatest guitar players! The good news is that anyone else who was alive in the 1960s will know exactly why this. For all of you youngsters out there, I strongly recommend listening to some Jimi before playing this game. After all, he is one of the greatest guitarists of all time.
This expert review of Jimi Hendrix Slots will tell you everything you need to know about this psychedelic release and explain why you'll want to get experienced.
Screenshots
Get ready to be wowed by the graphics and images in the screenshots below because this funky machine is absolutely stunning from a visual perspective. These screenshots really don't do the effects justice since you can't see all of the crazy animations that go along with them.
NetEnt obviously did a terrific job of setting the tone and mood with the symbols, backgrounds, and colors, which all add up to that nostalgic feeling of "free love".
Storyline
What would have happened to the world of music if Jimi Hendrix had ended up having a successful military career after he enlisted as a paratrooper in 1961, instead of being discharged from the army a year later? Would anyone have discovered the musical benefits of distorted feedback or utilized the wah-wah pedal to such great effect? Thank goodness we'll never need to worry about the answers to these hypothetical questions.
Jimi had been playing the guitar constantly since he was 15 years old and when he was finally out of the army he was rewarded greatly by having the opportunity to play in the bands of popular acts like Little Richard and The Isley Brothers. Hendrix then went on to form his own group, write his own music, and rocketed to the top of the bill for many major music festivals of the day. Sadly, fame and fortune finally took it's toll on his psyche and he died in 1970 after taking too many Vesparax sleeping pills in London, England.
The storyline in this machine focuses on rocking out with Hendrix and his amazing catalog of songs while floating through 1960s psychedelic imagery and colors. There is also a focus on "Flower Power" but in order to truly appreciate it you'll have to take a spin on it for yourself.
Unique Symbols
Normally we would take objection to the unique symbols in this game but it's ultimately so cool that we're going to let it slide. Often we complain when newer releases rely on 10s, Jacks, and Queens as symbols but there are rare cases when we give it a pass due to the game's overall design, and this is one of those times.
Many fans will argue that NetEnt could have used some album covers and other iconic images of Jimi as symbols but that might have actually taken away from this particular machine and distracted players. There's already a heckuva lot going on with the graphics every time you spin the reels.
All in all they did a great job of utilizing symbols that might not necessarily directly relate to Hendrix or his career but that certainly add to the overall 60's look and feel.
10
J with Guitar Strings (Jack)
Q with a Feather (Queen)
K with Jewelry (King)
A with Stars and Stripes (Ace)
Eye
Flower
Record Album
Heart
Peace Symbol
White Guitar
Red Paisley Guitar
Jimi Hendrix (Wild)
Jimi Hendrix with White Guitar (Scatter)
The two highest-paying symbols in the game are Jimi himself and the red and white guitar, with both paying 400 coins for five of a kind. After that we have the white guitar paying 200 coins, the peace symbol paying 150, the heart paying 125, the record album paying 100, the flower paying 90 and the creepy eye paying 80, with all numbers based on hitting five of them in a row.
Jackpots
There isn't a Jimi Hendrix Slots jackpot available but most players probably won't care: there's so much other fun to be had it's doubtful that anyone will even notice. Perhaps one day NetEnt will link all of their music-themed machines to a "musical progressive jackpot", but for now there is nothing.
Bonus Rounds
Those who don't like overly-complicated features will be happy to know that the Jimi Hendrix bonus round is a no-nonsense, straight forward "Pick and Click" style of game. It's triggered when you hit three or more Scatter symbols on reels #3, #4, or #5, and you are then taken to a backstage area where you click on guitar amplifiers until you have collected three of the same symbol, which will award you the associated prize.
There are four different options available, with three of them being free games and the other one being a "Coin Win". The coin win simply gives you a random multiplier of 8x to 30x on your original triggering wager without any hoopla or fanfare.
Anyone who likes a little bit of pizzaz in their gambling games might feel disappointed that there aren't more special features to access and this is certainly a valid criticism.
Free Spins
The bonus round is going to be your real source of free spins in this game and there are three different packages that can be won during the Pick and Click bonus round:
Purple Haze Free Spins
Crosstown Traffic Free Spins
Little Wing Free Spins
These free games modes are similar but they do have some differences. Purple Haze gives you 6 to 12 spins with the 10, J, Q, K, and A all turning into Wilds for the duration of the round. Crosstown Traffic gives you a firm 6 free spins with Stacked Wilds covering different reels and finally, Little Wing gives you 6 to 12 spins with 3, 4, or 5 random Overlay Wilds for every spin.
In addition to the above, there are two cool reel features that give you mini-bonuses. First is the "Purple Haze Feature" which occurs when the Purple Haze symbol appears on reel #1. This can then change any 10, J, Q, K or Ace symbols into Wilds for that spin result and of course is a Wild symbol itself, which usually results in a very nice win amount.
The other instant reel feature is the "Red Guitar Re-Spin", which occurs after four or more Red Guitar symbols fall anywhere on the reels during the regular mode. This gives you one free spin or "re-spin" but if more Red Guitars fall during that spin you will be given another one. This can happen many times in a row and it's a nice little add-on that keeps the action flowing.
Graphics
Not to overstate the facts, but the team at NetEnt should win awards for the design of this release – it honestly feels like a slot game from the future (as well as the distant past). Payline wins are highlighted by flowers shooting over the symbols in an explosion of Flower Power, with the visuals transporting players directly to the 1967 Monterey Pop Festival, (unfortunately in spirit only).
Also, when Album symbols are used in a payline win they start spinning and flip sideways so they look like the planet Saturn, which is quite "trippy", to say the least. When you have Eye symbols involved in a payline win they look from side to side and blink, which is cool but also kind of creepy: there's just something about the way they look around that is quite unsettling.
So whether it's spinning symbols, psychedelic multi-armed Jimis, or jamming Jimis popping out of bunches of flowers and rocking out on a guitar, this machine is going to have your full attention on its graphics at all times.
Audio & Soundtrack
The way the soundtrack works in this release is fantastic. Unlike some other music-themed slot games, in Jimi Hendrix the songs constantly play without stopping – even when you push the button to stop the reels. The tunes flow fluidly along as you spin and they're even perfectly mixed into one another so there's no dead air between songs. As of April 2019, this is one of the only games that has a soundtrack that performs this way so players need to understand that this is very special.
The songs featured in the game are:
Purple Haze
Foxy Lady
Voodoo Child
Little Wing
If 6 Was 9
Third Stone from the Sun
The payline wins are accentuated with awesome guitar blasts from various Hendrix songs and we even get an occasional "Yaa Yaa Yaaaa!" sample from Crosstown Traffic and a "Look out baby!" from Purple Haze as each Scatter symbol falls onto the reels. They're used sparingly and they're the prefect accentuations to the action.
Conclusion
Many fans, including us, were ecstatic with what NetEnt did for the Guns N' Roses slot game and this praise definitely needs to be echoed for Jimi Hendrix, which is without a doubt, the future of online gambling machines. The game is not only cool and fun, it is respectful to his memory and doesn't feel exploitative in any way. One wonders if his surviving relatives had the final say in how it was presented or if the software developers just knew exactly what fans would want. Either way, this is one foxy lady.
Even if you're not a huge fan of Hendrix's music you should still check out this release, if only for it's 60's psychedelic imagery, amazing graphics and animations, and futuristic game-play. This machine will appeal to players of all backgrounds and interests – it's just that good. It will definitely have everyone feeling "experienced".
Now… excuse me…while I kiss the sky…
Bonus Video of Jimi Hendrix
It took a while to find the perfect Jimi Hendrix video to finish this review with, but the hard work paid off. Here is a fantastic live performance in Stockholm from 1969 – the video and audio quality is pretty darn good for being so old. So sit back, grab a beverage, and enjoy some classic Hendrix jams…and dream of butterflies, zebras, moonbeams, and fairy tales…