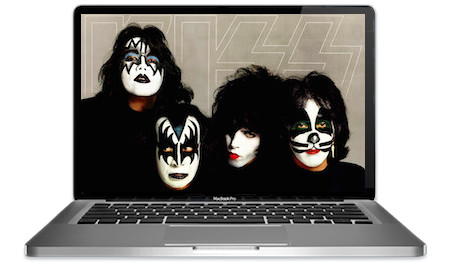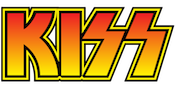 You wanted the best, and you got the best! The hottest band in the world…KISS! Unfortunately KISS Slots hits plenty of sour notes that might have fans throwing tomatoes and heading for the exits. Watch out: it can be a parasite!
Crazy Set of Collosal Reels
Stacked Wilds
Very Little Ace and Peter
---
---
Review of KISS Slots
Every Halloween between 1979 and 1982 I had to go out dressed as Paul Stanley because my mom couldn't get Gene Simmons' make up right. Every year the neighbourhood kids would make fun of me because Paul was the weakest one in the group and they were all dressed as the cooler band members of Ace, Gene, or Peter.
It didn't help that mom couldn't get the makeup quite right and the star was so big that it took up half my face. Technically, I think I looked more like a black and white cookie than the Star Child.
This devastating childhood trauma aside, I grew up loving the band as a youth and had all of their albums and toys. However, I drifted away when Ace and Peter left the band, then the remaining members took off their makeup in the early 1980s, and new bands like Iron Maiden, Judas Priest, and Metallica came on to the scene and revolutionized Heavy Metal. Of course, they did briefly come back on my stereo in the mid '90s when they did their (first) reunion tour with the makeup.
I tell you all of this because I want you to know that I am a huge KISS fan who was very excited for this to come out. Unfortunately though, this is hands-down one of the most disappointing releases I've ever played in my life. Don't worry, this review will break down every problem with it while trying to find silver linings wherever possible.
Most will agree that this was just a straight up cash-grab by KISS Inc. and WMS Gaming. They basically took the land-based machine from Las Vegas and launched it as an online version without changing anything: and as all experienced players know, there is a helluva lot of difference between the two.
So let's Unmask this disappointment to see why it's a Destroyer that won't pull the trigger of your Love Gun…
Screenshots
The screenshots below are going to excite you at first glance and these feelings are absolutely normal – it's KISS after all! And as KISS fans, we get very excited anytime we see the band or their logo…it's just how we've been trained to feel by their publicists over the last few decades.
However, the difference between this creation and everything else with the KISS brand name on it is that your excitement is going to quickly wear off and you will soon be disappointed. Picture how you would feel if you were unboxing KISS action figures in 1978 and it's basically the exact opposite of that.
One important thing that you will want to pay attention to is the insane amount of paylines covering the two unique sets of reels so you can begin to study what's going on and how to win. The left side consists of a set of 5×4 reels, while on the right there is a set of COLOSSAL reels that are 5×12.
We've never been able to wrap our heads around all of the potential win lines for a 243 payline slot machine and we weren't much better with the 100 that KISS has an offer. Any game over 64 lines can get confusing quickly and they almost aren't any fun to play because there's just too much going on to keep track of. Although, thankfully in this one you can alter the number covered, but it can only be either 20, 40, 60, 80, or 100.
Click on the images below to enlarge them to get excited and set yourself up for disappointment.
Storyline
The world of Rock n' Roll was changed forever when the members of KISS decided to follow in the footsteps of Glam Rock pioneers like David Bowie and Alice Cooper and put on makeup and outrageous costumes. They took glam to a new, heavier level, and played the role so well that they had fans believing that they were truly from outer space – or demons straight from hell. No one knew quite what to think of Ace Frehley, Peter Criss, Gene Simmons, and Paul Stanley when they sang, "I'm 93, you're 16! Can't you see I'm goin' blind!"
Although their songs were simple technically, their musical anthems were able to harness the rock ethos of the 1970s like no other band before or after them. They saw the changes coming to popular culture as the "Flower Power" of the 1960s began to dissipate in the early part of the decade.
When they commanded fans to "Shout It Out Loud", young people around the world as far as Australia and Japan grasped onto the idea and transformed it into a religion…or at least an organized collective of likeminded thinkers, otherwise known as the "KISS Army". Just watch any concert footage from any country between 1975 and 1980 and you will see tens of thousands of possessed fans drinking up every drop of fake blood that the band had to offer: it was about much more than the music in those days.
Regarding this particular gambling game, perhaps the storyline of it is somewhat true to the obscure idea of wanting to "rock n' roll all nite and party every day". This is because it's really just one non-stop party that has gone wildly out of control – but not in the good way. This is a party without a chaperone and it desperately needs one…and due to the glaring lack of a storyline, you'll be just as dazed and confused playing it as you would be waking up in a field with a hangover after a raging "Beer Bust" in 1976. Alright, alright, alright…
Unique Symbols
The people who write for this website will always bash a slot game when the designers are lazy and instead of using their imaginations for 10 minutes to come up with a wide selection of unique symbols, they just shrug their shoulders and use a 9, 10, Jack, Queen, King and Ace. Well, WMS gave you 4 of the 6 worst symbols around so that should give you an idea of how interesting this machine is going to be after five minutes with it.
Since you're reading this review it can be assumed that you're somewhat familiar with the band KISS and what propelled them to stardom: their makeup and their highly visual live performances. So why exactly did WMS feel that they didn't have enough material to work with and decided on playing cards instead?
Record covers, the old Casablanca Records logo, Eric Carr as The Fox, Vinnie Vincent as The Ankh Warrior, still images from KISS Meets the Phantom of the Park, music video clips…there were literally about 5,000 things that they could have chosen that would have been better than a Jack, Queen, King, and Ace.
The imagery that made it in is definitely one of the biggest disappointments of this whole production. Although, in fairness to WMS, perhaps having 13 unique symbols over 10 reels would have been a visual overload. Maybe, but doubtful.
Oh, and no Ace or Peter? Ummm yaaa…"forget" that…fans don't like it when the current members of the group try to rewrite KISStory…
J (Jack)
Q (Queen)
K (King)
A (Ace – the card not Frehley)
Kiss Army Badge
Paul Stanley with Red Wig
Les Paul – Paul Stanley Series Guitar
Gene Simmons' Tongue
Expanded Gene (Love Gun Cover)
Expanded Paul (Love Gun Cover)
Ace, Paul, Gene, and Peter (Wild)
KISS Logo (Scatter)
Because this is a 10 reel, 100 line machine, the individual payouts aren't that high. Expanded Paul Stanley and Expanded Gene Simmons are the most valuable ones available awarding 5x your total wager and 4x respectively for 5 of a Kind.
This is then followed by Gene's Tongue and Paul Stanley in a Red Wig giving you 2x your bet for five in row, and then Paul Stanley's Les Paul Guitar and the KISS Army Badge each giving out 1.5.
Any Wilds on the 5×4 section will be duplicated on the Colossal reels so you have a couple of decent opportunities to cash in. Also, the Wilds can nudge symbols to fill the reels in with winning combinations for an extra bankroll boost.
Side note: if anyone knows why Paul Stanley is wearing a red wig on one of them, please email us and let us know what the heck is going on.
Jackpots
There isn't a KISS Slots jackpot in this title and to be honest, that's probably a good thing. Between 100 paylines, 2 sets of reels, Expanding and Nudging Wilds, and Gene breathing fire every couple of spins, there's already way too much going on here.
Of course, everyone wants to win as much money as possible but chasing a jackpot would just be yet another unnecessary distraction that would add to the confusion.
Bonus Rounds
In what could easily be the biggest crime in KISStory, this machine was created without a bonus round. With dozens of albums, music videos, and hit singles to draw upon, this really doesn't make any sense whatsoever and is another firm piece of evidence that the software developers totally mailed this one in.
This part could have been absolutely amazing: trigger a special feature and maybe choose your favorite band member, then go on an adventure of some kind, even if it was just a Pick Em' style area. So if you choose Gene you go to fire and brimstone and open caskets until you hit "collect", or if you choose Ace you go into space and select planets until you hit "collect", etc. It took approximately 10 seconds to think of this hypothetical feature so why couldn't the "professionals" come up with anything?
Free Spins
The free spins mode in KISS is definitely one of the highlights and most will simply be excited with the change in music and action. As with most online slot games, three Scatters anywhere on either set of reels will start you freerolling. Note that the Scatter or "Feature" only falls on reels #1, #3, and #5 on both sets.
The more Scatters you get, the more spins you will receive, and the higher the multiplier will be for your wins throughout the duration.
3 Scatters: 8 spins with a 2x multiplier
4 Scatters: 12 spins with a 5x multiplier
5 Scatters: 20 spins with a 20x multiplier
This mode uses a different board but still uses the bet amount that you entered them on, with all of the payouts being the same as the regular mode.
While freerolling you finally get to hear the vocals for "Detroit Rock City" or "Rock N' Roll All Nite", which is a great backdrop to the guitar solos that cut through the speakers for payline wins. Paul ends things by squealing, "That'll go down in KISStory!!" Huh? Will it really? Ok then.
Graphics
Visually this is on par with most of the top releases out there – WMS must have spent months getting the make up on Paul and Gene just right. And no matter how boring the action is, the images are crisp and clear and the control panel is clean.
Members of the KISS Army will definitely want to know that they'll actually be seeing Tommy Thayer instead of Ace Frehley in the concert footage that rolls during the free spins mode, and this reason alone will be enough to make many fans take a pass.
It's a shame this title is so bad because it really is filled with tons of sharp graphics. For example, the flames that dance behind the Scatters looks fantastic and the action is very smooth – just like the fireballs that Gene spits out to burn up the reels.
Audio & Soundtrack
You would think that something based on the rock group KISS would have the best soundtrack in the world, however, this is sadly not the case. So in a career that spanned 24 studio albums, (or 20 if you consider "Revenge" their last album), we only get 3 freakin' songs throughout:
Detroit Rock City
Shout It Out Loud
Rock and Roll All Nite
It's obvious that these would probably be the three songs that any casual fan could name but wasn't this game made for the diehards? If yes, why would they use three of their most over-played songs that many fans are sick of hearing? It doesn't make any sense whatsoever.
Putting aside the lazy and predictable song selection, the way the soundtrack is presented is appalling. Instead of playing a song in its entirety or playing continuous portions of the same song, every time you activate the reels you get a random instrumental selection of the three songs.
One spin it's the bass from Rock and Roll All Nite, the next it's the bass from Detroit Rock City, and then one result later we're back to the bass from Rock and Roll All Nite again. This hodgepodge mixing is just as bad as it sounds…it's totally annoying.
Distracting. Offensive. Confusing. These are just a few of the words that come to mind when trying to figure out the musical decisions in this machine. (And no, it doesn't help if you put it on auto-spin because it still mixes up the songs continuously.) Please try to find a KISS fan who wants to listen to their songs in this manner. It's absolutely ridiculous, and the fact that it was released this way tells us that there was zero quality control in the offices of Williams.
The soundtrack is broken up by explosions and fire balls that rock your computer speakers and the reels sometimes stop with a big bang. Most of you will be too offended by the erratic soundtrack to notice them.
Conclusion
As is the same with Guns N' Roses Slots, this title fails to provide maximum impact due to its insistence on not recognizing all band members. How either Axl or Gene thought that fans wouldn't notice, or even worse, wouldn't care, is baffling. You would think at this point in their lives they would be able to see that antics like this only serve to perpetuate the belief that they have way too big of an ego. Perhaps they should be ignored by society until their heads deflate and they float back down to earth.
If you think that you can get past the glaring problems like no special features and terrible soundtrack, then perhaps we could recommend KISS Slots to you. However, any passionate fans will simply get angrier the longer they play, and if this wasn't created for them, who exactly was it created for?
It's safe to say that making this a "colossal reel" rather than a normal machine might have been the ultimate bad choice. There would have been more than enough to work with if they used 13 unique symbols on a standard set of 5. Hopefully there is a new version on the way soon that looks normal with awesome bonus rounds that are relevant to the band's illustrious history. Oh, and make sure not to forget two of the band's founding members this time.
Until then, this one will have to do for those who have Nothin' to Lose, but most of you will be grabbing for the Cold Gin after two minutes alone with this Parasite. The God of Thunder has hit Rock Bottom in this game and not even Dr. Love could save it.
Too bad – we had Great Expectations.
Random Video of KISS
Well now that we've called out Paul and Gene for putting the KISS name onto a terrible gambling game, it's time that we take a moment to remember why this band is so important to us in the first place: the music and the live show. Here's the full concert from Largo, Maryland in 1977 that was promoting the Alive II album.
This setlist is absolutely killer and 10 seconds in you'll probably forget about how angry you are with them. Ace was on fire this night and Peter's drumming was totally on point. They truly were the hottest band in the world in those days…ROCK & ROLL!!