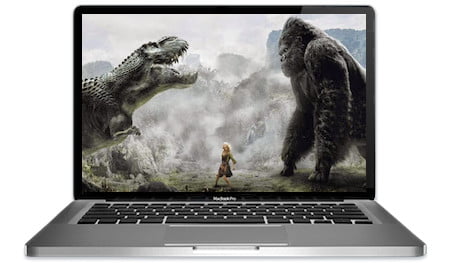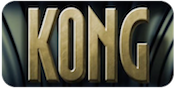 Kong: 8th Wonder of the World Slots
The world's most misunderstood beast has been honored with a massive game that celebrates his epic story. King Kong has arrived to smash his way onto the reels in Kong: 8th Wonder of the World Slots by Playtech.
2 Unique Game Areas
2 Unique Free Spins Modes
2 Unique Bonus Features
---
---
Review of Kong: 8th Wonder of the World Slots
It's extremely irresponsible to drag a raging beast out of his natural habitat and put him on display. It's both dangerous and wrong, which is why many people love it every time King Kong goes "ape" and starts wreaking havoc. This story is a classic tale about the things in life that are misunderstood, mixed with a "fish out of water" element that warns of the terrible things that can happen when you mess with Mother Nature and tinker with the natural order of things.
This particular release is based on the 2005 Peter Jackson movie and not the 2017 reboot titled, Kong: Skull Island. Back in the mid 2000s good movies were hard to come by and many feel that this one was better than most, and it ended up grossing more than half a billion dollars at the box office as proof. However, some fans might be a little disappointed with the final product here because it could have definitely included more Kong, and therefore some of you will be left roaring for more action.
This expert review of Kong 8th Wonder of the World Slots will break down every important detail to arrive at an official rating. No truth will remain untold during the process.
Screenshots
As you can see from the screenshots below there are two distinct themes in this title: a heavy jungle vibe and the bright lights of an art deco city in the 1920s. It's definitely starting to look a little dated but it still has some charm and it does deserve some respect for including two totally different settings for the regular mode, which isn't something you see often.
Storyline
The plot of this version of King Kong is very close to the original film from 1933, with a few small differences here and there, with the main one being that a lot more people die in this 2005 remake. It can be concluded that the viewing audiences in the new millennium simply demanded more violence in their movies than those who were raised on silent films.
To refresh your memory, a movie crew is going to Skull Island by tramp steamer to shoot a movie, even though there are rumors about the safety of those who dare step foot on it. After wrecking the SS Venture on the coast of the island the crew is forced to visit it regardless, where they encounter blood-thirsty natives who promptly murder a good chunk of the ship's crew.
Right before they're able to kill more of the sailors, leading lady Ann Darrow screams out in terror, with her cries summoning the astounding Kong to the scene. The natives then offer Ann as a sacrifice to Kong but she ends up charming the big ape instead, striking up a strong connection with him. Captain Englehorn and some others then rescue Ann and capture Kong and bring him back to New York City as their prize.
Once on Broadway and presented like a trophy to the crowd, Kong flips out and breaks his chains and goes on a rampage through Manhattan. He ends up at the top of the Empire State Building fighting for his life, ultimately succumbing to the hot lead spit out from the foreign flying machines swarming around him in the sky.
This release by Playtech follows the story of the movie closely via it's symbols and imagery, coming to a climax in the bonus rounds where you either navigate the jungle or climb a skyscraper. The software creators could have easily added a few more plot points to make things interesting but sadly they chose to keep it simple instead.
Unique Symbols
Fans of the 2005 movie should be happy with the unique symbols that were included here, but sticklers are probably going to argue that Colin Hanks as Preston and Jamie Bell as Jimmy should have made it in. No one will be missing Lobo Chan as Choy, though. (Except maybe Lobo Chan.)
10
J (Jack)
Q (Queen)
K (King)
A (Ace)
Captain Englehorn (Thomas Kretschmann)
Carl Denham (Jack Black)
Jack Driscoll (Adrien Brody)
Ann Darrow (Naomi Watts)
King Kong (Wild)
Kong Logo (Scatter)
Kong is the King and as such he is the best in the game, awarding 3,000 coins for 5 of a Kind. This is followed by Ann Darrow with 1,000 for five and Jack Driscoll with 600 for the same. The characters are rounded out with Carl Denham giving 500 and Captain Englehorn paying 300.
Although this machine has 2 different "modes" they are both basically the same, with the main difference being the unique symbols and backgrounds. There are also some alternative names for the special features and whatnot but everything is self-explanatory once you're playing.
Jackpots
You can climb up buildings all day and roar until your heart's content but you still won't find a Kong 8th Wonder Jackpot anywhere in this concrete jungle. It could have been assumed that one of the Wonders of the World would have deserved a huge cash prize to honor his legacy but apparently this wasn't the case.
Bonus Rounds
There are two King Kong bonus rounds and each can give you a nice little bump in your balance. Both of them are triggered by 3 or more Scatters in the regular mode and the round you access depends on which mode you are in. The prize amounts are of course determined by how much you're wagering, so choose your bet wisely.
While in Jungle Mode you'll find the Skull Island Bonus which is basically just a low-tech Pick Em' area where you select glowing orbs on a map until you match 3 exotic creatures, with each having a different amount assigned to it that's a multiple of the triggering wager, (10x, 15x, and 20x). It's a nice break from the regular mode but it's nothing to write home about.
However, if you're very lucky you will select the one solitary King Kong that's hiding and win 30x your bet amount. You will then have the free money added to your total and be returned to the main game, which will now be in the Big City Mode.
The City Tower Bonus is the highlight of the entire production and it actually requires you to be a little "hands-on" if you want to win some extra cash. Kong is perched high atop the Empire State Building and gets attacked 3 times by aggressive planes flown by uncaring humans. Each time three planes attack Kong and you get to choose which one you want to knock out of the sky by selecting the corresponding arrow. The prizes behind the planes will be anywhere between 1x and 8x your triggering wager.
Once you've successfully smacked three of these devilish contraptions out of the air the round ends and you will be taken back to the starting point of Jungle Mode to get back in touch with your natural habitat.
Free Spins
There is a unique free spins mode for each of the areas in 8th Wonder of the World and both come across as a little flat. These have to be some of the most pitiful freeroll offerings ever put into an online slot machine.
The first is "Wild Jungle Respins", which of course occurs in Jungle Mode, and it only gives you a meagre three re-spins each time so it's hardly anything to get excited about. They tried to jazz it up with some Sticky Wilds but the feature can't be re-triggered and you can't access the Skull Island Bonus either so it's pretty lame.
Then when you're in Big City Mode you can trigger "Wild Kong Respins" which again only gives you three measly re-spins. This one is a little better than the other one though because you have more chances to win, but the rules are really confusing and hard to remember. On the first one reels #1 and #5 are totally wild, on the second reels #2 and #4 are totally wild, and on your 3rd re-spin reels #1, #3, and #5 are totally wild. Sadly, this feature doesn't reward you for your strict attention to its rules and you are not able to re-trigger it while you freeroll.
Both of the free spins modes are accessed by hitting 3 Kong Wilds anywhere across the board. Enjoy.
Graphics
The intro video at the beginning does a really good job of pumping you up because it's very dramatic and gets you excited for when "two worlds collide". Set to a dramatic orchestral score and intense images from the movie, you really get sucked in to the story and ready to play…then the game starts to disappoint you on many levels.
However, this title does deserve some props for basically being "2 slots in 1" thanks to the totally unique backgrounds and imagery that are on offer. You get two different settings during the regular mode: one is the jungle and one is the city or "concrete jungle", if you care to think abstract. These two styles simply reinforce the overall theme of isolation and confusion that Kong must have felt in the two environments because after a while you don't even notice the differences as you spin – you can totally relate to his mindset.
The reels have some decent zoom animations on the symbols when they're involved in a payline win, with quick video clips that help to make them come alive somewhat. In addition, there are different still images from the movie that cycle through for the individual character images, with Kong getting a bit more respect than the others thanks to an animated clip of him raging in the jungle. Also, when he busts out of the reels for the re-spins it's quite intense and the graphics were actually quite well done.
Finally, the only other visual of note is the grappling hooks that fly around the symbols, which is a neat effect for the first 10 minutes that you play. Other than these few high points you don't get too much else to chew on.
Audio & Soundtrack
The soundtrack in the main portion of Jungle Mode consists of a stern drum beat with a symphony playing lightly over it and it was one of the melodies from the original film composed by James Newton Howard. The tunes then get flipped upside down in City Mode with a swanky, jazzy number that's lead by a duelling saxophone and clarinet, with a light and frisky piano trying to act as a peacemaker between the two.
There is a blast of music every time you hit a winning payline, with the little jingles being pretty similar to what you can already hear in the background. They're not too offensive and they pretty much blend in with the main soundtrack, however, they do get annoying after a while.
Then when you hit a big win you get blasted with a Bamp ba baaa bamp! Please believe us when we tell you that this audio will easily give you a headache if you've got the volume up – learn from our mistakes. Unfortunately, it doesn't help if you disable game sounds because that simply blanks out the audio instead of making the win noises quieter, which is surprisingly more annoying than the sound effect itself.
Every time you manually push the Spin button you get a drum roll sound effect of congos beating, which obviously sticks to the jungle theme and it can make you smile occasionally for some reason. Also, there is the old Playtech "fire alarm sound effect" when you hit a 5 of Kind and it can damn near give you a heart attack if you're not ready for it. Try to make sure that you're prepared for the blast of sound that might screech out of your computer speakers at any time.
Finally, you'll either be very happy or very sad to learn that this title has that trademarked Playtech audio for really big wins that gives you a dance beat and a robotic humanoid chanting, "Yeah! Yeah!". It's always funny when it comes and it sounds like it's straight from an early 1990s rave party. Ridiculous!
Conclusion
When signing on to direct the film Peter Jackson couldn't guarantee a hit with Kong: 8th Wonder of the World but the project ultimately paid off big time for its investors. With this slot based on the blockbuster, Playtech couldn't guarantee a hit either, and sadly it was a mediocre effort that will leave most people wanting more.
The two different game modes and sets of symbols are interesting at first but they're definitely not enough to keep your attention after a while. It doesn't matter that the software remembers what mode you were in the last time you played because you jump back and forth between them so frequently you never have time to yearn for either.
Ultimately, with a stale Pick Em' area as a bonus round and virtually no free spins, there's not much here to grab on to. Not to mention, this release is starting to look a little dated and feel a little old, so players searching for fun movie-themed slots will want to swing right on past Kong: 8th Wonder of the World in favor of one of the better branded titles that are out there. Don't worry – there are lots of them.
It wasn't the airplanes. It was Beauty killed the Beast.
Random Video of King Kong
It's alright if you think that his film was a little cheesy and thankfully the people over at CinemaSins put together a quick video outlining everything that was wrong with it to remind us. Watch them rip it to shreds like Kong eating a fish taco…