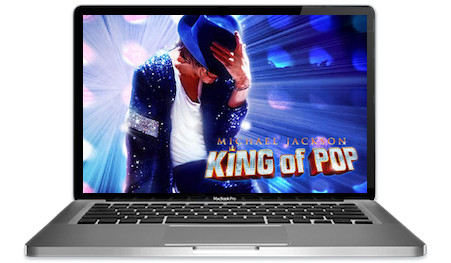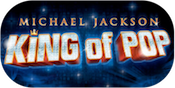 Michael Jackson King of Pop Slots
The undisputed King of Pop has been immortalized in this dazzling slot game from Bally, so now you can enjoy Michael Jackson's best music and dance moves while chasing big cash prizes and free spins. Shamone!
Tons of Michael
Great Bonus Rounds
3 Types of Wilds
---
---
Review of Michael Jackson King of Pop Slots
Easily one of the greatest musical performers of all time, Michael Jackson had an unprecedented run of #1 hits and record sales throughout the 1980s and into the '90s. I've been a fan of his music for many years with my affections beginning during his days in the Jackson 5 and their great soul albums of the 1960s.
Make no mistake, playing a game based on the career of Michael Jackson is both entertaining and sad at the same time. It's great to celebrate his career but it's a career that we all know ended way too soon. Thankfully, this release stays totally upbeat and includes some of his greatest hits, best dance moves, and flashiest costumes.
Yes, I am a huge fan of MJ but you don't need to worry: this expert review of Michael Jackson King of Pop Slots will not be tainted by any bias or nostalgia because Bally ensured that it can completely stand on its own. This one will totally rock you, is an absolute blast, and fans young and old will enjoy celebrating the life and times of the "King of Pop".
Screenshots
It's strongly suggested that you click on the screenshots below to enlarge them so you can see exactly how well this machine was designed. There are tons of video clips and animations of Michael dancing that are triggered within the various special features making it one of the most majestic and dazzling real money online slot games of all time. It even has diamond waterfalls – need we say more?
Storyline
Where do you even begin to tell the story of the Hall of Fame career of Michael Jackson? His accomplishments can clearly speak for themselves: 13 Grammy Awards, 13 number-one singles, and 350 million records sold across the globe say more about the power of his music than a few paragraphs of text ever could. The world fell in love with him over his 40 years in the entertainment business and then had their hearts broken when he died tragically in 2009 as he was mounting a massive comeback tour.
Michael Jackson's most successful album, Thriller, won a whopping eight awards at the 1984 Grammies and then went on to become 33 times Platinum in the USA, which is a record that will never be broken. We're not sure which is a more astonishing fact: that there were seven Top 10 singles from the album, or that it achieved all of this without the aid of a tour – Michael was still performing with The Jacksons while all this was going on!
This release from Bally focuses on MJ in his prime and has his biggest hits from 1982's Thriller and 1987's Bad, with tons of videos and costumes from that era. Most fans are going to be extremely happy since this is the time when Michael was sitting at the top of the music industry as the undisputed King.
Unique Symbols
Although they're all beautiful in their own way, one of this machine's only weaknesses are its unique symbols. As you all know by now, as soon as we see a 9 we start getting suspicious about the imaginations of those who made it. However, in King of Pop there is an abundance of creativity and effort so it's very confusing why Bally decided to use a 9, (or any playing cards, for that matter).
Wasn't there more than enough to draw upon from Michael Jackson's fabulous career? Now most people wouldn't say that Bubbles the Chimp or the bones of the Elephant Man should have been used but couldn't there have been some other images of Michael at different stages of his career? Or at least some of his amazing album covers?
This all said, we can't complain too much because Bally did crank out a whopping 19 symbols that are spread throughout the various areas so maybe we should lighten up a little. Check these out:
Green 9
Purple 10
Blue J (Jack)
Yellow Q (Queen)
Gold K (King)
Orange A (Ace)
Black Florsheim Shoes
Ray Ban Aviator Sunglasses
Signature Fedora Hat
Swarovski Crystal Glove
Diamond Wild (Wild)
Michael Jackson (Bonus)
MJ's Eyes (Jackpot)
Moonwalk Wild
Moonwalk Wild Bonus
Moonwalk Wild Jackpot
Stacked Wild
Stacked Wild Bonus
Stacked Wild Jackpot
Diamonds are everyone's best friend in this one because the Diamond-Encrusted Wild is the highest-paying, dishing out 500 coins for 5 of a Kind. This is then followed by Michael's Glove, Hat, Sunglasses, and Shoes, which award 500, 200, 150, and 120 coins respectively for five across the board.
The Moonwalk Wilds are on reels #2 to #5 and if they fall and are used in a payline win they will double your cash. The Moonwalk Bonus and Jackpot symbols both pay out like the normal Wilds but they can possibly give you their corresponding prizes as well.
At any time during the regular mode there is a chance that two of the reels will become totally Wild thanks to the Stacked Wild. Like the Moonwalk Wilds, the Stacked Bonus and Stacked Jackpot will pay out like the regular Stacked Wild and also give you the opportunity to win their corresponding prizes.
You'll want to note that you must bet on all 25 paylines every time with the minimum wager being $0.40 and the maximum being $80. This means that the coin values are technically $0.016, which is definitely a little confusing. Shamone!
Jackpots
Many people will be confused when they first launch this title and see a King of Pop Slots "Jackpot" symbol on the board. Unfortunately, these do not trigger a progressive or in-game prize – they're actually just the highest-paying symbols that are available. Five of them in a result will give you a respectable 2,500 coins and activate a visual of the iconic golden statue of Michael.
If you hit 4 triggering images you'll win 500 coins but 3 will only give you a paltry 50. So technically there's a Michael Jackson Jackpot, it's just not the prize that most will be expecting. That said, we'll happily take it.
Bonus Rounds
The main special feature in King of Pop is called the "Platinum Bonus Spin", which is of course a reference to his numerous multi-platinum selling albums. It's triggered when you hit the Bonus image anywhere on reels #2, #3, and #4, and a prize wheel full of options will appear for you to crank on. You'd better cross your fingers because you only get one chance to give it a pull.
There are a bunch of different options like the Smooth Criminal and Beat It free spins, as well as numerous sections with extra cash. Some of the amounts have a unique symbol that will allow you to access an extra wheel that will add a multiplier to your line bet. Click the button to see Michael's custom-designed glove made of white spandex and covered in Swarovski lochrosen crystals appear to activate the wheel for you and reveal your reward.
Another great extra is the "Moonwalk Wilds" which will appear on reels #2, #3, #4, and #5 to really give your bankroll a boost. There are three different kinds on offer: Double Wild, Double Wild Bonus, and Double Wild Jackpot, and if any one of them are used in a payline win they'll double the total amount.
Lastly, at any time during the regular mode two reels might become fully Wild and trigger something amazing from Michael that will blow you away. Heeee hee!
Free Spins
Michael Jackson was known around the world for his huge heart and generosity so it's no surprise that his machine allows you to win free spins by the boat-load. There are two different special features which offer you something unique, including the music. First we have the "Beat It Free Games" which will give you a special set of reels and 10 spins with Sticky Wilds on #2, #3, #4, and #5.
Then we have the "Smooth Criminal Free Games" which awards 5 spins, with the 1st one having Stacked Wilds on reel #5. From there it gives you Stacked Wilds on #4 and #5 on your 2nd turn and then they continue to move to cover the following 2 for each result. Just like Beat It, Smooth Criminal will give you a unique board and experience that are sure to make you smile.
Graphics
The graphics in this release are absolutely over the top and will have every fan's jaw on the floor. For example, when the Double Wild symbols come crashing in and MJ appears on reel #5 to moonwalk his way across the screen to the strains of "Billie Jean" it's one of the best things ever. The Swarovski crystal glove sparkles and Micheal's hair flies around while he dances flawlessly to the beat. It's honestly shocking how great a job the designers at Bally did on this one.
The special features all look fantastic, like the flurries of Wilds appearing on the board amidst showers of purple diamonds in a majestic storm. You just know that MJ himself would have loved all of the dazzling visual effects that were created – he is musical royalty, after all.
When you see Michael flick that coin into the jukebox for the Smooth Criminal Free Games and dance onto the screen in the exact white suit and hat from the video, it's totally amazing and it will have you bouncing up and down in your seat.
On top of all this we even get unique backgrounds for all of the different areas that serve to keep the action fresh and moving.
Audio & Soundtrack
Now we get to the category that everyone is going to want to know about: the soundtrack. Most fans will be very happy with what's on offer because it's pretty overwhelming.
"Dirty Diana" is the song that is heard throughout the regular mode without interruption and it really draws you into MJ's mysterious world. That slow, intense beat mixed with Micheal's vocals and heavy electric guitar is the perfect soundtrack to play to and it really builds up the anticipation. Surprisingly, the sounds of wins getting added to your balance are loud but don't interfere with the track at all.
Then just wait until you trigger the area that has "Bad" kick in with the purple waterfalls of Wilds cascading over the reels – it even has a clip from the iconic video with MJ punching the air to a fantastic whipping sound. The amazing soundtrack doesn't stop there as "Billie Jean" drops during one of the features and really takes things up a notch. As soon as you hear the beginning of the song with that classic drum beat and bass synthesizer get ready to see Michael twirl onto the screen and get busy.
Next we of course have the "Beat it Free Games" giving us a full version of "Beat it" with the awesome guitar solo by Eddie Van Halen. Finally, we have the "Smooth Criminal Free Games" giving us what else but, "Smooth Criminal". Both of these are followed up with some bars from "Bad" as your extra cash is added onto your balance.
Most people would have probably guessed that three of Michael's songs would be included so for it to have five MJ jams will come as a fantastic surprise.
Conclusion
Without a doubt, Michael Jackson King of Pop Slots will take you on a rollercoaster of emotions, with most of them being positive due to the excellent music and amazing video clips from the hottest period of Michael's career. This title gives out good vibes because it has Michael at his best and you easily get transported back to the wonderful outlandishness of the 1980s.
Pickier punters may argue that there could have been a more intricate bonus round and more songs included in the soundtrack but they will be in the minority. Five songs is a lot for a music-themed online slot so we should be grateful for what we were given, (of course, it is always natural to want to hear more MJ).
The one thing that will probably annoy many players, however, is the software's shocking lack of an Auto-spin button. We're not sure how Bally forget to include one of those and hopefully they'll remember one if they ever make a sequel.
All things considered, this machine seems larger than life – just like the legend who stars in it. So if you're a fan of Michael Jackson and his music make sure that you try out this excellent game that celebrates the pinnacle of his career. You will not be disappointed.
There's fire in his eyes and his words are really clear, so play it! Just play it. Ooohh!
Random Video of Michael Jackson
We can all agree that there's only one video that this review could end on and that's Michael's seminal performance of "Billie Jean" at the "Motown 25: Yesterday, Today, Forever" special from March 25th, 1983. This was the first time the world was introduced to his groundbreaking Moonwalk dance. Enjoy!