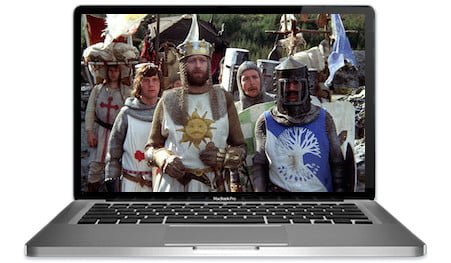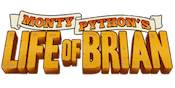 Monty Python's Life of Brian Slots
The nutty religious comedy from Monty Python is back 40 years later with Life of Brian Slots from Playtech and it was certainly worth the wait. This is a game for the ages that's absolutely stuffed with amazing features.
Extremely Course Language
Adult Themes
Insane Amount of Bonus Rounds
---
---
Review of Monty Python's Life of Brian Slots
Many experts refer to this 1979 title as the "greatest comedy film of all time" and millions of fans young and old from around the world would firmly agree. After being a huge success at the box office, Monty Python's Life of Brian has continuously been put in the "Top Lists" of many publications and cited as an inspiration by countless famous comedians who came after it. It's truly rare that a movie receives such universal praise.
From the very beginning the Pythons were known for pushing the envelope as far as they could and that's certainly reflected in this release. So if you're offended by harsh or childish humour, crude language, or ridiculous names like "Biggus Dickus", you'll probably want to select a different game to read about.
For everyone else, this in-depth review of Life of Brian Slots will breakdown the machine's finer points to explain why it deserves a healthy chunk of your bankroll.
Screenshots
As you can see in the screenshots below there are tons of images from the original movie and it was perfectly designed to honor the look and feel of the film. There's a definite "desert theme" mixed with strong biblical overtones. Click on them to make them "Biggus" and have a good look at the details.
Storyline
Life is probably going to be interesting if you're born in a stable – especially if it's the one next to Jesus' birthplace. Brian Cohen was happily making his way in the world when he inadvertently started to attract devoted followers after repeating something he heard Jesus say. The crowds get bigger as phoney tales of his "miracles" circulate through the streets, creating a religious-style awakening.
Eventually, the fanaticism surrounding Brian leads to the beginnings of a revolution against the Romans so Ponitus Pilate decides that he must be crucified to silence the rebellion. After realizing that they must appease the masses, Pontius gives Brian the opportunity for freedom but he ultimately ends up hanging around in the hot sun, forced to look on the brighter side of life.
This release from Ash Gaming is stuffed full of images and quotes from the movie and they do an excellent job of recounting the general storyline of the film. As long as you've seen the movie you'll be able to follow the whacky plot of the game.
Unique Symbols
All six members of Monty Python's Flying Circus showed up, with each of them bringing one of the ridiculous characters that they portrayed in the original movie. Hardcore fans might argue that there should have been even more characters included, but that would have probably made things too confusing.
The reels look perfect and this is one of the rare machines that actually needed a few playing card symbols to balance out the abundance of character images. Here's what's included:
J (Jack)
Q (Queen)
K (King)
A (Ace)
Jailer (Terry Gilliam)
Mr. Cheeky (Eric Idle)
Centurion of the Yard (John Cleese)
Pontius Pilate (Michael Palin)
Brian Cohen's Mum (Terry Jones)
Brian (Graham Chapman)
Life of Brian Logo (Wild)
Roman Pantheon Bonus (Scatter)
Golden Crucifix (Special Scatter)
The namesake of the movie is of course the highest-paying and Brian will give you 1,000x your line bet for 5 of him across the board, with the Life of Brian Wild also giving out the same. The payouts then trend downwards with Brian's Mum, Pontius, Centurion, Mr. Cheeky, and Jailer awarding 500x, 300x, 200x, 150x, and 100x respectively for 5 of a Kind.
Please note that Terry Gilliam receives the lowest-paying character symbol in yet another Pythonian game, with Monty Python and the Holy Grail Slots being the other. What's up with that?!
You'll also want to keep in mind that this is a fixed 30 payline machine so you have to gamble a minimum of $0.30 each spin.
Jackpots
Depending on where you're playing there could be a Life of Brian Progressive Jackpot available to be won. Check in the top left corner of the screen and if it says "offline" under "Progressive Jackpot" you won't be able to take a shot at winning the grand prize.
However, if you are somewhere that has it, the Foot of God will be the force that triggers it when it stomps down on the reels. You'll get a pop-up with two options and a selector that will bounce between the jackpot and a cash amount, and you will be given whatever it finally stops on.
Make sure to the check the casino's lobby to see what the current amount is before you start your adventure.
Bonus Rounds
The Life of Brian bonus rounds are triggered by Roman Pantheon Scatters on reels #1, #3, and #5 in a single spin, which will bring out a prize wheel that can award you with 1 of the 4 different features and give you a chance to win up to 1,000x your total wager. The wheel is like a clock with two human arms: the short arm tells you which area you're going to and the longer arm will rotate and stop to give you a multiplier for the round, a cash bonus, or a mystery prize.
First off we have the Stoning Bonus which is of course in reference to the stoning scene from the movie. It's a version of a Pick Em' game but it's a lot more fun than normal thanks to the fact that you throw stones at people to reveal money amounts and you can even throw smaller stones to get smaller sums. During the stoning the organizer might get suspicious and start searching for women and this will allow you to start pulling on beards to stack up extra money. The carnage ends whenever a big rock is thrown at a person. Ouch.
Next we have the People's Front of Judea Bonus that will allow you to try to overthrow the Romans and set your people free. This one is basically a Pick Em' style area where you select icons to learn what the Romans have done, with each one revealing a cash amount. The total continues to add up until you unveil the "Collect" symbol which will end the round.
The 3rd area is the Romani Ite Domum Bonus which is yet again a simple process where you select sections of the screen to reveal monetary amounts, but the change in scenery serves to keep things fresh and moving. This time you're selecting sections of the palace walls to write anti-Roman graffiti on, with the art session ending when the "sun" rises.
Finally we have the What's So Funny Bonus that will have you "sniggewing at wowdy webel behaviour" and is of course another version of a Pick Em' area. This time you select guards while Pontius Pilate interrogates Brian and the longer they can hold back their laughter, the bigger the cash prize you'll receive. Three guards cracking up will end the humiliation and send you back to the regular mode with however much money you were able to stack up.
As if all this wasn't enough, the action gets even crazier thanks to the 3 reel features that can be randomly triggered at any time:
The Foot of God will give you a balance boost or trigger the jackpot.
Pick A Holy Item will give you money for clicking on a Gourd, Sandal, or Juniper Bush.
Pledge Your Allegiance has you choosing the side of the Romans or the Judea for cash prizes.
Clearly this title is absolutely crammed with special goodies, ensuring that the fun and excitement never stops.
Free Spins
Money continues to fall from the sky thanks to the Always Look on the Bright Side of Life Free Spins which is triggered by a Scatter on reels #3, #4, and #5. This mode will allow you to select one of the Judean People's Front Crack Suicide Squad to stack up the free spins. You'll have the opportunity to slap a 10x multiplier on your wins because every losing spin will pump up the multiplier amount – it's always nice to be able to enjoy a loss!
Amazingly, this machine gives you even more ways to win while you freeroll with it's Crucifixion Bonus that is triggered by collecting 3 Golden Crucifix Scatters and it will give you the chance to receive one of the following:
Extra Free Spins (with multiplier)
Retrigger Free Spins (replay your winning free spins)
Cash Prize (free money)
And if all of the ridiculous things above weren't enough, the extra features keep coming with the Wild Spaceship Respins that will be triggered by Brian falling onto the screen in front of the action. He'll be grabbed by the aliens to turn an entire column of symbols into Wilds and the reels will then respin until you receive a win. Hopefully, you don't get one right away because an extra Wild is added to the board each time to juice them up for a big pay day.
Graphics
This is another Monty Python release from Ash Gaming, (who are a subsidiary of Playtech), so all of the user controls are exactly the same, including the Auto Play and Turbo Mode buttons. However, this machine has video clips from the movie that will show on the reels whenever character symbols activate a winning paylines, so there are some important differences between the two. They are super fast clips which don't add too much excitement but they don't really take away from anything either. Each character gets their own 3 second clip so you'd better pay attention when it starts.
The graphics are great in the various special features, like when you're on a wooden ladder painting graffiti on the walls of the palace – you fly around the screen working the paintbrush like a madman. Another ridiculous visual is when you're selecting Judean people to commit suicide to reveal free spin amounts and they "comically" stab themselves in the chest with a large sword. Total Python.
There's another great visual of a "flapping head" John Cleese as he's learning what the Romans did for us that will remind you of Terrance and Phillip from South Park. Even though the graphic would be described as "cheesy" by some, it looks awesome and fits perfectly into the game. Also, the animations in the Throw a Stone feature are absolutely shocking but we won't ruin the surprise for you – just be ready to be gobsmacked once you've triggered it for the first time.
All of the campy visuals and fun animations come together to give this slot a unique flavour. It really is one of a kind.
Audio & Soundtrack
You just knew that the lovely song Always Look on the Bright Side of Life had to be included somewhere in this release, but the audio technicians sadly decided to put it in the regular mode and make it the main soundtrack which was a big mistake. Since it's constantly going in the background the song gets old fairly quickly – they definitely should have saved it for one of the special features.
Not to mention, the tune stops at the end of every spin and isn't continuous, which makes it more "annoying" than "pleasurable". It's recommend that you mute it or enable Turbo Mode so it turns off. You'll still be able to get your fix because you can hear a much better version of the song once you're freerolling. It has Eric Idle's voice but sadly it's just the chorus and it doesn't include any of the verses.
To be fair, the audio team did include a few other samples from the songs on the Life of Brian Original Soundtrack that play in different areas of the game, like "Brian's Song" written by Micael Palin and composed by André Jacquemin and Dave Howman. In addition, there are a bunch of audio clips from the film so everything comes together nicely to bring back memories of the various scenes.
The actual sound effects of the reels, stop button, and whatnot are all fine with nothing standing out one way or the other.
Conclusion
If you like titles that are stuffed to the brim with action, Monty Python's Life of Brian Slots is one that you'll want to dive straight into. With four unique bonus rounds, awesome free spins mode, respins, reel features, and extra prizes, there are tons of ways to stack up the cash. Oh – there's also a progressive jackpot on offer at participating online casinos that could you give a life-changing sum of money. What's not to like here?
The graphics are excellent and even though they're slightly campy they perfectly reflect the Python theme. It was great that they added selections from the original soundtrack but they could have definitely made some better choices on how they were used. However, when you consider everything on a whole, this was a very well-built machine from top to bottom.
Even if you've never seen Life of Brian you'll want to take this game out for a test drive because everyone will enjoy the insane graphics and ridiculous imagery, if only for a short while. Of course, how much you laugh will depend on how twisted your sense of humour is.
Now bring on the Foot of God!
Random Video of The Life of Brian
Here's an excellent documentary on The Life of Brian that every fan will want to see. It goes into great detail about the background and production of the film with interviews of the cast. There are some very interesting facts revealed that most will not have heard before so get comfortable and click "play". Enjoy!