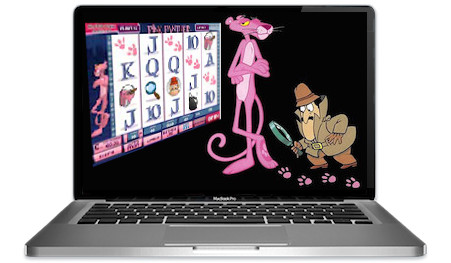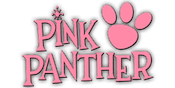 The smoothest cat in the world is back on the scene to star in The Pink Panther Slots and he's strutting his stuff and sneaking you cash prizes in this exciting release from Playtech. Just don't get caught by Inspector Clouseau!
Two Jackpots
Lots of Different Bonus Features
Great Game Design
---
---
Review of Pink Panther Slots
The Pink Panther can proudly claim that he's a popular cartoon series, a popular live action movie series, and has one of the best theme songs of all time. This cool cat has been loved by both children and adults all over the world for the last half century, which is quite the feat considering that the Panther never said a single word of dialogue. We was basically the original Mr. Bean.
Truth be told, just seeing the Pink Panther's face takes me back to the old days – the movies were wildly popular in the 1960s and the cartoon was a smash hit for the entire 1970s. So anyone over 50 years old is definitely going to feel nostalgic when they see the Panther and therefore they're probably going to have a soft spot for his gambling game.
The great news is that even though I'm biased, this one is actually a lot of fun to play and even non-fans are going to be entertained. This exclusive review of the Pink Panther Slots will examine every detail under a magnifying glass to explain why it's such a hit.
Screenshots
As you can see from the screenshots below, the crew over at Playtech did a great job of designing the reels and stayed true to the original cartoon. Of course there's tons of pink throughout the game but the shades of blue that they used for the backgrounds and player controls balances out the color scheme perfectly.
The animations for the various characters look like they underwent a bit of an update, which was probably the right thing to do. The foundational images were definitely from the '70s cartoon, with just a slight twist on their original looks. In short, everything looks great.
Storyline
There have been many incarnations of the Pink Panther but this particular slot game focuses on the cartoon version from the 1970s so don't be looking for Peter Sellers or David Niven because they're not here. And neither is the Pink Panther – the massive pink diamond with the flaw in the middle that looks like a panther in mid jump.
Even though the cartoon ran for over a decade it never became clear which side of the law the Pink Panther was on. In some episodes he was causing mischief or trying to steal things but then in other episodes he was helping people and thwarting evildoers. Perhaps he just marched to the beat of his own drum and did whatever he felt like at all times, and many people will be able to relate to that.
With none of the original cartoons having any dialogue whatsoever it must have been extremely hard for the writers to establish a plot. They had to rely more on visual gags and nonsensical adventures for their stories, which of course was just fine with the fans. Sometimes the Panther was wreaking havoc on a construction site and other times he was tracking down thieves and helping out the bumbling Inspector Clouseau. You just never knew where he was going to end up each week.
This release from Playtech does a great job of capturing the spirt of the Pink Panther and the general storyline of the cartoons, and the bonus rounds and features do a great job of reminding us of how much we love the characters.
Unique Symbols
The reels in this machine feel a little bare when you're watching them spin due to the amount of white space around many of the symbols. Therefore, they would have benefitted from the addition of another symbol or two from the original cartoon like Charlie Ant, Blue Aardvark, Misterjaw, or Crazylegs Crane Jr. They would have provided a little more beef to fill things up.
That said, there's an argument to be made for having a clean set of reels that makes it easy for the player to see what's going on. As you've read in a few of my our reviews, the reels in some games are impossible to make out because all of their symbols just jumble together. So we should probably conclude that Playtech did a good job with the unique symbols: here's what they decided to include…
10
J (Jack)
Q (Queen)
K (King)
A (Ace)
Magnifying Glass
Pink Paw Prints
Cartoon Bomb
Pink Paint Can
Inspector Clouseau
The Little Man
Pink Panther (Wild)
Pink Panther Logo (Scatter)
Of course the Pink Panther himself pays the most in this game, with his Wild symbol giving you 5,000 coins for five across the board. This is then followed by Inspector Clouseau and The Little Man who give you 500 and 300 coins respectively for 5 of a Kind.
It's great how Playtech broke down the payouts because when you consider all of the different bonus rounds there simply can't be a lot of high payouts in the regular mode – the features need to be paid for somehow. Thankfully, they still decided to make hitting 5 Wild symbols a huge payout so there's always something for players to chase in the main game.
The other symbols pay out small amounts but with all of the action in this machine no one should really care.
Jackpots
If you're on the hunt for a big cash payday you'll be happy to know that there are two Pink Panther Slots Jackpots on offer: the Major Pink Jackpot and the Minor Pink Jackpot. Don't worry, you'll win a little bit of cash no matter what happens in this feature because The Jackpot Adventure guarantees that if you strike out on both of the main purses you will still be awarded a consolation prize.
The Jackpot Adventure area has 12 doors that you will select one at a time to reveal 1 of the 3 characters in the game. If you are too nervous to make your own choices you can opt to just wait for the timer to expire and then the game will then open random doors for you. The prize breakdown is as follows:
3 Little Man Doors: Consolation Prize
4 Inspector Clouseau Doors: Minor Pink Jackpot
5 Pink Panther Doors: Major Pink Jackpot
The prize pools are seeded by the players of the game in every online casino, with 1.4% of the total wager amounts going towards the payouts. The starting amounts for the jackpots are admittedly low but very few branded games have jackpots so we shouldn't be too greedy.
The Consolation Prize starts with €80, Minor Pink starts with €100, and the Major Pink begins with €1,000. If you're not playing in the currency of Euro  it will be whatever the equivalent is in British Pounds, U.S. Dollars, etc.
Entering the Jackpot Adventure can happen anytime during the regular mode at random, even on a losing spin, and like many other Playtech releases it claims that the more you wager, the better your chances are of hitting it. Although we're still unsure how the math behind that would work.
Bonus Rounds
There are a whopping four unique bonus rounds in Pink Panther Slots that keep the action moving and your pulse pumping. Three of these are proper special features with the fourth being the free spins mode that will be explained in the section below.
First off we have the Wheel of Pink Bonus which is actually 2 wheels in 1, consisting of an outer wheel that has multipliers of 5x, 7x, and 9x, and these can really supercharge your balance. Keep an eye on that inner wheel though because that's the one that's really going to determine your fate in this round. Its sections alternate between "Collect" or "Respin" and we'll let you guess which one you want to be hitting each time.
You are correct: as soon as you hit "Collect" your round is over but as long as your inner wheel stops on Respin you will keep going and continue to stack up the multipliers and the bonus money. You can really win big in this round and we've seen a ridiculous 66x multiplier on a £4 bet for a huge win of £264.
Next we have the Color Pink Bonus which pits you against the Little Man in a fence painting competition. You each have rollers with his being blue and yours being pink and you paint up and down the 4 columns of numbers which are laid out randomly with amounts between 1 and 5. You each roll over each other's paint job and some numbers will change color and some won't.
At the end of the painting session the pink numbers will be added up with the total being the bonus multiplier on the bet amount that initially triggered the round. You can then choose to "Collect" and accept that multiplier amount or try again to get a higher number. Be careful though, you only have 3 chances and after the 3rd you will get whatever the amount is for the final round. Most will want to choose to repaint if they don't get at least a 17x multiplier.
Another special feature in this game is the Pink Trail Bonus which flips the script and has you in the shoes of Inspector Clouseau hunting that sneaky Pink Panther who stole the beautiful diamond. You follow the pink paw prints on the ground, with each print giving you a multiplier that will be added to your total multiplier for the feature. There are 4 different rounds in this bonus and at the end of each you'll be asked if you want to collect what you have or keep going.
This round is fairly straightforward but just like every other feature in the game there's a twist that will make or break your bankroll. If you choose to keep going and end up stepping into a hole your round will end and your bonus amount will be cut in half. But if you press forward for 4 rounds and don't hit a trap you will capture the Panther and recover the diamond, which will double whatever cash you've stacked up to that point. It's a prickly pear but most will want to try to make it to the end of the 4 rounds so they can snatch up that diamond.
Finally, there's a small reel feature in the regular game called the Pink Pow that has the Panther dish out anywhere between 2 to 6 Wild symbols onto the board, which will of course increase your payline wins for that spin.
Free Spins
If you're trying to track down some Pink Panther free spins you're going to have to tackle the Crack the Pink Code Bonus, which will give you exactly what you're looking for. In this feature you are taken to a bonus area with 10 safes that you will crack open to reveal free games, multipliers, or Expanding Wilds. However, you have to be careful because one of the safes has the Little Man hiding in it with a stick of dynamite and this will blow up your bonus feature and send you into the free games mode with whatever prizes you have collected up until that point.
Thankfully, the feature reveals what was in all of the safes at the end of the round because it's very frustrating when games doesn't tell you what you should've picked. You should be happy if you can open 6 safes without hitting the Little Man because that usually gives out enough prizes to get excited.
Graphics
This release has one of the longest introduction videos ever made, which is due to the fact that it gives you a sneak peek at the many bonus rounds and shows you the action that's in store. It's recommended to watch it in full the first time you play because it is kind of funny.
At this point you surely understand why this machine has way too many graphics to list, so just believe us when we tell you that they're all great and we wouldn't change a thing. Whether it's the tons of animations on symbols involved in payline wins, the crazy Wild symbols bobbling around, or the numerous visuals in the bonus areas, this game is crammed with action.
For example, when the Panther drops onto the screen as an Expanding Wild the graphics are funny as he shuffles slightly and gives you a "thumbs up" for your win. In addition, it seems like the Panther that hangs out at the left side of your reels is always gesturing at you and making faces. There's just always something going on in this game.
Audio & Soundtrack
The soundtrack for the main game is a perky little number that is dominated by an aggressive, yet peppy xylophone that bangs out different riffs for each spin. These are interrupted by wobbly blasts from a tenor saxophone whenever a Wild symbol drops on the reels or a wailing trumpet if you hit a bunch of paint can symbols in a payline win.
The other tune in the soundtrack is simply a sped up version of the tune in regular mode, which pumps out uninterrupted during the free spins mode. Wait till you hear it – it's a real toe-tapper.
Then in what has to be one of the most shocking omissions in "Television-Themed Slots History", it does not have the classic Pink Panther theme song. One could assume that the estate of Henry Mancini owns the rights to the song and that it would have been quite expensive for Playtech to license it, but in this case you have to bite your lip and cut the check. A Pink Panther game without the original theme music is incomplete, to say the least.
As is the case with most online slots, the audios when the winnings from multiple paylines are being added to your balance gets very annoying thanks to a loud sound for each line, and in this case it is a "BLARMP". This is even more frustrating than usual because there's no way to turn down individual game sounds in the settings so you can simply listen to the ones that you enjoy.
The fire alarm that screams in your face when you hit 5 of a Kind certainly wakes you up…or blasts you out of your chair, depending on how ready you were for it. You will have heard this same fire alarm in other Playtech games as it's one of their favorite sound effects to include. Hopefully they tire themselves out with this audio soon and bury it in their digital graveyard.
The final audio of note is that if you're in the middle of taking a break from spinning and you hear a knocking sound, it's not someone at your door – it's the Panther knocking on your screen trying to hurry you up. That audio can have you looking out my your windows when you first hear it so don't get played for a fool.
Conclusion
The few annoying audios aside, Pink Panther Slots is going to be a game that most people enjoy playing for long stretches of time. It's really difficult to get bored thanks to the tons of bonus features, free spins, and the two available jackpots. The machine really gives players wanting an enjoyable television-themed slot everything that they could possibly be looking for.
Big time fans of the Pink Panther will be very impressed with this interpretation of the classic cartoon and nobody should have any criticisms or complaints. The color scheme is beautiful, the reels are easy to see, and there's always something fun going on no matter what point you're at. Not to mention that it feels like a bonus round is being triggered every two minutes.
So if you want a funky blast from the past that gives you tons of ways to win, go check out Pink Panther Slots today and get transported to that magical dreamscape of cheesy 1970s cartoons…you'll be very glad that you did.
This release is definitely an instant classic.
Bonus Video of Pink Panther
Well now we need to hear that theme song in order to get it out of our heads and since we won't find it in this machine, here's a version from the Youtube. Check out the amazing sax solo from Don Menza and the sweet triangle playing by the drummer. We even get a heart-felt intro by Henri Mancini himself.