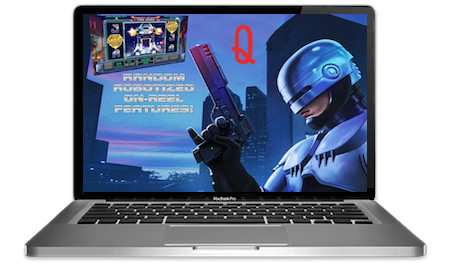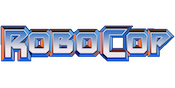 "The Future Has a Silver Lining" – or so OCP would like you to believe. The strong hand of the law in New Detroit is back with a vengeance and he's just as fierce as ever in this new RoboCop Slots reboot from Playtech.
Serve the Public Trust
Protect the Innocent
Uphold the Law
---
---
Review of RoboCop Slots 2017
We're starting to think it's possible that casino software companies actually read our reviews and use our ideas to improve their future releases. Case in point, most of our main complaints with the original RoboCop Slots game have been fixed in this 2017 reboot based on the classic film. Although to be fair, the original was created by Fremantle and not Playtech so maybe it just reflects a difference in the software designers, (but for the record, we loved the original version, Fremantle!).
This new version has tons of improvements when compared to its predecessor and that's saying something because the old one was pretty darn fun. First and foremost, this one actually gives us free spins, you know – like every other slot machine on the internet. Yes, you read that correctly: the first version did not offer freerolls of any kind and it's one of the only times we've ever seen that.
Another huge problem we had with the old version was that you could only auto-spin a maximum of 10 times, which is obviously absolutely ridiculous. Now you can choose 10, 25, 50, or 99 automatically, or my personal favorite setting, "Until Feature". Also, we can now control the speed of it all thanks to the new Turbo Button included in the user controls.
The violence was toned down significantly in this new version, which is odd for something that's based on one of the most violent action movies of the 1980s, (that was originally Rated X when being released in the theaters). The lack of blood and guts is definitely going to be disappointing for some diehard fans of RoboCop, however, this is a small complaint overall and most people are going to love this one.
This expert review of the RoboCop Slots reboot by Playtech shall leave no stone unturned in a quest to properly rate and catalogue it. After all, we have to follow our prime directive.
Screenshots
In regards to design, many will agree that this version is a huge improvement from the original one and it looks like it's literally lightyears ahead. Others will claim that the "campiness" of the animated theme last time was superior.
The user controls are laid out perfectly and everything you need is at your fingertips. Every graphical element from the backgrounds to the symbols are simply gorgeous, so go ahead and click on the images below to take a good look at what new New Detroit looks like.
Although just to confirm again, the design of the first RoboCop was also great but for different reasons, as they went with a more retro look and feel. They're basically apples and oranges.
Storyline
Crime is at an all time high in New Detroit and the city's police force has never been so underfunded…or corrupt. After decades of unrestricted capitalism corporations are now in possession of most of the public lands as well as the jobs that used to be controlled by the government and taken care of by city employees.
One of the biggest corporations in the country, Omni Consumer Products (OCP), are therefore trying to finish their prototypes of robot policemen with machines of different sizes and weaponry being considered to replace the "obsolete" humans. One of their favorites is the ED-209 but they're still working the "kinks" out of its identification system. Once OCP has completed its takeover of the police department they will be able to demolish the slums of Detroit and replace them with Delta City: a beautiful area for the rich and powerful to live.
Enter RoboCop, who was once a human police officer named Alex Murphy, however, he was shot numerous times while on the job trying to make a bust and was pronounced dead at the hospital a short time later. Murphy would then be reincarnated with metal and circuitry replacing his flesh and bone, courtesy of the dastardly scientists at the OCP laboratory. After being cleared to return to duty, RoboCop battles with the worst criminals in New Detroit, including the ruthless executives at OCP, in the hopes of returning law and order to the besieged metropolis.
This reboot does a better job of reminding us of the plot of the movie than its predecessor, primarily due to the fact that there are more character symbols in this version. Also, the video clips from the original movie really bring you back to the plot of the fantastic original story: this is rare for a movie-branded release so Playtech gets top marks in this category.
Unique Symbols
There's some great news for super-fans of the movie: they finally gave us Dick Jones! This had been another one of our peeves last time so it's great to see that justice has finally been served. The software developers even went so far as to give us Miguel Ferrer as Bob Morton, Dan O'Herlihy as The Old Man, and Felton Perry as Donald Johnson in one of the special features – now that is an embarrassment of riches.
These additions are obviously a huge improvement from the last version and really the only character-based complaints that fans could have now would be the omissions of Ray Wise as Leon C. Nash, Paul McCrane as Emil M. Antonowsky, and/or Robert DuQui as Sgt.Warren Reed. (And of course, it would have been amazing to see Bixby Snyder make a cameo!)
We obviously cannot even entertain the possibility that Kurtwood Smith as Clarence J. Boddicker would ever make an appearance in one of these games because this was his second chance to do so and now it looks like it'll never happen. What a pity.
J (Jack)
Q (Queen)
K (King)
A (Ace)
Police Car
Gun
Officer Anne Lewis (Nancy Allen)
Dick Jones (Ronny Cox)
RoboCop (Peter Weller)
OCP (Wild)
Golden Police Badge (Scatter)
Cyborg policemen may be tough but they're not as strong as an entire crooked corporation and therefore the OCP Wild is the most powerful and gives you 2,500 coins for 5 of a Kind. Next of course is RoboCop with 1,000 coins, followed by Anne Lewis with 750, and Dick Jones with 500 for five on the board.
Frugal players will want to note that this machine has a fixed 25 paylines that you must wager on every time so you can't make tiny bets just to see the special features like you can in certain other ones.
Jackpots
In what has to be considered as the only downgrade in this version from the old one, there isn't a RoboCop Slots Jackpot that you can trigger this time. Of course, the prizes in the original release didn't offer a huge payday or anything – they were just in-game jackpots with amounts that increased as you went along.
That said, it was nice to know that you had a shot at something extra if you were lucky.
Bonus Rounds
There are 4 "Random Robotized Features" that can arrive at any time in the regular mode, with each being totally unique. Some of them are quite similar to the other extras and freerolls so they are a little confusing at first and unfortunately Playtech decided to name them almost the same thing.
Line-Up Spin
Robot Attack Spin
Shootout Spin
OCP Bonus
The Line-Up gives you a multiplier between 1x and 5x on both sides of the board to give you a double-ended payline multiplier that provides a boost from every direction imaginable.
The Shootout is a small nugget of fun that has RoboCop aiming his gun at the board after a brief targeting video clip from the original movie and then blasting symbols on the reels to turn them into Wilds.
The Robot Attack is an awesome occurrence that has ED-209 appear to totally cover reels #2, #3, and #4 as a 3×3 Wild that takes up 9 positions on the board during both the Robot Attack Spin and the Robot Attack Free Games. Obviously having 9 Wilds at once is going to crank out a huge win so this is definitely one of the best things you can trigger.
That said, the OCP Bonus will probably be your favorite one to hit because it takes you to the busy offices of OCP Headquarters to rub shoulders with the evil corporate douchebags who are trying to generate profits by screwing over the citizens of New Detroit. You will be presented with a 3×5 grid of televisions that you select one at a time until you match 3 of the same character.
The great thing about this one is that there are multipliers scattered throughout the board so you can supercharge the free money if you're lucky with your selections and hit a nice payday. The amounts are of course based on your triggering wager, with each OCP employee having a different number attached to them. Starting at the bottom of the corporate ladder we have Donald Johnson, Bob Morton, Dick Jones, and then The Old Man.
A little extra to enjoy is that if you have revealed 2 symbols for 2 or more of the characters and then hit the Wild, it will act as the 3rd selection for all of the characters and award you all of the associated prizes.
When triggering this one with Scatters it becomes the "OCP Mega Bonus" and is the exact same thing except with a 5x multiplier on all of the extra cash. I'd buy that for a dollar!
Free Spins
The free spins in RoboCop Slots 2017 edition flow like the blood in the streets of New Detroit and there are 3 different types on offer, with "Line-Up Free Games" seeming to pay off the most. If you hit 3 Scatters on the board you simply get to choose which ones you want, rather than having them awarded randomly. Or if you're someone who likes chaos you can click the "?" when the area is triggered and one of them will be selected randomly for you.
Shootout: 10 spins with extra random Wilds added to the reels
Robot Attack: 5 spins with the 3×3 ED-209 Wild activated
Line-Up: 15 spins with extra 1x to 5x multipliers on each payline
All of these are fun in their own way but Robot Attack with ED-209 is fantastic because seeing 3 reels completely covered in Wilds just makes you smile every time. Sure you only get 5 spins with this one but you can really make them count thanks to big ED.
Graphics
Where this reboot really separates itself from its predecessor is in the graphics department and it will definitely appeal to anyone who loves "retro futuristic" imagery. The reels, symbols, and user controls all look amazing, with enhanced HD images for the characters moving fluidly throughout. When it comes to unique backgrounds there's not a lot of variety but Delta City has never looked more depressing than it does in the distance behind the frantic action.
The graphics in the OCP Mega feature are outstanding with tons of great details and it's easy to see that a lot of work went into the design. For example, every time you select a TV a beautiful neon laser slithers through the grid to light up the corresponding total at the bottom of the screen. Also, the animations on Ed-209's machine guns make you think that they're firing right next to your head. Oh, and those OCP-branded gold coins that shoot out onto the screen for big wins was another nice touch by the design team.
The only main graphical criticism would be the overall lack of videos from the movie, although Playtech did make the very wise decision not to include clips on the winning paylines in the regular mode. However, this is based on one of the best movies of the 1980s so why not break out some of the classic scenes and pump up the cartoon violence wherever possible? Maybe we should just be thankful that we got a couple of nice clips during the action and not complain too much.
Audio & Soundtrack
This new version gets top marks for soundtrack because it uses the amazing score from the original film by Basil Poledouris, which of course adds drama and gravitas to the overall mood of the game. Playtech made the excellent decision of saving the bombastic main string arrangement for when you trigger something so you're always happy to hear it kick in with its powerful melody.
The music during the regular mode was a bold choice since it's just a simple soft melody created on a basic synthesizer. However, it has an urgent and foreboding tone that perfectly adds to the gritty setting of New Detroit and you honestly never get sick of hearing it while you spin because there are some slight variations that drift in and out unobtrusively.
Those who have seen the movie more than 20 times will be overjoyed to hear clips from the lesser-known movements of the original score. These delightful treats are only found in certain areas and super fans will be shocked when they first hear them.
In addition to a great soundtrack there are also a ton of original audio clips from the movie that will satiate even the most fickle of RoboCop fans. For example, we get the classic line of, "The old man thought it was pretty important…Dick." It's hard to believe this joke was not only written, but that's it's lasted a full 30 years…and then made it's way into an online slot game! It's totally obvious that the character was only given this name in the first place so the joke could be made, and we should all take a moment to appreciate that. You just gotta love the '80s, man.
Conclusion
This new release from Playtech gives fans everything that we didn't get the first time around from Fremantle Media, with the most important feature obviously being a free spins mode. The design is fantastic with all of the classic characters and images getting a thorough refresh.
Playtech made some very smart decisions when creating this one, such as including the soundtrack from the original movie and also sprinkling it sporadically throughout the action – not to mention they brought in other cool lesser-known melodies from the film. The great music accentuates the four unique bonus rounds, with all of it coming together to ensure that the action is literally non-stop. On top of all this, they even included almost all of the main characters that fans will be hoping to see.
Although it could be argued that this title maybe could have had a few more extra features, most will agree that it's just great to see something new that's based on a somewhat cheesy movie…that came out thirty years ago! Just think about the possibilities for the future – surely I can't be the only one out there interested in playing a C.H.U.D. themed slot, can I? I'd buy that for a dollar! HAR HAR HAR!
In any event, this RoboCop reboot for 2017 was a very nice surprise and a huge improvement on an already fun game that was put out on the market only a few short years ago. Anyone over 40 is definitely going to want to break out their bankrolls and head straight for the slums of New Detroit.
Now…where is that metallic mother?
Random Video of RoboCop
Here's a cool video with interviews of the original cast and crew detailing what it was like to make RoboCop. There are some funny and interesting nuggets in this one so make sure that you watch till the end.