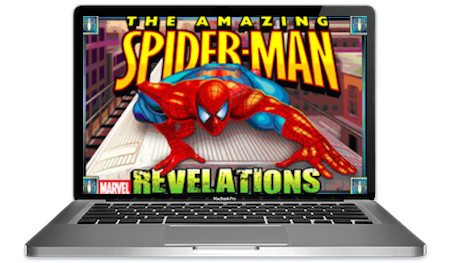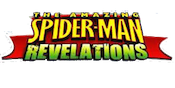 Spider-Man Revelations Slots
There's no doubt that Doctor Octopus is the craziest thing to ever come out of Schenectady, New York and now he is immortalized in Spiderman Slots from Cryptologic. Help Spidey save innocent citizens while you boost your bankroll in this fast-paced, cartoon-themed Marvel game.
Classic Villain
Interesting Bonus Round
Marvel Hero Jackpot
---
---
Review of Spider-Man Revelations Slots
Let's get this out of the way right from the beginning: I absolutely loved the old Spider-Man cartoons from the 1960s and one of the local TV stations used to play them every morning when I was growing up in the '80s. It was fantastically campy and captured the mood of the Flower Power generation while introducing Marvel's greatest villains in the process.
As comic book readers get older their tastes change and mature, and what you liked as a kid you might not like as an adult, but it will always have a place in your heart when you look back on it through a child's eyes. That said, he's still one of the best superheroes of all time and he only gets better with age, in my opinion.
This expert review of Spider-Man Revelations Slots will probably not be as harsh as it should be due to nostalgia, so let's just keep that in mind as we go. It's just so darn difficult to be hard on one of your favorites.
Screenshots
Because Revelations was one of the first Spider-Man gambling games ever made for online casinos, the graphics and images are definitely starting to look dated. This shouldn't really bother anyone too much because it adds to the overall "camp" that most people associate with the web-slinger anyway. Click on the screenshots below and enjoy that sweet neon bubble font.
Storyline
Doctor Otto Octavius wasn't always a power-thirsty maniac with extra robotic limbs. He began as a highly respected nuclear physicist at the top of his field who just happened to invent a set of super strong mechanical arms that were controlled by his brain to help him work more efficiently.
Unfortunately for Otto, there was a huge radioactive explosion in his lab one day that resulted in the robotic limbs becoming fused to his back. He also lost the ability to properly control them, as well as the ability to control his thoughts and temper: his transformation into an evil criminal mastermind came quickly.
This release follows the story of Doc Ock terrorizing the citizens of New York City and threatening to destroy everything around him, leading to Spider-Man rescuing panicked hostages on a speeding train. Surprisingly, this is still one of the better plots you'll find in an online slot game these days so we'll happily take it.
Unique Symbols
As mentioned, this title is getting a little long in the tooth and the symbols certainly reflect that. There's nothing worse than seeing a "9" used and the inclusion of some of the other ones are downright confusing. Did we really need a subway car symbol simply because the special feature occurs on the roof of one? It feels like the designers at Cryptologic could have done a little better than that.
Here's what they finally decided on:
9
10
J (Jack)
Q (Queen)
K (King)
A (Ace)
Subway Car
An Open Safe with Cash
Spider in a Web
Doctor Octopus
The Amazing Spider-Man Revelations Logo (Scatter)
Spider-Man (Wild)
The Spider-Man Wild is the highest-paying giving you 5,000x your wager amount for 5 of a Kind. Next we have Doc Ock awarding 1,000 coins, followed by the Subway with 500 for five in a spin.
Jackpots
Since Spider-Man Revelations is an older title it's not linked to the Marvel Mystery Jackpot like every other modern Marvel release. Instead it has the "Hero Jackpot" and the "Super Hero Jackpot" that most of the older ones from the Marvel Universe have.
The Hero one is considerably smaller than the Mystery one so this is just another reason why it's understandable that most people ignore Revelations in favor of ones like Attack of the Green Goblin Slots and try to cash in on a bigger prize.
Bonus Rounds
Anyone looking for an action-packed game will be disappointed to learn that there isn't a proper bonus round in this release. At the time when this machine first came out software developers weren't putting too much effort into creating unique features because it was all about spicing up the free spins mode back then. Of course players are always demanding more for their entertainment dollar, so companies have been stepping up their efforts in recent years to make them much more interesting and complex.
To be fair, the freeroll in Revelations is almost like a "mini bonus round" since there's some action that doesn't include whirling reels and this is explained in detail in the section below.
Free Spins
The special area in Revelations is called the "Doctor Octopus Feature" and it's kind of a mixture of a free spins mode and a traditional bonus round. This is because it consists of you meeting Doc Ock face to face on top of a speeding subway train in a "showdown type of scenario" that sets up the details for the upcoming action.
Doc Ock throws passengers at you with each one attached to a different number of spins and multiplier amount. With each hostage you have the option to save them and accept the prize or refuse and receive a different number. However, the catch is that the next prize might be lower than the one that you just won so consider your decision carefully: sometimes it doesn't pay to be too greedy.
Once you've finished rescuing hostages you're sent to the free games mode where you will enjoy whatever numbers of spins you won on top of the train, with all wins being multiplied by the final number that you received.
The Doctor Octopus Feature is triggered by 3 or more Scatters anywhere on the board during the regular mode.
Graphics
Given the amount of issues already discussed in this review, the quality of the graphics won't come as a surprise to anyone. Yes, this machine is getting up there in years but the look and feel of it are not aging well at all. Things like the animation on the Wilds is pretty bad and it looks like an old flip-book cartoon from the 1950s. Most of the other visuals look like they're straight from a Sega Genesis video game in 1992…and not in a cool way.
The action on the train car still looks pretty decent and overall the symbols are passable, but those of you who like cutting-edge graphics in your gambling games are going to want to pass on this one in favor of something newer.
Audio & Soundtrack
Lets just say that the audios here aren't going to win any awards and that most people will want to enjoy this machine with the sound turned down. Attentive listeners will notice that Revelations has the same "horse galloping" spinning sound as all of the other comic book themed slots that Cryptologic released during this period.
It does get a few points for adding a sound effect of a handle being pulled at the beginning of every spin – it makes you feel like you're on an old school one-armed bandit. Also, during the bonus round there is very serious song that belts out which is made even more dramatic with the sounds of the hostages screaming as Doc Ock throws them. A very interesting addition that will definitely be appreciated by most.
Conclusion
Although this isn't the best Spider-Man slot machine that's ever been released, diehard fans will find that it's still fun to go back and play it sometimes…if only to enjoy the ridiculous special feature and have Doctor Octopus throw screaming commuters at you.
Ultimately, most of you will want to save your bankroll for newer Spider-Man games and other cutting-edge Marvel titles and no one is going to fault you for that. With a low jackpot and no proper bonus round to enjoy, thrill-seeking players are sure to be disappointed with the lack of excitement.
However, if you've loved the web-slinger since childhood you'll definitely want to check it out and enjoy the vintage vibe. It's always fun spending some time with your friendly neighborhood Spider-Man – even if it's only for a few minutes.
Random Video of Spider-Man
There is absolutely no doubt that the beginning of this theme song has one of the best bass lines ever recorded in the history of music. So feel free to sing along to the sassy beat… "In the chill of night, at the scene of a crime"….