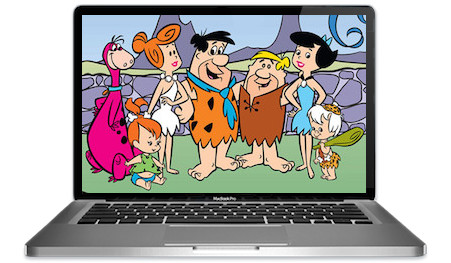 The modern Stone Age family is back with tons of fun and cash prizes, and they've even brought a few friends along. The Flintstones Slots is an action-packed ride through Bedrock that will have you on the edge of your seat.
3 Unique Free Spins Modes
Fantastic Graphics
Fun Bonus Rounds
---
---
Review of The Flintstones Slots
I've always been open about my love for Hanna-Barbera cartoons and what they meant to me as a child. There's just something about their animation style, the great characters, and the amazing imaginary universes that they create. After receiving widespread praise after launching the fantastic Top Cat Slots a little while ago, Hanna-Barbera are back to give fans what we've been waiting for: a machine based on The Flintstones.
This was the one cartoon that has pretty much been with me my entire life. When I was a child in the 1960s I watched it every Friday night at 8:30pm and when I was an adult my kids were watching reruns every day at lunchtime. Now sometimes I'll even find it flipping around the channels and have to stop to see which episode it is: it's safe to say that diehard fans like me know that this show never gets old.
So obviously I was very excited to hear that Playtech was planning on releasing a title based on Bedrock and my expectations were sky-high. Well, we're happy to report that it was totally worth the long wait because this creation is excellent on every level and is a ton of fun to play.
This exclusive review of The Flintstones Slots will break down everything you need to know about the different free spins areas, bonus rounds, and the amazing graphics and soundtrack.
Screenshots
Just click on any one of the screenshots below to enlarge them and see the fantastic colors and design that Playtech brought to the prehistoric table. All of the visuals and graphics blend together perfectly and it honestly looks like this machine could have been designed by Hanna and Barbera themselves.
Storyline
We all know the story of The Flintstones but just in case any of you have been living under a (bed)rock for the last 60 years, allow us to give you a quick recap. The show revolves around Fred Flintstone and his wife Wilma, and their neighbors Barney and Betty Rubble. Most of the plot lines involved Fred having quarrels with his boss Mr. Slate or Fred and Barney going on zany adventures with members of their Water Buffalo Lodge.
There were numerous other misadventures with townsfolk like Arnold the paperboy, friend Joe Rockhead, Wilma's mother Pearl Slaghoople, and the Grand Poobah of the Water Buffalo Lodge, Sam Slagheap. Over the years the show also had special guests drop into town such as Ann Margrock, Stoney Curtis, Rock Quarry, and Ed Sullystone, who were of course all based on superstars of the day. Heck, one time Elizabeth Montgomery and Dick York from Bewitched even moved in beside them and became their temporary neighbors!
During the last season of the show Fred and Barney were occasionally visited by an alien from the future called The Great Gazoo who helped them to get out of jams and sticky situations. Like the time they couldn't pay for an expensive dinner, or when their wives wouldn't let them go out bowling.
This interpretation of The Flintstones from Playtech focuses on the boys' love of bowling and other familiar sights and sounds from Bedrock. Sadly, this release does not dive into any of the actual plots from the original cartoon, which would have been absolutely fantastic but would have taken a lot of effort to do right. Instead, we roll alongside the Flintstones and the Rubbles following their everyday lives and quite frankly, we're just happy to be along for the ride.
Unique Symbols
Even though the designers used the playing cards of Jack, Queen, King, and Ace, they still gets a high grade for unique symbols because they all mix together perfectly. If Playtech would have added any other characters the reels would have definitely been too crowded so they got the balance right.
Many will be sad to see that Pebbles and Bam Bam didn't make it into the action but maybe this is because they're already planning on a Flintstones 2 that would include them, (fingers crossed). Based on the show, this would make sense chronologically and 2 Flintstones gambling games are definitely better than 1 so let's stop discussing this now so we don't jinx anything.
J (Jack)
Q (Queen)
K (King)
A (Ace)
Rack of Ribs
Stone Age Telephone
Betty Rubble
Wilma Flintstone
Barney Rubble
Fred Flintstone
Dino (Wild)
Bowling Ball & Pins (Bonus)
The Flintstones House (Free Games)
Start ringing the dinner bell because you'll want to see Dino crashing through your front door as often as possible since he's the highest-paying with 1,000 coins for 5 of a Kind. Next we have Fred dancing in with 400 coins and Barney proudly giving you 200 for five of them across the board. Unfortunately, the wives take a back seat both in the car and in the payout department, with Wilma giving you 100 coins for 5 in a result and Betty giving you 80 for the same.
You should note that since The Flintstones is a 1,024 payline machine it is technically an "All Ways Pays" which means that 3 or more of the same symbol in any spot from left to right will count as a winning line. These ones are always difficult to keep track of and it takes some getting used to.
Jackpots
Make sure that you don't look for a Flintstones Slots Jackpot because if you yabba dabba do, then you're yabba dabba screwed. Playtech must have decided that the Stone Age was no place for big cash prizes and denied Fred and the gang a jackpot of their own. To be fair, there's not a 1,024 way title out there with one so it's nothing personal against the crew from Bedrock.
Bonus Rounds
Surprisingly, not only does this game have a bonus round, it's one of the better features you'll find in a cartoon-themed slot. The "Bedrock Bowling Bonus" is triggered by the Bowling Balls falling on reels #1, #3, and #5 during any spin in the regular mode and you'd better strap yourself in when they come because it's a real doozy.
Once triggered, you will be taken to the Bedrock Bowling Alley where you will choose from 4 different "bowling styles" for Fred to use as he tries to knock down the pins. You'll be cheering for him to knock down as many as possible because each pin will add 1x to your multiplier and if you get a strike you'll receive an extra ball to throw. If you get a strike with your extra ball you'll get another extra throw that will increase your multiplier and this can continue without a limit.
The only complaint with this is that it doesn't reveal the prize amounts under the throwing styles that you didn't pick so you never know if you picked the best one or not. Loyal readers will know that this is a common complaint that we have for anything that doesn't show you what all of the possible prizes were.
Also, there's a nice little nugget of fun called "The Flintstones Rocky Ride!" that can come at anytime during the regular mode with Fred, Barney, Wilma, Betty, and Dino rolling onto the screen in their prehistoric car. Two stone wheels then appear at the top of the board and twirl to reveal extra mystery symbols and cash multipliers.
Fred and Barney will randomly heave the mystery squares onto the reels and they'll usually stack up to cover two spots on each one. Then the "Symbol Wheel" at the top will rotate to reveal either Fred, Barney, Wilma, Betty, Dino, or Ribs and all of the mystery ones will transform to that symbol which will result in a huge win.
Free Spins
The Flintstone House with "The Free Games" written on it triggers the free spins mode when it falls on reels #2, #3, and #4 in the same result. You will then be able to choose from 3 different areas that all have something great to offer depending on the mood you're in:
The Great Gazoo: 12 Spins & Extra Wild
Wilma Wild: 5 Spins & Ultra Spin
Dino Multiplier: 10 Spins & Dino Multiplier
Each of these options offers an entirely unique experience with different backgrounds, imagery, and outcomes. For example, The Great Gazoo appears as a Wild but he can also change other random symbols into Wilds as well. If you choose to clean the house with Wilma she'll roll her pink elephant vacuum cleaner across the board to suck up Wilds after each result and then shoot them back onto the reels for one last "Ultra Spin" at the end of the action. Or in the Dino Multiplier Free Games he will randomly dig for bones throughout the action, with each one increasing your multiplier.
You can even re-trigger free spins while rolling and you will simply go back to the choosing point once you are finished with your current area and you can select another adventure. Now that's a gay ol' time!
Graphics
The graphics in this one are as good as any that you will find in a new release today. There are beautiful unique backgrounds for all of the special features and unique areas, and they do a great job of keeping things fresh as they take you to different places in Bedrock as you play.
The animation in the bowling alley area is basically like watching an original Flintstones cartoon – it really is that good. The action is of course enhanced by the constant audio commentary from Fred and Barney as well.
The great visual effects continue when you trigger The Flintstones Rocky Ride and the crew roll out on the screen with flawless animations. If the result with the mystery symbols triggers a big win, Fred and Barney not only give you a running dialogue as your extra cash gets added to your balance, the turtle that they use as a car jack cranks the display higher and higher with his ridged neck. Also, if the amount is super big it will trigger a special clip from the original cartoon – bring on the "big rock"!
Audio & Soundtrack
The action kicks off with the horn blasts that we all know and love from the beginning of "Meet the Flintstones" which was of course the main theme song for most of the cartoon's run. Then the soundtrack in the regular mode kicks in and it's absolutely fantastic: it's basically an extended instrumental of the main theme but with numerous solos by horns, pianos, and drums that would make original composer Hoyt Curtin stand up and applaud. It's a real swinging, up-tempo, toe-tapper, and it's probably one of the best in-game songs ever put into an online slot machine since the beginning of time.
In addition to the main theme we also hear unique songs in each free spins mode that sound like they were taken straight from the original cartoon. They're basically variations of "Meet the Flintstones" that have a twist depending on what round you've selected. For example, the Great Gazoo has a synth-heavy, space age version that's slowed down with the classic horn section removed. It will immediately transport you to his home planet of Zetox so watch out for Gazaam, Dum Dum!
Throughout the whole thing there are constant Hanna Barbara audios that every fan will immediately recognize like coconuts being knocked on, slide whistles, and every other sound you remember from the show. Amazingly the sound effects of the reels don't interfere whatsoever with the soundtrack and all of the audios blend together perfectly.
You'll be hoping to hear "Yabba Dabba Doo" as much as possible because that's what Fred shouts out every time you hit a big cash prize. Also, sound effects like Gazoo appearing and disappearing are exactly as you remember them. Broink!
There's constant banter between Barney and Fred which really makes everything come alive, especially in the special features -"Hey look Barney, free games!". They love commentating on what's happening and they both get really excited when you trigger extra stuff and big wins so it's almost like they're sitting right next to you throughout the action.
Conclusion
As mentioned in the beginning of this review, I've been a lifelong Flintstones super fan so I'm very biased, but thankfully this release is amazing and stands on its own two feet. We had our doubts when we saw that it was a 1024 payline machine but 5 minutes in it was clear that it was going to be a blast. This is honestly without a doubt one of the best television-themed slot games we've ever played.
With 3 unique free spins areas, a fantastic bonus round, and fun little reel features sprinkled throughout, people of all ages will enjoy this action-packed animated classic. The graphics are sharp, the visual effects are fluid, and the soundtrack is everything that you would want it to be and then some. In short, this title delivers in every conceivable category.
So Yabba Dabba don't miss out on this colorful cartoon masterpiece from Playtech: hop in that footmobile and get those legs moving …it's time to roll along with the modern Stone Age family…
Willllmmmaaaaaaaa!!!!!!
Random Video of The Flintstones
Here's a fantastic interview we found online from 1990 with Joseph Barbera and William Hanna discussing the history of The Flintstones. There's a ton of information in here that some diehard fans might not even know. Enjoy!