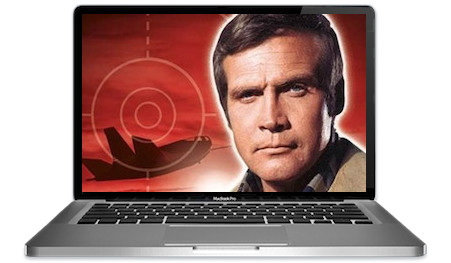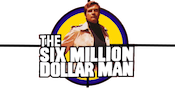 The Six Million Dollar Man Slots
The Six Million Dollar Man was worth every penny back in the 1970s and now there's an amazing game that does his legacy justice. Get ready for action because this will be one of the craziest gambling adventures of your life.
Outstanding Game Design
Amazing Soundtrack
Tons of Free Spins
---
---
Review of The Six Million Dollar Man Slots
Gentlemen, we can rebuild him. We have the technology. We have the capability to make the world's first bionic man. Steve Austin will be that man. Better than he was before. Better… stronger… faster.
It was the 1970s and good television was scarce. We only had a few channels and all of them signed off the air every night around midnight, so who wouldn't have been excited when a bionic man strutted his way onto our screens in the fall of 1973?
Predictably, the entire country embraced The Six Million Dollar Man and elevated him to "icon status" after only a short amount of time. His popularity extended for years afterwards and even after the show was cancelled in 1978 his diehard fans were able to get studio execs to produce made-for-TV movies about him well into the mid 1990s. Now that's devotion!
Any show that spawns tons of merchandise like toys and lunch boxes has obviously struck a chord with viewers, and I personally never missed an episode back in the day. This show was honest entertainment that the whole family could be excited to watch. Even as I type this I'm having flashbacks to Sunday nights with my kids gathered around the television excitedly bouncing around waiting for the show to start. Now if only I could block out that memory of the green shag carpet that we used to have in the family room.
So now you know that this is being written by a fan of the original show who's both biased and nostalgic, however, this expert review of The Six Million Dollar Man Slots doesn't need to exaggerate. Playtech did a fantastic job on this machine and fans of the original show are going to be extremely happy with the results.
Screenshots
The images below show you just how good a job the machine does of taking you back to the future…well…the future as we thought it was going to be in the 1970s. The Playtech designers updated the classic television show in a modern way with crisp images and sleek user controls: it has the charm of the '70s with the function of the 2000s.
Storyline
When one of NASA's best astronauts crashed his aircraft in a horrific accident everyone thought that he was a goner. However, Colonel Steve Austin miraculously survived the crash and was immediately rushed into surgery and was given a new bionic arm, bionic eye, and two bionic legs: obviously, he was now the "Bionic Man". What was the total cost of the operation? Well, unsurprisingly, it was six million dollars.
Now Austin had superpowers that he had never dreamed of and could run as fast as a car and lift up a truck with ease. His new bionic eye allowed him to see 20 times farther than the average human and it even has infrared technology. Austin then used his new powers for good as he travelled the world to save people in danger and help further the causes of the United States and NASA. He was the original crime-fighting cyborg, arriving 10 years before the likes of RoboCop and Terminator.
The storyline of this release follows the plot of the original show and all of the adventures that occur in this bionic universe…but unfortunately there's no slow motion action sequences. Although there aren't really any specific stories lifted from the show, everything does come together to bring back the memories.
Unique Symbols
Normally we would complain that Playtech decided to use the 10, J, Q, K, and A symbols on the reels, however, in this instance the quality of the gameplay is actually enhanced by having fewer unique symbols. You will see when you play it for yourself: all of the other symbols are so lively that it would have been too much if there were another 5 unique ones to keep track of.
Here's what we got:
10
J (Jack)
Q (Queen)
K (King)
A (Ace)
Blue EKG Waves
Digital Numbers
Bionic Foot
Bionic Hand
Bionic Eye
OSI Director Oscar Goldman (Richard Anderson)
Colonel Steve Austin (Lee Majors) (Wild)
The Six Million Dollar Man Logo (Scatter)
Of course Steve Austin is the highest-paying symbol in this game, giving you 4,000 coins for five of a kind. There is then a huge drop in payouts as Oscar Goldman only gives you 500 for the same number in a spin. The Bionic Hand, Bionic Foot, and Bionic Eye all pay 300 coins each, with the Scatter paying a very low 100 coins for 5 across the reels.
Jackpots
There are no jackpots in The Six Million Dollar Man Slots, but gentlemen…you can rebuild this game. Playtech has the technology. You can build this game better than it was before. Better. Faster. Stronger. More profitable…
Bonus Rounds
There isn't a true bonus round in Six Million Dollar Man Slots, which is pretty disappointing: based on how great the rest of the game is you just know that a special feature would have been amazing. Any opportunity to use bionic body parts to win free cash is always going to be fun and the developers really could have elevated this release to another level if they would've chosen to explore their options.
However, this game does have a "Bionic Spin Button" that will cost you an extra 50% of your wager, but it will guarantee you 0 to 5 Wild symbols every spin. We're not sure how getting zero Wilds is a bonus but we understand what they were trying to do here and it's a fun experiment. When you pull the Bionic Spin lever to enable it, a red target will appear and zoom in on random symbols to change them into Wilds. This will obviously give you more ways to win but just keep a bionic eye on your bankroll.
Free Spins
You will be chasing the Six Million Dollar Man Logo Scatter symbol in this game since 3 or more of them will get you freerolling with 15 spins in the "Bionic Free Games" feature. Unfortunately it's a straight 15 every time and you don't win extra free spins by hitting more Scatter symbols when triggering it.
Also, you can win yourself 2 extra free spins by collecting all of the bionic parts that Steve needs to rebuild his body. If you grab the Bionic Leg, Arm, and Eye in that specific order you will win the 2 free spins and 1 additional Wild symbol will be added to the Stacked Wilds, which will then stretch them out to cover more rows. You can only gather one bionic part per spin so don't bother cheering for all 3 to fall at once. Also, the symbols have to fall in a stacked manner if they are to be added to your collection.
You can keep track of what you've gathered with the status meter at the right of the game board. This prize can be awarded a maximum of 5 times while freerolling but if you trigger it a 6th time or more you'll only get the 2 respins and no Wilds will be added.
Graphics
The graphics in this release are excellent and definitely one of its main strengths. The designers did a fantastic job of transporting players to a bionic world that is technically in the past, but feels like it's in the future. All of the bionic body parts glow and activate in just the right way when they're triggered during the various special features.
There are awesome video clips from the original show that play if you hit a big win that involves one of the character symbols, with a favorite being from Office of Scientific Intelligence Director, Oscar Goldman. They fit in perfectly with the music and graphics of the free spins mode and they'll bring a smile to your face.
The machine graphics of adding extra Wild symbols to the reels are fun and fluid, and the symbols light up as if they're dancing and supercharged. It's a totally futuristic game with lots of robotics and technology, not to mention bleeps and blorps.
Audio & Soundtrack
The regular soundtrack is absolutely beautiful: it's a soft '70s jam that's slow and funky with sassy bongos that fade in and out as you spin. However, if you engage the Bionic Spin feature and start to auto spin the tune is drowned out by frantic robotic spin effects and there doesn't appear to be a way to turn down the game audios while keeping the soundtrack at a reasonable volume. What a shame!
The song that plays in Info Mode is fantastic and has more groovy wah wah guitars in it than you can shake a stick at. It's definitely inspired from the great American funk music of the 1970s and it sound like it was professionally recorded in a studio in downtown Detroit.
However, those two songs are put to shame by the synth-heavy anthem that pumps out of during the free spins mode. There is an uptempo bass line that gets worked over by and electronic keyboard that will have you dancing in your seat. It's seriously kind of unbelievable how good it is.
In regards to the game audios, when you pull the lever for a Bionic Spin you'll get the familiar sound effects from the television show that happened whenever Steve jumped using his bionic legs. All of the other audios when you push buttons and get big wins are "futuristic sounding"…although the game's designers did a great job of making them "futuristic sounding as if they were created in 1975".
Every Playtech audio engineer who worked on this machine should be very proud of themselves – it was absolutely an award-winning effort.
Conclusion
There are lots of reasons to like Six Million Dollar Man Slots and it was an excellent interpretation of the original TV show. It's rare that a casino software company hits the nail on the head with a television-themed slot game but this one is darn near perfect.
The graphics are cutting edge and will impress even the pickiest of players and the in-game features and free spins mode are tons of fun. The ridiculously great soundtrack is probably the best ever put into an online slot and it's basically impossible to get sick of listening to it. In short, this game preforms on every level.
So if you love The Six Million Dollar Man you're definitely going to want to check this one out and see all of the great features for yourself. Even players who've never heard of Steve Austin before but are looking for a fun and exciting machine to play should go take a look – you will not be disappointed.
The future of gambling games is here, from the past, to play in the present.
Better. Faster. Stronger. Awesome!
Bonus Video of The Six Million Dollar Man
That's enough talk about Lee Majors' character, lets see the Bionic Man in action with his wife Farrah Fawcett Majors. Here they are dropping by the Brady Bunch Hour to try their hands at some comedy. We had actually forgotten how bad this show was! Enjoy?