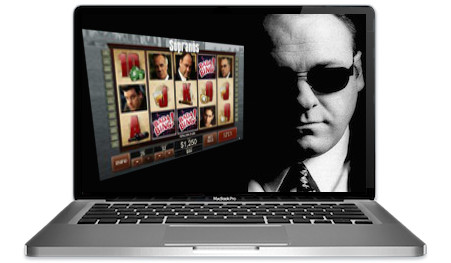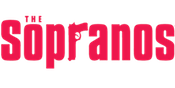 The toughest crew in Jersey is here to demand respect and dish out punishment to anyone who dares step out of line. So stay on Tony Soprano's good side while trying to avoid the heat so you can both rake in lots of loot.
Legendary TV Show
Different Free Spins Modes
Tons of Bonus Rounds
---
---
Review of The Sopranos Slots
If you've found this webpage I'm going to go ahead and assume that The Sopranos meant as much to you as they did to me. For six seasons I was glued to HBO on Sunday nights to watch the first family of New Jersey do their thing. There had never been a television show like it before and although there have been some cheap imitations, there hasn't been one since.
The Sopranos wasn't a hit TV show because it was violent or glorifying gangsterism, it was a smash because it showed viewers the other version of the "American Dream". What happens when you dream of money and success but you dropped out of school when you were 12? Or if your family didn't have the income to send you to a good college? Or nobody gave you a chance because of your background?
Well, most enterprising individuals who are shut out of legitimate paths to success will simply turn to a life of crime. Remember: the only difference between a credit card company and a loan shark is a few sentences of legislation and the collection methods.
The other reason that the show was so popular was because it painted these criminals in a human light. They weren't all street thugs cracking heads every day, (although that was certainly part of it), they also had families, and self-doubt, and anxiety about what the future would come to hold. When you take away the guns and the degrees, there's not a lot of difference between the mentality of a mobster and the mentality of an investment banker.
So there's simply no way that I could badmouth this release. It's a matter of respect…well that and I don't want to end up floating in the East River. Thankfully, this expert review of The Sopranos Slots doesn't need to lie because it's just as good as the original show and it's action-packed from beginning to end.
Screenshots
The screenshots below are evidence that all of your favorite characters are here and there's a lot of tough guys with tough looks on their faces. The style is perfectly suited to its subject matter and fans will agree that it's a true extension of the original show.
Storyline
When you ask people what an Italian gangster is like you're probably going to get all of the usual stereotypes and dramatic characteristics that movies and television have been reenforcing for decades. However, Tony Soprano is anything but your typical mobster: he fights with his mother, he goes to therapy, he suffers from anxiety and depression, and ultimately he's just trying to find his way in the world. Often we even see him searching for the meaning of life.
Although Tony's life resembles that of many middle-aged Americans, there is one big difference between him and everyone else – he runs New Jersey and all of the criminal activity in it. Period. There's no one meaner when he has to be but somehow he tempers his wrath with a soft side and he always finds a way to balance business with family, (for the most part).
This release from Playtech does an excellent job of telling the story of The Sopranos through its symbols, video clips, and multiple special features. They stuck to the story and didn't rat anyone out, and there is so much from the original show jammed into it, it's easily one of the best adaptations of a television program into an online slot game that we've ever seen.
Unique Symbols
There won't be that many complaints about the unique symbols but with so many different extras included, we have to ask: where is Edie Falco as Carmela Soprano and Lorraine Bracco as Dr. Jennifer Melfi? Most will agree that they deserved to be included in this title.
Of course, it could have gotten crowded with too many characters but come on…Dominic Chianese as Corrado "Junior" Soprano, Steven Van Zandt as Silvio Dante, and Vincent Pastore as Salvatore "Big Pussy" Bonpensiero could have dropped by, even if it was only a quick glimpse of them in a video clip.
However, these are relatively small omissions when you consider everything that we do get:
10 (with Poker Chips)
J (Jack with Scotch on the Rocks)
Q (Queen with Gold Watch)
K (King with Smoking Cigar)
A (Ace with Bottle of Red Wine)
Artie Bucco (John Ventimiglia)
Bobby Baccalieri (Steve Schirripa)
Johnny Sack (Vincent Curatola)
Christopher Moltisanti (Michael Imperioli)
Paulie "Walnuts" Gualtieri (Tony Sirico)
Tony Soprano Wild (James Gandolfini)
Sopranos Logo (Scatter)
Bada Bing! (Bonus)
Shipping Container (Stolen Goods Bonus)
There can only be one at the top of the mountain and that of course is the Tony Soprano Wild which dishes out 3,000 coins for 5 of a Kind. This is followed by Paulie Walnuts with 1,000 coins, and Christopher Moltisanti with 400 for five across the board. Johnny Sack, Bobby Baccalieri, and Artie Bucco finish off the wise guys by paying 300, 200, and 150 coins respectively for five in a result.
And always remember – you better provide for the family.
Jackpots
With all of the different special features and free spins modes in this machine you were still looking for a jackpot? What a sign of disrespect! How dare you? Hey Silvio – go get the shovels and the lime.
In case you couldn't read between the lines, that means that there isn't a Sopranos Slots Jackpot in this game, you meatball.
Bonus Rounds
Tony and the boys like to relax and have fun so they decided to offer us three different bonus rounds and all of them are totally unique and packed with prizes and excitement. The titles of each are:
Raid
Bada Bing
Stolen Goods
The Raid Bonus will have your heart pumping because you've been tipped off that the Feds are raiding two of your hideouts and now you have to stash your cash somewhere safe. You can choose any combination of the floor, the closet, the container, or the ceiling.
Once you've stashed the four envelopes of money it will ask you if you think that they're safe. If you have any doubts click "no" and re-pick the hiding spots until you're happy. Once you click "yes" the cops conduct their raids and you'd better hope that they don't target your hiding spots because you'll get to keep all of the loot that wasn't discovered.
The Bada Bing Bonus is when you have to start making some hard decisions about the members of your crew. Tony wants to talk to somebody and it's you who's going to choose between Christoper, Paulie, Bobby, Johnny, or Artie. Choose wisely because if the meeting goes well you will be able to send someone else into Tony's office for an ear-full.
All the members of the crew are holding on to cash prizes so this is your chance to pad your bankroll if Tony is feeling hospitable and is in the mood for lots of meetings. Whenever he grows tired of flapping his gums he will 86 things and send you back to the regular mode. This is triggered when the Bada Bing! falls anywhere on reels #2, #3, and #4 in a result.
The Stolen Goods Bonus is probably one of the best things ever put in a gambling game. This is for the simple reason that Playtech could have just kept it as a simple Pick Em' area but instead they chose to give it some real gangster flavor. Things start with 10 shipping containers on a map and a list of the amounts that have been stashed throughout them.
You then pick a container to reveal the cash that's hidden inside it and if you're unhappy with your prize you can give it back and pick another one to try to increase the amount. You only get 3 chances to do this and you will be forced to keep whatever the 3rd one is, so choose wisely and don't get greedy or you'll get whacked. The only small issue with this one is that it doesn't reveal what was in all of the containers at the end of the round.
You will access the Stolen Goods area when you hit Shipping Containers anywhere on reels #1 and #5 in the same result, but it cannot be triggered during a freeroll.
Free Spins
In addition to the 3 unique special features, Playtech decided to load 4 different free games modes into The Sopranos to make sure that nobody dared complain about not getting enough action. You have to unlock each mode in order, with the Soldier Mode immediately unlocking the first time you trigger it. You can always see your status level on the screen and once a mode has been unlocked it will stay unlocked even if you leave the machine and come back to it later.
In order to access the various levels you will have to fill the three status bars beneath each of them and when they're filled the mode will be permanently unlocked and you can start working on the next one. Once you've unlocked all of the levels you will be able to play whichever one you want simply by clicking on the green "Select" button that replaces the 3 progress bars.
Filling the progress bars is pretty straight forward: 3 Sopranos Logos during the regular mode fills the first bar, and 4 or 5 Sopranos Logos will complete the last two progress bars. So why are there three progress bars and not two? No idea.
The four different modes in order are:
Soldier Free Spins is a straightforward 25 free spins with Christopher Moltisanti added to the board as an extra Wild and if you have him land perfectly in the middle of the board on reel #3 you'll win another 5. In a surprising twist, there is no limit to how many times you can re-trigger this one.
The Capo Free Spins takes it up a notch by giving you 20 but starts you with a random multiplier of 2x to 5x and then the rest is up to Paulie Walnuts. If he shows up anywhere on the board your multiplier will go up by 1x but if he doesn't drop by for a visit your multiplier goes down by 1x, with a minimum amount of 2x. This goes on for each result until the round is over and this one cannot be re-triggered.
Things get even crazier with the Boss Free Spins as Tony himself gets involved and gives you 2 to 5 extra Wilds every time, with Scatter wins being calculated before the Wilds are tossed onto the board. You only start off with 10 spins but if you hit Tony in the coveted middle position on reel #3 you'll trigger another 5. Only Tony himself can give you more games, not his Extra Wild symbol, and there is no maximum on the amount of times that he can be re-triggered.
Finally, you will unlock the Family Free Spins which gives you 10 freebies but the reels will only have the members of the family on them so your chances of winning big are drastically increased. The Sopranos Logo is also included in this and Tony doubles all of your payline wins when he's used, but this cannot be re-triggered so don't even think about asking him for more handouts.
Graphics
There are great clips from the show throughout the action, with all of your favorite characters reciting memorable lines. Also, during the special features you get more clips that go along with whatever it is you're doing at the time: stashing cash, going into meetings, etc.
The user controls are starting to look a little bit dated and many of you will want to know that there isn't an auto spin button, which is obviously quite frustrating. How it's even possible for an online slot machine not to have this in this day and age is baffling, but since the game itself is so much fun to play we're not going to complain too much.
Audio & Soundtrack
The soundtrack is pretty interesting as it has 2 main songs that are totally different from one another. The one that's heard during the regular mode is a soft melody that builds an urgent mood. However, when you go into the Info Mode there is an aggressive, cymbal-heavy beat that repeats loudly as you cycle through the screens: a sample of this beat plays in the regular mode but it stops at the end of each result.
Those familiar with The Sopranos won't be surprised to learn that the sounds of the buttons being pushed are a gun cocking and it's the little things like this that make us smile. However, the audio of winnings being added to your balance is a little cheesy but it's not too bad.
All of the other items like the content of the video clips and the various bells and whistles in the bonus rounds are all fine, with nothing really standing out one way or the other.
Conclusion
There will never be another family like The Sopranos and this game totally does them justice thanks to the solid effort from the crew at Playtech. This is without a doubt one of the best television-themed releases ever made and fans of the show are going to love it. Even those who have no idea who Tony Soprano is will enjoy themselves thanks to the non-stop excitement that pumps through the whole experience.
The Return to Player (RTP) is a little on the low side at 94% but you had to know that Tony was going to hold back a little extra something for himself. Not to mention that all of the unique features have to be paid for somehow.
The lower RTP shouldn't really bother anyone though because all of the best machines that have come out over the last few years always pay out less to cover all of the crazy extras and prizes that they offer. It's simple math and most people don't mind winning a little bit less if they're going to enjoy themselves a heck of a lot more.
So with tons of different bonus rounds and free spin modes, loads of video clips from the show, and most of the original characters as symbols, this is as entertaining as it gets. You'd better believe that Sopranos Slots is going to be loved from Newark to Palermo.
And don't ever forget the most important thing that Christopher Moltisanti asks of you…Next time you see my face, show some respect.
Random Video of The Sopranos
Here is a great documentary about the "real life" Sopranos that digs deep behind the scenes and explains how millions of people fell in love with the show and what it was based on. If you're a fan you'll definitely want to make sure that you check this out.