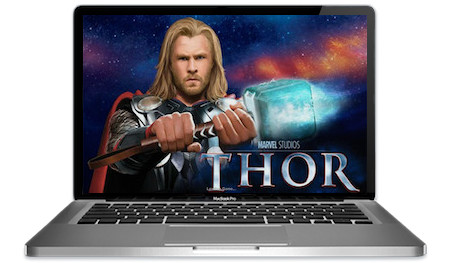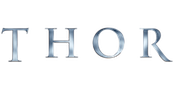 Thor The Mighty Avenger Slots
Ancient Norse mythology has not produced a character mightier than the God of Thunder who strikes down evildoers with his punishing hammer. Every Marvel comic fan in the nine realms will want to try out Thor The Mighty Avenger Slots from Playtech and take a turn swinging his Mjölnir.
Extended Bonus Rounds
True to the Film
Marvel Mystery Jackpot
---
---
Review of Thor The Mighty Avenger Slots
As a youth, I really only paid attention to Thor when he was guest appearing in other Marvel superheroes' comic books since there were too many other crazy characters that grabbed my attention in those days. I simply didn't have the time to add an ill-tempered viking to my list of monthly reading.
However, once I had finished watching the first Thor movie starring Australian heartthrob Chris Hemsworth in 2011 I was "all in" on this Norse tail. I'm far from an expert on the subject but from what I know, the movie's creators did a good job of telling his story without it getting too outlandish or silly.
That all said, this review of The Mighty Avenger Slots is going to be as unbiased as it comes – just because we enjoyed the movie, doesn't mean that we have to love the slot game that shares its name. We have been disappointed way too many times with movie-themed slots, so usually we go in prepared for the worst. Thankfully, Thor and his friends have come together to create a solid title with some fun features.
Screenshots
As you will see in the screenshots below, Thor The Mighty Avenger is probably one of the prettiest Marvel Slots games that's been released over the last couple of years – and that's not just because of Hemsworth's beautiful flowing hair. Click to enlarge the images so you can check out the details and see the work that went into this game: the symbols and graphic design are absolutely top-notch.
Storyline
Being the Son of Odin and King of Asgard, Thor is the Norseman you just don't want to mess with. The original story is that after losing to the Frost Giants, Thor was stripped of his powers and exiled to Earth to teach him some humility. He then had his memory wiped and was put into the body of Donald Blake and eventually became a doctor. Later on he went on a Norweigian vacation and found the Mjölnir in a cave, smashing it into the wall to reveal his true identity. For those who don't know, the Mjölnir is Thor's hammer that can destroy anything that it strikes.
In the movie adaptation Thor falls in love with scientist Jane Foster and learns many lessons about the fallibility of mankind along the way. He must also battle Loki, his adopted brother, who is aspiring to take the crown of king on their home planet. In addition, the Frost Giants are trying to stop Thor in his tracks by seizing the Casket of Ancient Winters, as that is the source of great power in the universe. An epic battle ensues.
The storyline in this machine is unfortunately pretty thin, however, the imagery does do a great job of transporting you to this specific corner of the Marvel Universe. That said, the plot of this release is by far its weakest element.
Unique Symbols
Fans of the Thor movie franchise will be very happy with Playtech's choices for symbols since all of the popular characters are included. Not to mention, they use the images of the actual actors who played the roles so the continuity between the film and the game is flawless. This point cannot be overstated because many movie-themed titles only use caricatures or "hand-drawn facsimiles" of the cast and not the real people who acted in the roles.
So for anyone who has always dreamed of playing an online slot featuring Anthony Hopkins, here's your chance…they're probably not going to be releasing a "Silence of the Lambs" gambling game anytime soon…
10
J (Jack)
Q (Queen)
K (King)
A (Ace)
Destroyer
Heimdall the Gatekeeper (Idris Elba)
Odin (Anthony Hopkins)
Loki (Tom Hiddleston)
Warriors Three (Ray Tevenson as Volstagg, Tadanobu Asano as Hogun, Josh Dallas as Fandral)
Sif (Jaimie Alexander)
Laufey (Colm Feore)
Thor's Mjölnir (Scatter)
Thor Wild (Chris Hemsworth)
You'll want to see as much Chris Hemsworth as possible while you're spinning, and it's not just because of his chiseled good looks – the Thor Wild symbol is the highest-paying in the game with 5,000 coins for 5 of a Kind. This is then followed by Anthony Hopkins as Odin who will give you 1,000 coins for five in one spin. Finally, Tom Hiddleston's character of Loki rounds out the Top 3 symbols by giving you 500 coins for five across the board.
Jackpots
Like all Marvel machines that have been released over recent years, Thor The Mighty Avenger is a member of their "mystery" jackpot network. We often joke that it's a "mystery" because you never know when it's going to come, or on which game, or at which betting website.
This prize is actually four unique jackpots that are available throughout their network of releases, and they're called "Power", "Super Power", "Extra Power", and "Ultimate Power", with each paying different amounts. Power is the smallest available and Ultimate Power is the largest, with its total sometimes being in the neighborhood of six figures.
If you're lucky enough to trigger the Mystery Jackpot you are taken to their special area which features a board of squares. You simply flip over tiles revealing the names of each jackpot until you match three of the same and you then win the corresponding prize amount of whatever cash is in that pool at the time. Sounds like a pretty easy way to win a life-changing amount of loot.
Bonus Rounds
Besides the thin storyline, the other main weakness of Thor The Mighty Avenger Slots is the lack of a proper bonus round so it relies on its free games modes to satisfy players' thirst for action. Technically there are two in-game features but ironically they both give you free spins as well.
The "Thunderstorm Respin" arrives when the Thor Expanding Wild symbol covers reel #2 and you are then given 1 free spin with each symbol on reel #2 being wild. You should note that during the respin no other features can be triggered.
The "Lightning Free Spin" occurs when the Thor Expanding Wild symbol covers reel #4 and then gives you 1 free spin that will randomly have 2 to 5 Wild symbols appear anywhere on the reels. Again, you can't access any features while it's going on.
Free Spins
Since there's no proper bonus round the only way to really stack up cash in Thor Slots is by hitting a bunch of big wins in the free games mode. This journey to riches begins when you're taken to the "Rainbow Bridge Feature" thanks to Heimdall the Gatekeeper expanding to cover reel #3 in regular mode. It's then up to you to choose between the two glowing orbs which will send you to either Earth or Jotunheim, Land of the Giants.
But watch out – once Heimdall covers reel #3 again during the free spins you are sent back to the Rainbow Bridge to again choose between two orbs, with one sending you back to the regular mode if you unveil "Collect". The other sends you back to either of the two bonus worlds to keep freerolling.
In the Jotunheim world the Grundroth symbol is added to the reels as an extra Wild symbol, and the Mjölnir is removed. Thor symbols appear as both stacked and regular Wilds on reel #3 with the Heimdall the Gatekeeper symbol being the only other symbol on that reel. Laufey symbols in a winning payline freezes the win for the next spin guaranteeing that you will win at least the same amount again, or possibly more if you get a better combination. After that spin Laufey hangs around to freeze other random combinations as well. It should be noted that the Jotunheim bonus round is played on a different set of reels than the regular game, with reels #2 and #4 having 3 rows, and reels #1, #3, and #5 only having two.
Forget about his ability to shatter uru metal because when Destroyer lands on reel #5 during Earth Mode he is burning up anywhere between 2 and 6 random symbols with his fire vision. Don't worry though, he's only doing this to help boost your bankroll by adding bonus multipliers to your game squares. The multipliers will stick around for anywhere between 1 and 4 spins, and if they're already burning with a hot multiplier, Destroyer will simply jack up the numbers by one with his flamethrower stare.
While playing we only had the Thor Free Spins Mode go 1 of 2 different ways – absolutely great or absolutely terrible. There literally doesn't seem to be much middle ground with the bonus prizes. One time we just kept picking the orb on the right and it continued to send us back into the Jotenheim free games mode each time. After around 7 times it triggered the Earth feature to cap off the incredible run before sending us back to the regular game.
However, we've also had a few times where we've been booted out of the free games after 1 spin and then picked the wrong orb, and was then unceremoniously sent back to regular mode without winning a cent. It really does seem to be feast or famine here so we're interested in hearing how it treats you.
Graphics
The introduction video when you first boot up the machine will kind of remind you of a mini-movie but it's actually a bunch of still images of the actors from the film. This seems like a strange choice by Playtech since many newer releases based on graphic novels have proper animated intros. That said, what they give you is still cool and gets you excited to play.
In regards to game design, the Thor Expanding Wild is very nicely done, with the 3 stacked Wilds being struck by lightning and transforming into Chris Hemsworth pointing his Mjölnir towards the sky. On a whole, all of the symbols were designed well and are definitely of superior quality.
Thor also boasts multiple game backgrounds throughout the special features, with each having unique characters appearing on the screen to help you win prizes. These visual effects result in a nice break in the regular action and serve to keep you engaged.
Audio & Soundtrack
The one thing you will notice with Thor Slots is that the audio of the reels spinning is quite pleasant, which is definitely not the case for many other machines. Rather than a clunky beat playing with every spin, the sound effect is actually a cool synthesizer audio that is smooth and doesn't leave you frantically searching for the mute button.
The sound effects for wins are equally as pleasing and they don't blast you out of your seat or become annoying – and the audio of cash being added onto your bankroll is actually relaxing. Even the noise of the reels stopping each time is nice and soft.
The final masterstroke of Thor's soundtrack is the different songs for each of the free games modes, with both of them sounding like movie scores performed by an orchestra. They definitely help to add to the overall mood and theme.
Conclusion
Even though Thor is not a fan favorite of the Marvel Universe, many will still enjoy playing this machine just to see what he's up to. It's great that the actual actors who played the characters are on the reels since this is a rarity in most movie-themed releases.
Ultimately, how much you'll want to play this game will depend on your enjoyment of the original movie, your feelings on the character of Thor, or the depth of your love for Chris Hemsworth's hair. Only the pickiest of players will be able to find big faults with this game since its creators did a great job of staying true to the movie. The lack of a proper bonus round will scare many players away but there's always the chase of the Marvel Mystery Jackpot to keep you occupied.
So strap on your helmet and grab your Mjölnir – it's time to hammer out some big wins…and enjoy some beautiful flowing hair along the way…
Bonus Video of Thor The Mighty Avenger
We can all agree that there were some plot holes in the first Thor movie and that it could have been better than what was ultimately released. So here are the funny guys from CinemaSins to walk you through everything that's wrong with the movie from beginning to end. Enjoy!