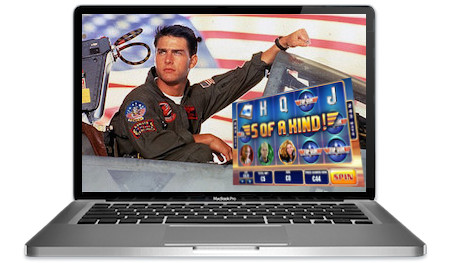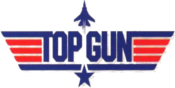 I feel the need…the need for speed! The wonderful 1980s film that took our breath away is back with most of its original characters to blast cash prizes along 243 paylines. So it's time to shove it into overdrive and listen to the howling roar…
243 Paylines
Iconic '80s Movie
Original Cast
---
---
Review of Top Gun Slots
Every mother in 1986 was basically held at gunpoint by their children and marched to the theater to see that year's blockbuster, "Top Gun". In a surprising plot twist, this movie appealed not only to both the young and old, but also to both boys and girls as well. Everyone simply loved this movie when they saw it.
Looking back through wiser eyes I think that most of us will be able to agree that we were swept up in the fairy dust that was the 1980s, and perhaps this movie was not as good as we had originally thought. There are some pretty big plot holes and a ton of cheesy lines, but it's always going to have a special place in our hearts. Even if certain scenes are downright silly by today's standards, anyone over 40 is going to smile when they think of this film.
So just like everyone else will be, I'm coming into this game with some prejudices. Tom Cruise was at the top of his game, Kelly McGillis was the perfect girl next door, and powerful jet engines roaring will always fire up the soul. The film was actually first inspired by a real life article called "Top Guns" that was in the May 1983 issue of California, which is a magazine published by the University of California, Berkeley. It was a feature piece on U.S. fighter pilots at a naval base in San Diego that documented their day to day lives, and it was just begging to be turned into a screenplay.
Sadly this slot game doesn't live up to it's potential and has a few problems that I just couldn't get past, and I think that a lot of you are going to find the same. Sure the game is ok, but it's not even close to what it could have been. Allow me to explain…
Screenshots
Top Gun has a very sharp design that you can see by clicking on the screenshots below and enlarging them. There's a perfect balance of character symbols with playing card symbols, and it's an easy game to follow as the reels stop. Sometimes movie-themed slots have symbols that are too similar to one another and it's hard to see what's falling as you spin, but everything is as clear as an azure sky with this game.
Storyline
Pete Mitchell has never liked rules. He's a bad boy who marches to the beat of his own drum, so much so that it has earned him the nickname of "Maverick". The fact that he has joined one of the strictest and most demanding militaries in the world is ironic, to say the least.
We start off with Maverick and his pals "Goose", "Cougar", and "Merlin" engaging some enemy jet fighters over the Indian Ocean with things almost going terribly wrong. They escape with their lives but everyone involved has been changed forever. Cougar retires but Goose and Maverick are sent to the best fighter jet pilot school in America: the Top Gun Marine Corps Air Station Miramar in San Diego.
It's in San Diego where Maverick's reputation as a Wild Child grows, and where he meets his love interest Charlotte "Charlie" Blackwood, an astrophysicist who works at the school. Many dramatic events then unfold as Maverick trains while butting heads with his superiors and peers. All of the main characters are pushed to their limits, with only the best of the best making it through.
Just like most problematic movie-themed online slot games, the storyline is the weakest part of Top Gun and it's a weakness that cannot be ignored. There's no bonus round to add to the plot of the game, and as a result we have to rely on the imagery and soundtrack to remind us of the original movie.
Unique Symbols
In an omission that will surely enrage the gentlemen as much as the ladies, there are no Tom Cruise images anywhere in this game. Just think of the moxie of the game's developers! No Cruise? No problem! This movie stands on its own without him!! Is this your idea of fun, Mav? It's shocking, it's sad, it's downright wrong, but there's nothing we can do about it so let's just move on.
The other missing symbol is of course Tom Skeritt's character of CDR Mike "Viper" Metcalf, but when compared to the omission of Maverick, this is small potatoes.
J (Jack)
Q (Queen)
K (King)
A (Ace)
Bomber Jacket
Sunglasses on a Clipboard
LCDR Rick "Jester" Heatherly (Michael Ironside)
CDR Tom "Stinger" Jardian (James Tolkan)
LTJG Nick "Goose" Bradshaw (Anthony Edwards)
LT Tom "Iceman" Kazanski (Val Kilmer)
Charlotte "Charlie" Blackwood (Kelly McGillis)
Top Gun Logo (Wild)
F-14A Tomcat (Scatter)
As there's no Maverick symbol in this game, the honor of being the top-paying symbol was given to the Wild, which gives you 1,500 coins for 5 across the reels. Next we have Charlie paying 1,000 coins, with Iceman and Goose each paying 500 for five of a kind. Finally we have Jester and Stinger rounding out the movie character symbols by paying 150x each for five.
Jackpots
Back in the '80s it was Tom Cruise that took our breath away, and now in the new millennium it's Playtech that took our jackpot away. As a result, there isn't a jackpot in Top Gun Slots.
Bonus Rounds
Seasoned slots players were probably already assuming that there's not going to be a bonus round in this game due to the number of paylines offered, and that assumption is 100% correct. This of course is the main issue that many of us have with 243 line online slot games – they blow their wads by paying out for so many line combinations that there's nothing left in the bank to offer a decent bonus round.
It's a small consolation, but there is a random bonus feature in Top Gun Slots that can arrive in both the regular game and free spins mode. It's called the "Dog Fight Wilds" feature and is only applied to one spin once it's triggered. It will re-spin the reels and randomly add Wild symbols across the board, with a maximum of 15 appearing. The Dog Fight Wilds can give your bankroll a nice little boost but it certainly doesn't replace a proper bonus round, in my opinion.
Free Spins
The "Danger Zone Free Games" are triggered by a F-14A Tomcat Scatter symbol falling on reels #1, #3, and #5 during a spin, and the same combination re-triggers the free games if you hit it while you're freerolling. You'll get a straight up 8 free games each time, and this cannot be increased no matter how many Scatter symbols you hit to access the feature. On the bright side, there is no maximum on how many times you can re-trigger free games.
The game claims that during the free spins mode it has "enhanced" Dog Fight Wilds that will come more liberally on the reels than in the regular game. This should obviously lead to more free cash, but it's hard to determine exactly what the math is on this.
Graphics
As you would expect with a newer slot game that's based on an action movie, Top Gun has some pretty nice graphics. The highlight of course is the F-14A Tomcat that swoops and dives all over the screen as it shoots the game board, with the visual effects on the resulting explosions being of a movie quality.
An uncluttered panel for the user controls makes the overall design clean, but I think that Playtech could have spiced them up a bit and had them look like the controls in a jet fighter cockpit. At its core, this game is about cool jets so why not have as many references to that as possible?
There aren't really any other moving pieces in this slot to comment on and the gameplay is quite simple.
Audio & Soundtrack
Whenever I play Top Gun Slots I let it roll on auto spin so the melody from "Take My Breath Away" plays without any interruptions. This is because if you're manually pressing the Spin button the song will stop after every spin. The song is also muted if you play manually on Turbo Mode, so the choice on whether to listen to the soundtrack or not is yours to make.
Between Berlin's beautiful song and the gorgeous sky background, this game is quite relaxing. That is of course until the Dogfight Wilds Bonus Round gets triggered and Kenny Loggins blasts in with "Danger Zone". I'm ecstatic that the game's creators secured the rights to the two best songs in the movie, and I imagine that many of you will be too. The original movie soundtrack was one of the most popular soundtracks ever released, and it was certified globally as 9 times Platinum, which means that it has sold a whopping 9,000,000 copies around the world. Talk to me, Goose!
The other game audios of the reels stopping and wins being added to your balance are unobtrusive, and there's nothing to really comment on there. Finally, during Dogfight Wilds there is a constant dialogue between the fighter pilot and home base which definitely adds flavor to the feature.
Conclusion
It's hard not to want to play this game for nostalgic reasons, which is usually how it sucks me back in each time. I'm on record as not being a big fan of 243 payline slots because I prefer intricate bonus features instead of increased ways to win. If you're like me and your attention span isn't the greatest you might get quickly bored with this game, and to quote Charlie, You're not going to be happy unless you're going Mach 2 with your hair on fire.
Bonus features aside, Top Gun Slots does have the perfect soundtrack and most of the original cast members as symbols, so there is a lot to like here. It's just going to boil down to how long you like it for. The free spins mode and wild features are cool, but the background and reels never change so it all starts to feel a little monotonous after a while, which is why I usually never play this game for more than 20 minutes.
However if you want to team up on a few quick missions every month to enjoy the nostalgia and graphics, to quote the legendary Iceman, You can be my wingman any time.
Bonus Video of Top Gun
Well it's pretty hard not to end this review with the beautiful song that is synonymous with this movie, Berlin's "Take My Breath Away". Many people forget that this tune actually won Best Original Song at the Academy Awards that year, (and rightfully so).
Instead of giving you the version you've heard a thousand times, here's a live version in Japan from 1987. Check out the hair on the band members…I forgot how outrageous the '80s were!