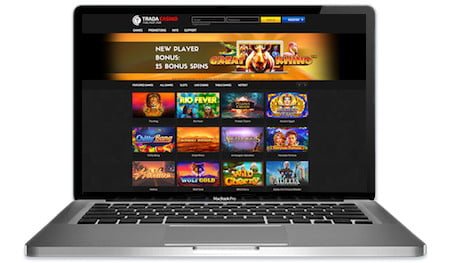 Special Offer:

100% up to €100

Your Bonus Code: QOOS

GET BONUS ➜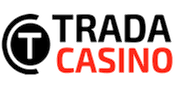 Bursting onto the scene with one of the fairest operations ever launched, Trada Casino is quickly winning over players throughout the British Empire.
Simple Cashback System
Live Dealer Casino
No Jackpot Games
---
---
I once knew a man with a wooden leg named "Sparky" who would give me penny candies when he saw me riding my bike down the street as a child. He would sit on a chair outside of our general store and talk to everyone who passed by from the early days of spring all the way to the cooler evenings of autumn. It was said that he lost the leg in the Great War and was given the name Sparky because he was in charge of detonating explosives as the Allies repelled the power-hungry Germans on the frontlines of Europe.
Sparky's clothes and appearance were unremarkable in almost every way and he gave me the candies in a very business like manner – one, two, and three directly in the palm of my hand, before wishing me a good day. His personality was pleasant yet forgettable. His demeanour polite yet casual. This, in a nutshell, is the Trada Casino.
You will not be blown away by any part of their operation, however, what you find there will please you enough to keep you coming back again and again. Their bonuses and rewards are appealing but never unique or exceptional – they're simply the "Sparky of online gambling" who get the job done without fanfare. And just what the heck is a "Trada" anyway? Let's try and find out…
Review of Trada Casino
Registered in the gorgeous country of Jersey, this operation is located in one of the hidden jewels of Europe that thrives in the middle of the English Channel. Since they accept players throughout the United Kingdom they're also fully licensed through the U.K. Gaming Commission, who are probably the most stringent governing body in the world, so you know that this place is totally compliant with every applicable law and regulation in the land.
Their slogan of "Fun, Fast, Fair" is a battle cry to those who may have been hurt by other online casinos in the past and arrive at their virtual doors with emotional baggage. Don't worry – nothing bad will happen to you here…unless you betray their trust, that is, (more on that below).
This expert review of the Trada Casino will lay out every intimate detail of their operation in order to fully educate you on what you will find there, including their game selection, deposit bonuses, and the quality of their customer service.
Screenshots
The screenshots below show you various areas of their website and a little bit of what's on offer there. You will note that they have chosen the same jet black colour scheme as many places out there today, ensuring that they do not stand out from a design standpoint. Over the last few years there has been a wave of black betting sites washing over the masses so perhaps studies have shown that people like this colour the best. In any event, their design is pleasant yet forgettable.
Trada Slots
With an easy search function that's built right into their main menu, you can quickly browse games by any specific provider, which is a very nice touch that more places should have. You'll immediately find favourites like Dead or Alive, Thunderstruck II, Battlestar Galactica, or Elvis The King Lives Slots, allowing you to mix things up and always have fun as you bounce around from machine to machine.
They even took things a step further by partnering with key providers like WMS to give you access to blockbuster titles like Titanic Slots, Michael Jackson the King of Pop, and The Wizard of Oz, just to name a few. If you don't like movies or music you'll find hundreds of releases there based on dragons, leprechauns, fairies, hidden treasure, and every other subject that you could possibly think of.
In fact, there are over 1,000 unique titles available throughout their website, so boredom clearly isn't an option here. Most of them are standard 5 reel video slots with a few 3 reel and 3D ones mixed in for good measure.
The good news continues due to the fact that all of their machines are totally available without download and are playable in the internet browser of your choosing including Chrome, Firefox, and Safari. This is definitely one of their strengths as most will agree that Instant Play is far superior to having to download anything.
Jackpots
If you're looking for a big life-changing cash prize you've certainly come to the wrong place. That's because Trada do not believe in jackpot slots whatsoever, whether they're in-game, progressive, or network. It is a bit strange that they don't offer them in this day and age but perhaps they just want to concentrate on all of the other aspects of their business.
Of course, there is the issue of opening themselves up to losses of hundreds of thousands of dollars, or even millions depending on the situation, but this is a risk that most of their competitors are willing to take. In any event, if you're looking for jackpots you'd better keep on going, Buster.
Trada Casino Bonuses
These days, the most popular welcome bonus for online casinos who accept Canadians, New Zealanders, and Europeans seems to be a 100% match up to €100, and Trada has decided to roll with the status quo. Well, that is, for everyone except those living in the United Kingdom – they're simply left to enjoy their tea without any crumpets. Ta ta!
Those with skinnier bankrolls may want to opt for their free spins offer of 50 on Immortal Romance for a deposit of €20, to stay within their budget. This will get your foot in the door and let you try out their product relatively risk-free.
Now just because they've chosen standard bonus amounts does not mean that they've chosen standard rollover amounts. In fact, they've put a hefty 40x requirement on any winnings before they can be removed from your balance as cash, which is definitely higher than the industry average. In addition, there is a maximum bet amount of $4 per spin when using the free money and anything over that will not count towards the requirements, and might even result in forfeiture of your entire balance. And if you've used an eWallet like Neteller or ecoPayz, the max is a measly $2 per spin.
When it comes to any future reload bonuses they may offer you, the unspoken rule is that they will come with a jaw-dropping 50x rollover, which is probably one of the highest you can find. Also, if they catch you leaking any of their Weekly Loyalty Bonus Codes to other players they will immediately remove you from all future offers and never give you anything ever again. You've been warned.
Promotions
In regards to actual promotions, there's not a lot to choose from here, however, they do have a whole "Daily Casino Bonuses" schedule that gives out unique offers every single day of the year. Technically, this should be considered as "one" promo but that doesn't mean that it's not a great way for you to grab some extra loot. You have to claim each one of them every day but you can go into their site and set a reminder to be automatically emailed when new ones are announced.
Besides that they have a standard registration offer of 10 free spins on Wolf Gold that will automatically be issued to your account upon sign up. The winnings on these are capped at €20, so don't get any grand ideas.
VIP Program & Comps
When it comes to the Trada VIP Program, things get a little murky. This is due to the fact that they have a page for their VIP club that's for members only, however, you cannot access it through their website – you actually have to leave and go through a search engine. In addition, the link to "enquire now" no longer works. It therefore appears as if they are launching a new program soon but it still hasn't been announced yet; rest assured that we will update this section once it's live.
In the meantime, you can enjoy the Trada Cashback program that will reward you in real time for your play and the equation is very easy to comprehend. For every €70 you wager on one-armed bandits you'll receive €2 in free money that will come without any rollover requirements whatsoever. Yes, that means that you can immediately withdraw everything that you generate throughout your session. They state that this is basically their version of a 25% reload bonus that you can enjoy for the rest of your time with them.
Another great feature of this reward is that your cashback is never lost due to time restrictions and will always be available the next time you log in – no matter how long it takes you to do so. You can always see your current balance in your account so you know exactly where you stand.
As always, if they suspect that you're abusing their generosity in any way, shape or form they will immediately snatch that cashback right back and ban you from their website for life. Don't test them. Their decision will be final and irreversible.
Casino Software
You will find some of the premier software companies in the industry here, with the likes of Microgaming, NetEnt, and iSoftBet proudly featured throughout their pages. These three alone guarantee that you'll get a ton of branded releases based on hit movies like Basic Instinct or classic rockers like Jimi Hendrix. The only one missing that some people might get huffy about is Playtech since they're the main manufacturer of DC titles like Superman, Batman, and Wonder Woman, so if you like comic book themed slots you might want to take a pass on these guys.
Trada have also signed up with a few smaller studios to round out their offering, with Amatic and Playson probably being names you've never heard of, but are still responsible for releasing solid machines that you've undoubtedly played before. Offbeat creations like Down the Pub, Dracula's Family, and Bumper Crop are just a few of the more popular ones that have won over players from Vancouver to Christchurch, due to their whacky characters and ridiculous settings.
As mentioned above, there is an easy to use dropdown menu in the top left corner of the screen that allows you to search by gaming provider and easily find the company that you're looking for. Just select a name and all of their releases will be displayed in one grouping.
Mobile Casino
There is a Trada Mobile Casino that can easily be accessed simply by going there on your device of choice and loading it up. The entire website will then change to fit the size of your screen and everything will be playable as it normally is. Of course, the list of options will be shortened since older releases were not built to be compatible with iPhones or Samsungs, but that's just par for the course with every operator so they don't lose any points for it.
Trada Banking Options
Many people across the UK and Europe like to deposit at online casinos with eWallets like Neteller, PaySafeCard, ecoPayz, and WebMoney due to the ease and speed of the transactions, as well as not having to disclose personal bank information. As such, Trada accepts all of the most popular 3rd party processors and has even added a few region-specific ones like DineroMail, QIWI, and Todito Cash. Whichever one is your favourite, chances are they accept it.
If you like high fees and a complicated verification process you can choose to use a VISA or MasterCard to fund your account, but many players have now wised up to the fact that purchasing with plastic should be a thing of the past. The best method by far these days is cryptocurrency, however, Trada sadly do not support Bitcoin or anything else of this nature.
High rollers will be pleased to know that the maximum amount for deposits is $5,000 while low rollers can enjoy their $10 minimum and play penny slots to pass the time. Also, if you're someone who lacks self control you can easily set weekly deposit limits as soon as you've logged into your account, to ensure that you aren't tempted to gamble beyond your means.
As is the case with all U.K. Government regulated betting websites, Trada will ask you for verification documents when you request your first withdrawal. This is nothing to be alarmed about, nothing to get upset about, and nothing that's going to prevent you from getting your winnings. They usually take 24 hours to verify the documents that you send them and then your payout is processed that day…which is much quicker than some of the other places out there. Once verified they'll never bother you again and you should always receive your funds within 12 hours of requesting them.
Customer Service
Trada openly gives themselves 4.5 out of 5 stars on their Customer Service page which continues the industry trend of operators bending over backwards to pat themselves on the back. We here at Queen of Online Slots refuse to give anything higher than a 7.5 out of 10 if a betting website doesn't have telephone support, which they are currently lacking. Therefore, their self-appointed rating does seem a little high to us at this time.
Furthermore, they brag about their average wait time and say that clients waited an average of 39 seconds to reach a live chat agent in 2017. They also state that their agents "have high level privileges" which is very good to know. An interesting no-no is that you can't "agent surf" to look for a preferred representative, or ask the same question twice – if you do they will ban you from live chat forever. You'd better take some notes.
Other Gambling Products
Don't go looking for a sportsbook to bet on football or try to play the ponies at your favourite racetrack because Trada doesn't believe in any of that nonsense. They launched for one thing and one thing only, and that's games like blackjack and Punto Banco, and of course, slot machines.
However, if you're looking for Live Dealer tables they have you covered with roulette, blackjack, baccarat, and holdem available any time of the day or night. All cards are dealt by professional dealers in matching outfits, and they'll even chat to you on the video feed if you ask them questions or say hello. It's almost like being there in person, just without the hassle of having to hear the noise or smell other people's cigarette smoke.
Conclusion
If your only wish is to gamble on a medium-sized selection of games in an uncluttered environment that doesn't wreak havoc on your senses, Trada is the place for you. Most will find that their offering is sufficient enough to quench their thirsts, but those who like a massive amount of unique releases or want the ability to bet on sports will have to look elsewhere.
Their cashback program is firm but fair and will reward you appropriately for your patronage, however, high rollers will be offended with their lack of a proper VIP program that gives out presents and luxury vacations. Anyone signing up with them will have to be willing to submit to their every demand since they run their customer service and payouts department with an iron fist and will not accept any criticisms on how they do business.
It's their way or the highway so you'd better be able to play by their rules – your future with them depends on it.

Game Selection:

7.5

Reputation:

7.5

Bonuses:

7

Customer Service:

7

Banking:

7