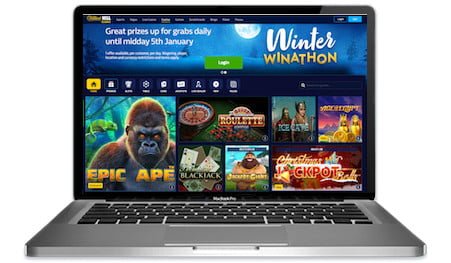 Special Offer:

100% up to £150

Your Bonus Code: QOOS

GET BONUS ➜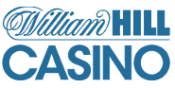 A classy looking website with a solid game selection and fun promotions but questionable customer service. Things can really be confusing at William Hill but the good far outweighs the bad for most folks.
Large Product Selection
In Business for Many Years
Terrible Customer Service
---
---
William Hill Casino Review
Just mentioning the name "William Hill" implies elegance and class, well-known throughout English countrysides for almost a century. Their journey began as an illegal bookmaker before receiving a U.K. government license, finally becoming publicly traded on the London Stock Exchange in the early 2000s.
Their outlandish behavior has continued over the last 20 years, experiencing many scandals involving politicians, corporate takeovers, and even the treatment of their own employees, but thankfully these missteps appear to be behind them. Colorful history aside, one fact is certain – if conducting business since 1934, you definitely know how to take a bet.
This in-depth William Hill Casino review spotlights everything to understand before registering. Whether bonuses, VIP Program, or quality of customer service, all is weighed against competitors relaying vital information to potential clients.
Screenshots
The screenshots below reveal certain lobby pages, however, it's just a small taste of what this regal operation offers. With a clean, easily navigated website, players from Geelong, Australia to Manchester, England will quickly find whatever's searched without issue.
Click images to enlarge and get a real whiff of what Will Hill is cooking up in his virtual kitchen. Mmmm tasty!
William Hill Slots
Those craving variety should be absolutely giddy when perusing William Hill slots for the first time. Hundreds of unique titles are listed, including exciting releases like RoboCop Slots and Rocky Slots, plus tons of non-trademarked ones that might surprise.
Each has thorough explanations of how to play, creator, and theme, alongside full customization via adding machines to a Favorites List. Another perk is theoretical Return to Player is clearly displayed on all, guaranteeing players know what to expect before risking a penny, unquestionably earning higher trustworthiness scores than rivals.
Jackpots
Over 60 jackpot slots hold windfalls usually ranging between £2,500 and £1,500,000, ensuring something for all tastes and bankroll sizes. Standouts Gladiator Slots and The Love Boat Slots are extremely popular, amidst lesser-known progressives whenever seeking to mix things up.
William Hill Casino Bonuses
Those disliking complicated regulations should enjoy William Hill Casino bonuses because they're absolutely straightforward. New signups receive 100% welcome matches to £300 on £10 transfers or more, but any profits come with hefty 40x rollovers before withdrawing
Additionally, 50 free spins are bestowed, but a horrific term states both the credits and supplementary balance expires after 7 days if unused. This is a very aggressive rule that's both unnecessary and unreasonable.
If choosing to stay, second transactions receive 60% reload matches up to a maximum of £500. Again a large rollover necessitates risking it 40x over before collecting gains and yes, mirroring the welcome offer, balances disappear into thin air after seven days so don't send funds until ready to play.
To confirm, this "evaporating bonus" is definitely one of the worst deals possible.
Promotions
Anybody planning to take advantage of special offers must heed an important warning: opting in is always necessary to join specific promotions. Furthermore, any completed promo requirements before confirming registration are voided and since exciting contests are rare here, it's disappointing to miss one that's actually fun.
Lately, event schedules have grown via offers such as 50 free spins for U.K. residents, however, credits are awkwardly dispensed in batches of 10 over five straight days. Obviously these gratis yanks can evaporate in less than 30 seconds, almost not worth the effort of claiming them in the first place.
Additionally, unused coins expire after 24 hours and the sole machine for redemption is Age of Gods Slots, so anyone who's not a fan will be thoroughly disappointed. Naturally, winnings incur a customary 40x rollover and sums are capped at £20 a day, undeniably making the promo annoying rather than enjoyable.
Surprisingly, Daily Drop Jackpots issue 30 extra gratis tugs on higher-paying games, although again opting in is mandatory whilst gifts hold expiration dates (three days). Totalling 10p a spin equaling £3 in bonuses, it's another head-scratching event that's a waste of time.
VIP & Comps
A simplistic rewards system dictates one William Hill Casino comp point is earned for every £10 risked, with 100 earning £1. However, once ascending the VIP ladder to higher levels, better exchange rates are attained, but exact numbers constantly change so it's hard to keep track of what's accumulated.
Casual players should note points expire after three months of inactivity, so set a redemption reminder if planning on taking a vacation This particular term isn't too offensive since elsewhere aggregates may expire after just 14 days of inactivity, which is obviously way too fast. Anybody skeptical should read other insightful online casino reviews to confirm this predatory rule is found at countless destinations.
Software
Presenting hundreds of unique attractions to customers requires partnering with numerous software providers, this place deciding to strike partnerships with 19 companies at last count. Industry heavyweights NetEnt and Microgaming were enlisted, besides some fantastic boutique enterprises like Blueprint, Rabcat, and Thunderkick beefing up selection.
When browsing their catalog, everything from ridiculous to amazing is furnished, providing a little something for everyone. Of course, adding more organizations in the future would be great, but nobody will get bored in the meantime.
Mobile Casino
Here's a section that will cause anyone reading on an iPhone to choose another destination, since their mobile casino is one of the worst ever seen. Wether iPad or Android, graphics look horrible, buggy user experience plague sessions, cementing an all-around terrible product that nobody would conceivably try again.
Furthermore, finding specific items in the menu is impossible, truly an enraging experience.
William Hill Banking Options
Being fully licensed in the United Kingdom, William Hill banking options cover a wide range to facilitate moving funds in and out effortlessly. Each method has specific regulations and processing times, so investigate beforehand to determine what's optimal.
The easiest way to deposit is usually a credit card, however, most companies like VISA or MasterCard immediately start charging interest. Consequently, electronic wallets or eWallets became popular, requiring desired amounts sent up front, thus avoiding interest.
Withdrawal methods are just as plentiful so collecting gains is a breeze. Although, long payout wait times are customary and if ordering over a weekend, it will take 4 pending business days to actually process. Yes, this is insanely long and extremely frustrating, but it's just how things work there, unfortunately.
A final headache arrives via the plethora of messages dispatched while payouts are pending, encouraging cancelling requests to instead spend balances on new games. Clearly, this practice is "slightly unethical" at best and "undeniably disgusting" at worst.
Customer Service
More marks are lost in this category because Will Hill are widely-known for bad customer service, usually not even described as "decent". In fairness, most complaints resulted from being one of the last U.K. online casinos to provide live chat, but they still have terrible response times when answering player emails.
Anybody seeking a personal touch may call to discuss issues, yet identical lacklustre service solves nothing given agents can be inconsiderate. Why does management allow this to continue? No idea, you'd have to ask them.
Other Products
As with most U.K. iGaming sites, multiple products are provided including live dealer tables, video poker terminals, amid bingo, keeping members busy. Their massive sportsbook originally gained them notoriety, taking bets on matches from around the world like Rugby Union, snooker, motorbikes, plus GAA Hurling. Additionally, Americans living in Europe may stake favourite NFL or NBA teams, action booked in mere seconds.
Those enjoying online poker access dozens of live cash tables and daily tournaments catering to diverse budgets. A whopping €3,000,000 in cash is even added to prize pools every month, differentiating them from several rivals.
Conclusion
Things really are hit or miss at William Hill Casino so confusion about creating a profile is normal. Games selection is great, especially progressive jackpot slots, whilst no-nonsense rewards keep accounting simple, (if remembering to exchange them before expiration).
Customer service is atrocious (if not downright rude), receiving winnings takes forever, moreover constant spam suggests cancelling payouts to continue playing. It's simply not the kind of place most people will find satisfactory.
Australian readers might want to give them a chance since options are scarce Down Under, but anybody in Europe should exercise caution. Interested individuals could perhaps send a small balance to start, testing the waters before fully committing.
That said, they're 100% transparent with how their operation is run, immediately informing visitors in writing upon arriving, honesty always being the best policy. So the conclusion is simple: open an account to test them out, but if not meeting your standards, quickly move on. Thankfully, nobody ought to be bored while forming opinions since those hundreds of games will surely keep things interesting.

Game Selection:

9

Reputation:

8.5

Bonuses:

4

Customer Service:

2

Banking:

9