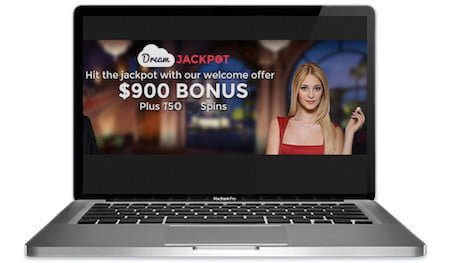 Special Offer:

100% up to $900

Your Bonus Code: QOOS

GET BONUS ➜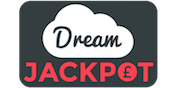 Everyone fantasizes of hitting a huge cash payday and now the Dream Jackpot Casino is here to help you make it a reality. With tons of progressive jackpot slots available, your life could change with a single spin. Get ready.
Loads of Jackpot Games
Solid VIP Program
Large Welcome Package
---
---
Review of Dream Jackpot Casino
It was all a dream…I used to read Word Up magazine…Salt 'n' Pepa and Heavy D up in the limousine… 
Well sometimes dreams do become reality, and just like Biggie Smalls battled through adversity in the streets of New York City to achieve a hugely successful rap career, Dream Jackpot Casino is here to help you hit the huge cash prize that you've been dreaming about. They offer tons of progressive games for you to choose from and they even add extra loot to branded slots that don't usually have jackpots when you see them at other places.
So what exactly sets these guys apart from their competition? Well, the main thing would have to be that they accept players from South Africa because not a lot of places are doing that these days due to restrictive government regulations. They've actually been our #1 recommended betting website to anyone who contacts us from Johannesburg, Cape Town, Ekurhuleni, Port Elizabeth, Durban, or anywhere in between, who's looking for a safe place to play at.
Other differentiators would be that they have a solid VIP Program and a fair loyalty points system, but those items alone aren't going to win them any awards. There must be something else.
This in-depth review will dig deep to find out exactly what's happening at the Dream Jackpot Casino and if they're the right place for you, and your bankroll.
Screenshots
You can see in the screenshots below just how easy it is to find games in their lists, with the website being a clean, standard, mobile-friendly layout. Their designers haven't gone with any bold or brash colours and allowed the charcoal, red, and white to tastefully set the mood. Tap the images to enlarge them and take a closer look.
Dream Jackpot Slots
You'd better strap yourself in because there are tons of slots at the Dream Jackpot Casino thanks to their numerous partnerships with leading software providers. They have a huge list of all the latest branded games like Ted Slots, in addition to many other original movie-themed titles. They also have oodles of releases that are based on classic themes like fairy tales, exotic lands, and silly aliens, so there's a little something for everyone no matter what you're looking for.
Those of you who want to check out their product before depositing will be happy to know that you can play Dream Jackpot slots for free without signing up an account. You don't even need to give them an email address: just find a title in the list and start spinning. This freedom can be hard to find these days so they definitely deserve extra Brownie Points for that.
Their search function is awesome and it lets you easily order the titles by A to Z, Most Popular, or Most Recent, making finding games a breeze. Some players might think that this is a silly thing to mention but if you like to jump around from game to game, you'll realize how important a good search function is.
Jackpots
Finally we get to the section that I'm sure you've all been waiting for: obviously, if an online casino is going to call themselves "Dream Jackpot" they're going to be offering tons of those types of games, right? Well, there's a slight problem – technically there are other casinos who offer more progressive jackpot titles, but with almost 40 in their arsenal, "D.J." receives a solid grade. In fairness, they certainly offer more jackpots than any other South African operator that you'll find out there in cyberspace so it's important to keep things in perspective.
Extra points are added to their score since they have a few branded titles that offer big unique pots that you won't find at other websites, specifically The Naked Gun Slots with Leslie Nielsen and Top Cat Slots, which were great games even before they threw a huge cash prize on top of them. They rotate machines in and out of their progressive area every month, bringing in new ones once the novelty fades away on others.
In addition to their unique jackpots you can also get in on many other progressives like Genie Jackpots, Vikings of Fortune, Star Spinner, and Romeo & Juliet, which all usually have top prizes around $2,000,000 when they go off. However, the biggest Brussels sprout at the buffet has to be Mega Fortune since it habitually climbs to over $6,000,000 by the time some lucky punter wins the life-changing loot.
Dream Jackpot Bonuses
As Dream Jackpot is kind of a "new kid on the block" they offer a healthy selection of bonuses that budget-minded players will want to sink their teeth into. Starting off they give you a 100% Welcome Bonus up to $900 (or Pounds or Euros depending on your location) and top if off with 50 free spins on Starburst Slots to get you up and rolling.
They then go further than the average casino by doubling your second deposit, but only up to $150 this time around. They try and make it up to you by throwing in 50 free spins on Aloha! Clusters Pays, which is definitely an acquired taste.
After this things get a little complicated as they give you a 50% Reload Bonus up to a maximum of $500, obviously meaning that you'll have to be prepared to deposit a cool $1,000 with them to take full advantage of the offer. The good news is that you should know by then if they are someone who you want to play with long term, and if that's the case, you might as well bite the bullet and surrender a chunk of your bankroll to them. They'll also give you 50 free spins on Wild Wild West Slots as a thank you.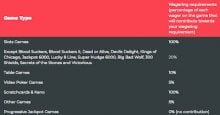 All of these bonuses come with a 35x rollover attached to them, which might sound like a lot, but actually isn't that bad when you compare it to other operators. However, you should note that Dream Jackpot will not hesitate to slap that free cash right out of your hands if you dare wager anymore than a $5 bet at any time while trying to clear the rollover. If you do, they reserve the right to confiscate all winnings. Yikes!
Pay attention to what you're playing because different games contribute different amounts to clearing the rollover, with progressive jackpot games giving you 0%. Check the attached image for full details.
In addition to their strict rules on bet size, D.J. refuses to give you any of the above bonuses if you've used Skrill or NETeller as a deposit method. There are other websites that do this but sometimes you won't know you're not getting extra cash until after you've used them. Skrill is one of the worst banking methods out there so they should just totally remove them from the list of options.
Lastly, spend that free cash quickly because any unused funds will be returned to the casino after 30 days, forever to be removed from your balance.
And if you don't know, now you know…
Promotions
There are always a few fun promotions to get in on at the Dream Jackpot Casino which are usually based on the various days of the week. For starters they have "Easy Mondays" which gives players a 25% match bonus up to $25, on a maximum of 4 real money deposits. The free money of course comes with a 35x rollover requirement before you can withdraw any winnings. They used to have a "Tuesday Bonus" which was sent out via email to all of their players with unique offers on select games each week, but it looks like they've shelved that promo for the time being.
Then we have the "Humpday Handout" which will give you 50 free spins every Wednesday if you deposit $50 or more. You'd better read the fine print though because they're only redeemable on NetEnt games, which shouldn't be a problem for most players since they have tons of awesome titles to choose from. And yes, any winnings on the gratis spins come with a 35x rollover.
The week ends with their "Sensational Sundays" bonus that will issue you a 30% Match Bonus up to $100 on your first deposit of the day. The free cash can be spent on any table game or slot so don't worry about looking at which company made it – concentrate on clearing the 35 times rollover.
They used to have a "Weekend Celebrations" promo that dished out freebies to any of their customers who had subscribed to their newsletter but we haven't received anything regarding this one in a while. It's too bad, this was one of our favourites.
Players who like to freeroll should know that if you receive a Dream Jackpot No Deposit Free Spin offer your winnings will be capped at $50. Furthermore, if you receive free spins in conjunction with a deposit bonus, those winnings are capped at $100. Wait a minute! That actually sounds more like a nightmare!
VIP Program & Comps
The Dream Jackpot comp system is very attractive and it's much better than what you'll find at most other operators who accept South African players. They'll start you off right with 500 Loyalty Points as soon as you make your first deposit and from there you'll receive more every time you make $10 in bets, with the different categories of games giving you a different amount of points.
Loyalty Point Values Per Game Type
Roulette 0.25
Blackjack 0.5
Scratchcards 2
Slots 2
Video Poker and Video Poker Sidebet 1
Each time you roll your odometer over by 1,000 points you can cash them in for $5 of free money. They have a maximum daily cash-in of 10,000 loyalty points but this should only be an issue for high rollers who have a very large handle.
All of the exchanged money that you receive through their loyalty program is subject to a 35x rollover, just like the rest of their regular bonuses. However, you have to make sure that you use it quickly because whatever amount you haven't wagered expires after 3 days, never to be seen again.
You'll also want to keep an eye on your Loyalty Point balance in general because D.J. reserves the right to take back any points you've acquired if you haven't played with them for 30 days. As we always recommend here at the Queen of Online Slots, set calendar reminders for when your points or bonus cash will expire so you don't lose it.
At this time there isn't a proper Dream Jackpot VIP Program but we have it on good authority that they hope to launch one in the very near future.
50-inch screen, money-green leather sofa, got two rides, a limousine with a chauffeur…
Casino Software
As previously mentioned, Dream Jackpot is absolutely stuffed to the brim with slot games and this of course means that they have partnered up with tons of software companies to license their products. In addition to heavyweights like Microgaming, NetEnt, and Amaya, they also have some fantastic smaller providers available like Leander Games, allowing those of you who like to rock hard to play Megadeth Slots online, or opt to chill out with retro titles like Taxi Slots, with many other great niche games on tap.
A fantastic feature of their games lobby is that you are able to browse titles by company, so if you have a favourite studio you can simply select them from the dropdown menu at the top of the page to display only those slots that they have released. This should definitely be a standard feature for online casinos going forward because it makes things much easier for the player to find things.
Dream Jackpot Banking Options
You'll find all of the most popular banking options here making it extremely easy to deposit at Dream Jackpot and fund your account. The standard credit cards of VISA and MasterCard are accepted with gusto, while practical eWallets like NETeller and PaySafeCard allow you to make instant deposits with no extra fees.
Depending on your country of residence, they also accept a few other methods such as Trustly, Sofort, and DotPay, which are all newer financial companies that many of you have probably never heard of. They're all 100% trustworthy and reputable, but of course each comes with different fees and rules so make sure that you fully read their terms and conditions beforehand.
Presently you cannot deposit at Dream Jackpot with Bitcoin or any other cryptocurrency since the options are strangely missing from their website. Cryptos like Litecoin, Etherum, and Bitcoin Cash (BCH) are becoming common deposit methods at many gambling websites, and those who refuse to change with the times will surely be left behind.
You can withdraw your winnings via all of the same methods listed above, however, the fees for each will differ greatly. Less-patient players should note that there is usually a 2 business day wait time for payouts to be approved before it is finally sent along to the accounting department to be processed, so you shouldn't be in a hurry to receive your funds.
Phone bill about two G's flat, no need to worry, my accountant handles that…
Customer Service
If you thought forgetting to accept Bitcoin was a big boner, here's another shocking flub for you to feast on: there isn't a Dream Jackpot customer service phone number that you can call if you are experiencing an issue or have a question. In this day and age that's pretty unacceptable since phone support is a standard feature at most places.
However, their email response time is quite good so you can send them a message and trust that you will hear back from them quickly. Their current email address is [email protected], which I include here because it was quite difficult to find on their website the first time I went looking for it.
They also have a live chat option for those who want instant satisfaction and they even allow you to access it before you sign up an account with them, which some places actually don't let you do. I guess this kind of makes up for them not having a call centre.
I'm blowin' up like you thought I would, call the crib, same number, same hood…
Other Gambling Products
If you only ever play in the casino, Dream Jackpot has everything you'll be looking for, with all of the most popular table games like blackjack and roulette available 24/7. There's also a decent-sized live dealer section that has all of the standard fare as well as Live Caribbean Stud, Live Three Card Poker, and Live Baccarat that all allow you to sit at a table with other players and chat like you would in person.
They haven't bothered to add a sportsbook or racebook so you'll never receive any special offers that you're not interested in or have to look at unnecessary clutter on their webpages. That said, if you like to bet on sports or play the ponies, you'll need another account besides this one.
Furthermore, they don't even offer specialty games like Keno, Bingo, or Scratch Cards, which tells you that they really want to keep their efforts focused. It's all about the jackpots, baby.
And don't be deceived by their "Poker" tab at the top of the page – that's just a shortcut to their video poker machines and not a link that will take you to live tournaments and tables.
Conclusion
This is definitely one of the best options for players in South Africa today but those in more liberal places like the United Kingdom might find the Dream Jackpot Casino a tad light on the features. Sure there are tons of slots on offer but without a racebook, sportsbook, bingo parlour, or poker tables, you'd better be ready to spin, spin, and spin some more because there's nothing else to do there. Which of course will be absolutely fine for many players.
There is a strong selection of progressive jackpot machines, (as anyone visiting them will expect), but the actual number of games with big prizes isn't much more than their competitors. They're selling you the dream of winning, and for many of us that's a good enough reason to open an account with them and play there when we feel like following our dreams.
No matter what, you'll definitely want to have an account with them just to check out their jackpots on branded slots each month. If you're going to be playing a certain machine anyway, you might as well play where you can win extra cash on it.
So go ahead and tap the Play Now button below to see what they have an offer this month – maybe your favourite game is about to go off…
Time to get paid…

Game Selection:

8

Reputation:

7.5

Bonuses:

7.5

Customer Service:

7

Banking:

7.5