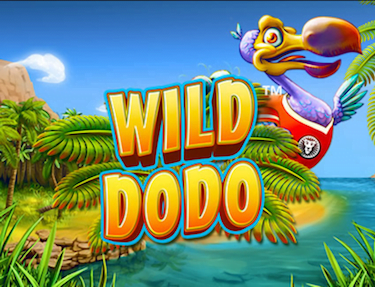 NextGen has been strangely quiet during the summer of 2017 but now we know why, as this week, two new slots were released, each with a distinct look and feel. With literally thousands of different machines to choose from online, casino software companies are always trying to stand out, however these two releases are from familiar genres that we've seen a few times before.
First we have the bright and colourful Wild Dodo Slots which stars everyone's favourite extinct animal – the goofy dodo bird. It features everything you associate with the tropics, including parrots, lotus flowers, tikis, and freshly opened coconuts, and this is topped off by a beautiful blue lagoon for a background. The relaxed mood is reinforced by the song that plays throughout the action, which would have Jimmy Buffet jealous of its rhythmic steel drums and tropical beat.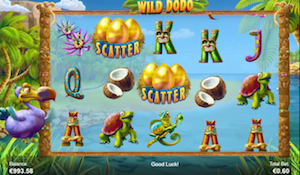 Wild Dodo features non-stop dodo as he's perched beside the reels at all times. He does silly dances, looks around the screen awkwardly, and gurgles out an annoying squawk every time he's pleased with the results of a spin. Since the dodo was made extinct many years ago, NextGen of course made the Golden Eggs symbol the Scatter, because as long as there are dodo eggs there is the possibility of dodo life on earth. This wishful Scatter symbol will net you up to 20 free spins with a 3x multiplier when three or more land on the reels.
The next new release isn't as unique as a clumsy dodo stumbling around paradise, and it's the Asian-infused Huolong Valley Slots which features the familiar cuddly panda bear and angry dragon. It's got all of the Oriental images that you will expect, complete with glowing red lanterns. However, this title does separate itself from others via its super-mobile-friendly touch screen controls allowing players to adjust paylines and bet levels with one swipe of the finger. This feature feels like it could become the standard for new releases as more and more people prefer to use mobile devices.
The graphics in Huolong Valley are fantastic, with each symbol popping off of the screen with beautiful colors and intricate details. The dragons and fish are exquisite, and the abundant lucky "8" symbols will have superstitious consumers in a frenzy. The other main strength is its generous Return to Player (RTP) of 97%, definitely one of the higher amounts available today.
So it's up to you: visit the beach or enter the valley. Either way NextGen has you covered with a new game to try out this autumn. To check out these creations and more, head on over to 32Red to experience these adventures firsthand.