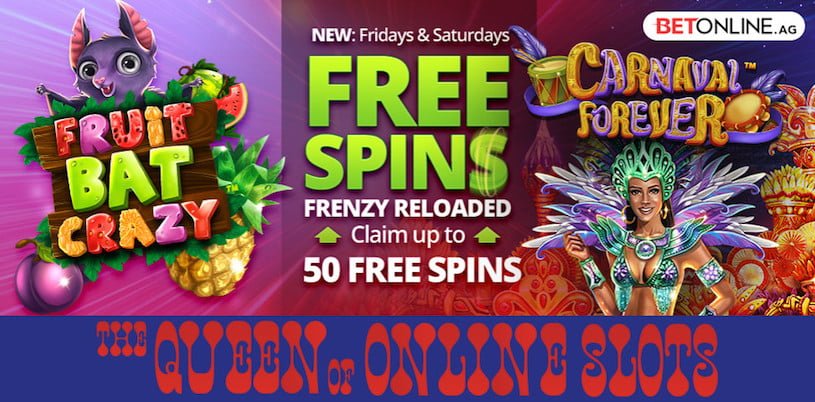 No matter the size of bankroll, people always search for free spins at online casinos in order to get a little something extra for showing up. It's totally natural to hunt for good deals and here's one that United States residents will definitely find interesting. It's presently May and people are venturing back outside for fresh air, meaning special offers are going to start coming fast and furious to lure them back onto devices.
Most will already recognize the name but if not, read this honest and legit BetOnline Casino review explaining their entire operation and why everyone should consider joining. Excitingly, 50 complimentary tugs are now available on either Fruit Bat Crazy Slots or Carnaval Forever Slots every single week, just for enjoying other amazing titles as per normal, anytime on Saturdays between 00:01 am and 23:59 pm.
Simply play qualifying games (which change each week) to automatically receive one gratis tug for every $5 risked five consecutive times. This promotion's moniker is certainly understandable, as Free Spins Frenzy Reloaded could boost balances continuously throughout the month. Fine print to note is that credits expire after 48 hours, necessitating quick redemption, however, immediate cashouts are possible as rollover isn't applied to gains.
This might end without notice because no expiration date is currently listed. So those seeking extra rewards should sign up at BetOnline soon to take advantage.