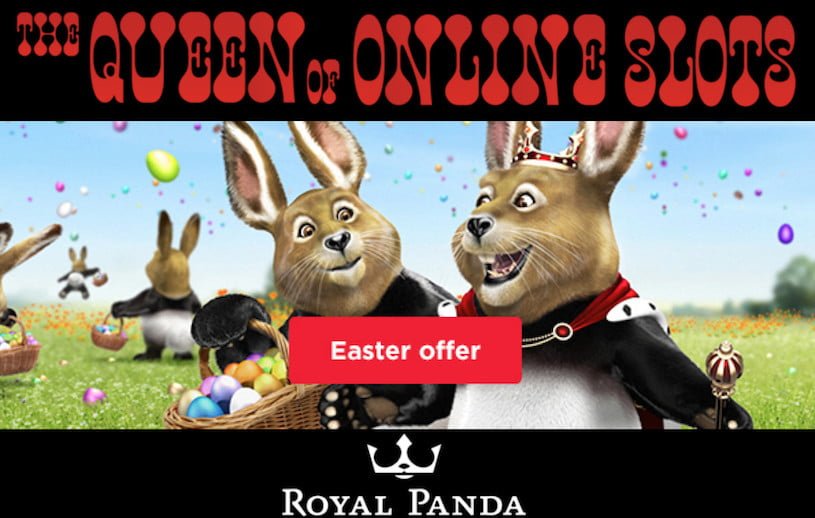 The Easter promotions for 2019 are really flowing heading into one of the most relaxing long weekends of the entire year. Now is when all the best online casinos in the world give out their biggest offers to bring customers through their virtual doors before many log off for the summer.
The regal animal-lovers over at Royal Panda are extending 40 free spins to the holiday-themed EggOMatic Slots that will allow trying it out for absolutely nothing. This newer release from NetEnt is almost like a futuristic SteamPunk machine starring a host of chicks and fowl throughout the action, just think "heavy metal Angry Birds" to get an idea of the design.
A conveyor belt sits atop the board and spits out golden eggs with different denominations, then while making their way along the top of the screen, a rooster might appear and trigger the corresponding prize amount. Eggs explode as coins are added to balances in a colorful display of aggression and whimsy, and when the special freeroll area is triggered things get really crazy.
Current Royal Panda members can enjoy 20 complimentary tugs on both April 21st and 22nd, so pop over this weekend to grab them each day. On top of these Easter treats, a standard welcome bonus of 100% up to $200 can be feasted on if never registering before.
This promo expires on Sunday night, so bounce over to open a new Royal Panda account today and snag the gratis credits and loot.