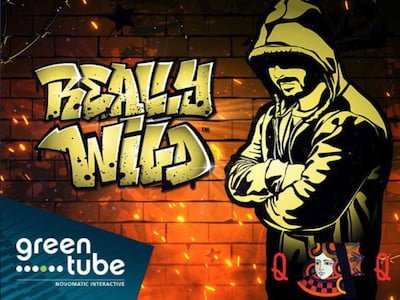 Last week the online gambling industry was given another gangster-themed slot to try out, this time from the studios at Greentube, a division of NOVOMATIC software who have released tons of games over the last few years. When players first see the title of Really Wild Slots and the foreboding image of a street thug in a hoodie they're probably going to imagine that they're in for a really violent time, however, this couldn't be further from the truth.
The first thing to remember is that this game was created in Vienna, Austria and it appears as if their criminals are a little friendlier than the ones you'd see in the UK or North America. This is because the main gangster looks more like a computer hacker than a gang member and there are no weapons to be seen anywhere during the action or violent images of crime. It's really a "neon homage to urban life" and not a "junior Scarface of the streets" type of affair.
The reels are covered in beautiful cartoon fruit and a traditional 80s-themed "Wild" graffito font that will instantly remind you of subway trains in New York City. The soundtrack is anything but menacing and in fact it's quite soothing and relaxing. All of this frames the minuscule 7 paylines and 4 reels, which are quite unique numbers to see in this day and age as most companies usually release games with 20 paylines or more that will have a minimum of 5 reels. However, it does feature a free spins mode and obviously has tons of Wild symbols so there are plenty of elements that will be quite familiar.
If you'd like to try out the new Really Wild slot game, head on over and sign up at Casino Cruise today to see it in action for yourself. Anyone wanting a sneak peak at what they'll find can check out the video below – just try not to get too scared.