This summer we seem to be getting a steady stream of underwater-themed releases and there have been many new slots games that are based in and around the ocean. Now Pariplay has launched the wonderful King of the Trident Slots that will both astound and mesmerize, especially for those who have an affinity for deep sea action.
The colours are absolutely gorgeous and jump off of the screen in bright neon designs featuring purple shellfish, blue dolphins, and pink octopuses, just to name a few of the lovely creatures who you'll be swimming with. Not to mention that the soundtrack is one of the most relaxing tunes you've ever heard – think "Enya mixed with meditation music" and you'll have a good idea of what's on offer.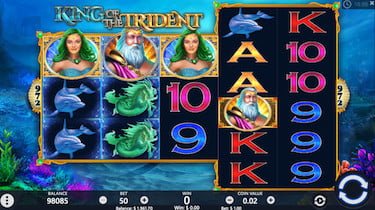 The board is definitely going to get a few strange looks from players since it has a unique layout of 3×3 reels with a 2×6 section to the right of it, and trust us when we say that it takes a bit of getting used to. Although, when the Giant Re-Spin feature is triggered and the 3×3 section morphs into one giant reel to boost your bankroll, it's guaranteed excitement every time.
The crazy layout obviously means that those with shorter attention spans are going to have problems keeping up with the paylines and knowing exactly what just triggered the coins that were put onto their balance, but if you don't care about details like that you'll be fine. Oh, and speaking of the win lines, we should probably mention that this machine has an insane 972 of them, making it a very rare creation in the industry.
The background is extremely intricate with fish swimming around in the distance and bubbles floating everywhere – it really does feel like you're sitting on the ocean floor watching Mother Nature do her thing. You'll absolutely love hanging out with Poseidon and the sexy green-haired mermaid who will do everything in their power to help you stack up the loot – especially if you hit 5 Scatters and the ensuing maximum amount of 40 free spins.
We have now implemented a schedule that will deliver twice-monthly game releases, including King of The Trident, which follows hot on the heels of Gold'orado, boasted Richard Mintz, Commercial and Marketing Director at Pariplay, slamming his prop trident into the ground for emphasis. After readjusting the fake beard that was slowly peeling off of his face he finished with, The King of the Trident game also continues our commitment to sending players on unique gameplay adventures, which in this case means diving into Poseidon's kingdom and taking advantage of our Giant Re-Spin feature. It absolutely does, Richard, and that feature is going to turn more than a few heads this summer.
Play King of the Trident Slots
If you'd like to play King of the Trident Slots for real money you can head on over and signup at Trada Casino as they have been a proud partner of Pariplay for quite some time now. They have a great welcome bonus and offer a long list of games to choose from so they have a little something for everyone, no matter what you're into.
Anyone wanting to play King of Trident for free can click on the demo below and spin themselves silly without risking a penny. The game will simply load right here and you'll get 100,000 credits to enjoy – if you run out, just refresh the page and they'll reset for you. Enjoy!