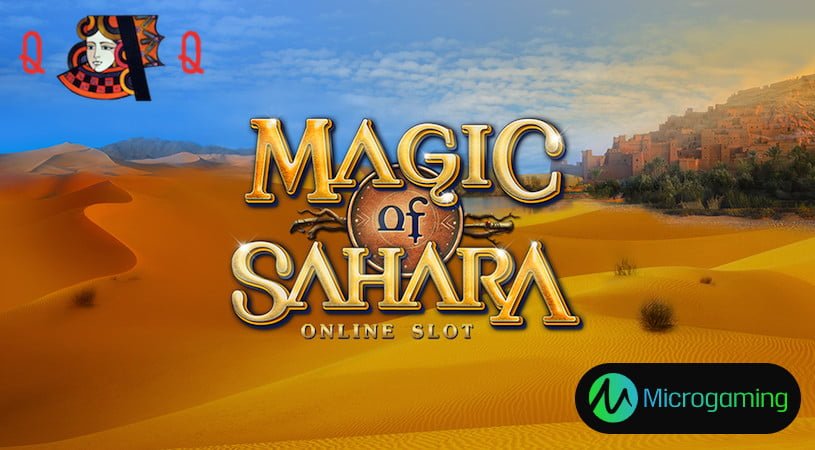 Just when you thought it would be absolutely, totally, utterly impossible for a software company to release another new game based on desert treasure and sandy adventures, Microgaming has stepped up to the plate and said, "We got another one for ya!" Industry experts are unsure of the current number of Arabian machines in the world, but many usually throw around numbers in the hundreds of thousands.
All (lame) jokes aside, many will certainly want to discover the arcane secrets embedded in Magic of Sahara Slots and take a trip on a magic carpet to an exotic destination free of both vegetation and complication. Most traditional imagery expected was included, even adding a stereotypical sitar soundtrack for good measure.
This creation is actually a little different than most out there because it facilitates triggering free spins in two unique ways, allowing twice as many freeroll opportunities. The traditional method of three or more Scatters in a result obviously works, or collect 25 medallions from the desert trader occasionally appearing on the reels to hand over strange gifts. Complementary credits are extra special, paying double win amounts for every activated line during the feature.
In addition, Microgaming added in awesome Superstacked Wilds that can fall on any reel, leading to cash windfalls every time they appear. Don't worry about getting swept up in confusion either because this is a nine line slot, one of the smallest amounts found today.
Magic of Sahara brings the wonder of the desert sands to life, boasted James Buchanan, Director of Global Operations at Microgaming, as he addressed the assembled crowd in full Arabian garb complete with electric blue turban and glittering gold medallion. He then took a large gulp of Qasab before finishing his statement with, All41 Studios have crafted a truly immersive world, with the game's excellent soundtrack and detailed artwork, which dynamically transitions between day and night cycles, creating a spellbinding atmosphere.
Then in a shocking turn of events, the bewildered camel that Buchanan had rode in on bleated loudly and relieved itself on stage, immediately drawing a collective gasp from the audience, followed by a smattering of polite applause. It certainly sounds like both man and beast alike are excited for this one.
Play Magic of Sahara Slots
Those who would like to try out Magic of Sahara for themselves enjoy numerous options, depending on tastes and global location. Anyone seeking to play online slots for real money can visit a recommended partner who licensed the title from Microgaming and grab a nice deposit bonus in the process.
If interested in trying it out for free, simply click on the spin button in the bottom center of the user controls to initiate the demo version to play right on this page. If running out of credits just refresh the page to reset them.