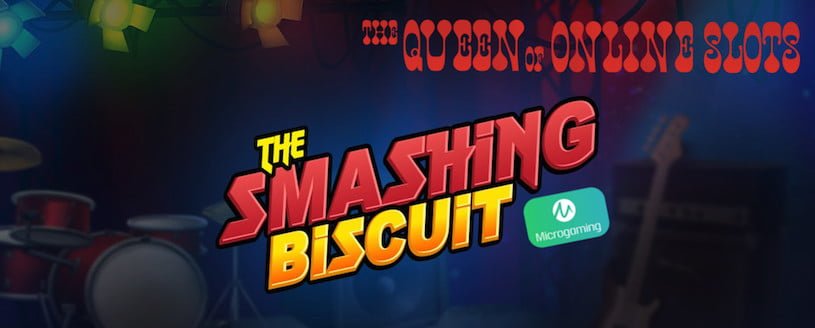 Finally, a new slot game will appeal to both parents and children alike, not to mention dudes in their 30s rocking out with friends in garages. Thanks to this latest Microgaming release, we now know what it's like to hear amateurs blast out random guitar riffs from somewhere that's not a real jam space.
PearFiction Studios, a subsidiary of Microgaming, pumped out The Smashing Biscuit Slots to appeal to those seeking raucous entertainment, taking players on a wild journey from the depths of a dirty garage to the main stage at a dirty nightclub. With its 5×3 game board and 20 lucrative lines, unique symbols blast out of the screen, all based on musical instruments or other traditional heavy metal images, including chains.
Looking like they were just expelled from high school for throwing cherry bombs down washroom toilets, brothers Tiny, Crunchy, and Soggy, sound like they should be promoting a sugary children's cereal. The three stars are equal parts "adolescent" and "creepy", of course tormented by their balding, coffee-carrying father trying to shut down their performance. Watch out, because if he's successful, a small prize amount is triggered, and possibly an insane Battle of the Bands Free Spins Mode that will have toes tapping while balances swell.
We are delighted to add The Smashing Biscuit as the latest exclusive game to Microgaming, shrieked Jagoda Barber, Head of Games at Microgaming, as he channeled his inner-biscuit by sporting a jean jacket and perfectly-sculpted beard. Bringing plenty of exhilarating excitement from the very first spin, The Smashing Biscuit offers an abundance of intuitive features, entertaining sound effects and an engaging storyline, and is set to bring players on a rewarding journey. Yes Jagoda, but where that journey leads is anyone's guess: top of the marquee or mopping the dressing room floors?
Those interested in joining the Biscuit Brothers for a jam should consider 32Red Casino due to their current welcome bonus. It'll help get the band on the road, just watch out for the perils of rock n' roll success.