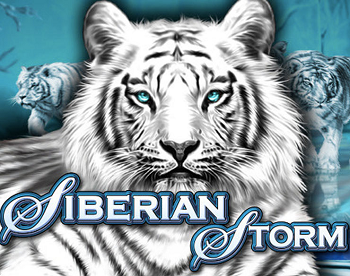 It's been awhile since the last update, but that doesn't slow the new releases, as two weeks into June there's already a lot to talk about. A few fresh titles hit the market in May and are worth checking out.
Firstly, interested in tigers will love Siberian Storm Slots. Sure, a similar title has existed for a while, but this one is new and improved. Same beautiful tiger but double the fun, now featuring the ability to play two games in one. The reels roll independently yet simultaneously, linked by something called a Mega Middle Reel.
The graphics are beautiful and inspire thoughts of winter, just as we begin to swelter in the summer heat. You could also head over to the Bet365 Casino if you prefer your tigers to be less whimsical and a little more jungle appropriate.
Jungle Spirit: Call of the Wild was also released in May, featuring more than just tigers, but also snakes, crocodiles, elephants and bears. It has features like Butterfly Boost, Symbol Expansion, and free spins allowing the option of either increasing risk amounts by going for the big win, or opting to be prudent.
Also released in May were Hong Kong Tower and Hansel & Gretel. Hong Kong Tower was developed by Elk Gaming, offering odd paylines, ways to switch between play strategies, combined with fantastic sound effects. Hansel & Gretel on the other hand boasts fairy spins, a Candy House bonus area, and various other ways to enjoy the experience while following a story most will remember.
For a little something to bring us back to summer, both Yggdrasil and Betsoft had something celebrating the topic in May. By playing Sunny Shores from Yggdrasil, head to what they are promoting as a "slots paradise" for tropical sun and huge wins, while playing from the device of your choice. Alternatively, jump in the water and do a little fishing with the 3D game The Angler from Betsoft. With Octopus on the menu, it may be more than you bargained for.
That's probably enough to keep you busy for now, but we'll focus on more new slots games for June in our next article.