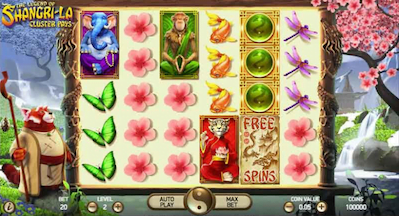 Who hasn't dreamed of visiting Shangri-La since it was first mentioned in James Hilton's wonderful novel, Lost Horizon? It sounds like it is one of the most magical places on the planet filled with beauty and wonder. Well now we can voyage there thanks to online software company NetEnt releasing Shangri-La Slots last month.
The fictional Shangri-La has often been labelled as "paradise on earth", so you'd better believe that the graphic designers over at NetEnt spent some time creating this gorgeous game to make sure that they got everything just right. The shades of pinks, purples, greens, and blues will immediately transport you to the mystic Orient and the background flows with stunning waterfalls that will keep you at peace as you play. You even get multiple gurus to help guide you through this spiritual slot adventure.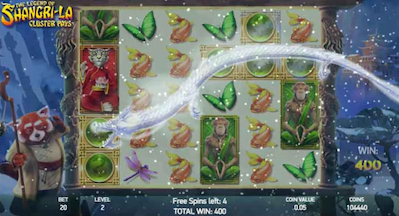 This new slot game differs from most for two reasons: 1) it is a six reel slot, not a five reel, and 2) they offer the crazy payout system of "cluster pays", which will probably take a little getting used to for most of you. Cluster pays will award wins when identical symbols are grouped together and touching, regardless of which reel they fall on in the spin. Of course, since there are six reels providing symbols you should be expecting a decent amount of money-making clumps as you play.
Generosity is good for your karma and Shangri-La Slots abides by giving you a re-spin if you come close to winning, but actually hit two losing clusters in a spin. They will lock the clusters in place and re-spin the reels to hopefully give you a symbol that completes a winning cluster, that will then pay you out as per normal.
Where to Play Shangri-La Slots Online
Since this is a NetEnt release, most of you will have many different options of where to play Shangri-La Slots online, however, you should put some thought into where would be the best before depositing. Not all online casinos are created equal and their welcome bonuses can differ greatly, not to mention their customer service and rollover requirements will be unique.
We suggest that our U.K. readers check out Shangri-La by visiting the virtual slot parlour at William Hill, due to their current Welcome Bonus and great customer service. Everyone else in Europe and Canada will want to find their inner peace by going to the Paddy Power online casino to visit the fairytale land and get some free bonus cash added to their bankrolls.
As per usual, anyone living in the United States cannot play Shangri-La Slots because NetEnt games are not offered in this country.