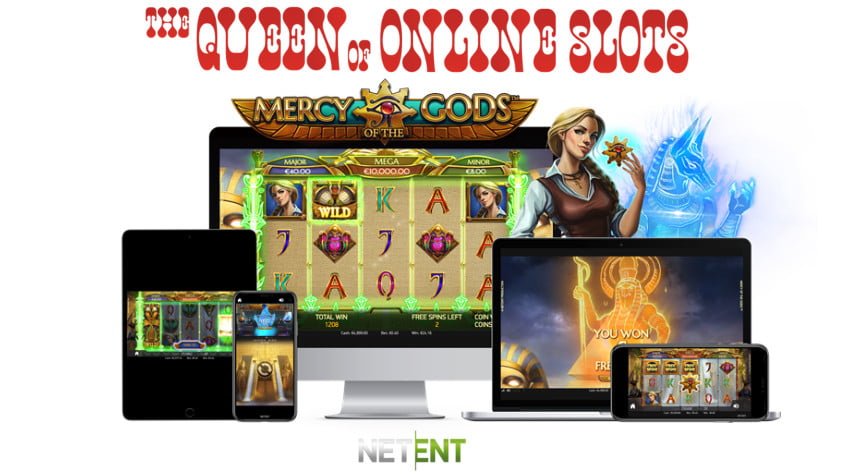 Loyal readers of The Queen of Online Slots know that adventure-themed games are all the rage, especially among Germans unable to resist the constant pursuit of gold and treasure. Now, NetEnt has announced another release set in Egypt, focusing on ancient gods who are both vengeful and profitable.
One of many creations released over the past few years centered around the goddess of life and prosperity, Isis, Mercy of the Gods Slots allows users to experience her generous side. Scatters and Double Wilds are constantly dished out, while hitting Eye of Ra triggers a freeroll on top of a majestic pyramid. Also, a Gift of Wealth Jackpot can be snatched from under the canine nose of Anubis, if fortunate enough to enter his lair.
The machine was well-designed and stuffed with ancient Egyptian symbols, playable on devices of any kind including iPhone and Android. A traditional-looking affair with three rows, five reels, and 20 lines, ensures users shall never become overwhelmed by too many bells or whistles.
Built on top performing Divine Fortune mechanics, our partners can expect a strong performance from our latest release, declared Bryan Upton, NetEnt Director of Games, while wearing a full treasure hunter outfit complete with a high-crowned, wide-brimmed sable fedora and menacing 450 series bullwhip attached to his belt. Mercy of the Gods is a top-quality proven performer and I'm looking forward to what our players think about it across our network, he offered before cracking the whip loudly on the floor in front of a group of delighted industry reporters.
Based on its high-energy launch, this one looks to be another hit.