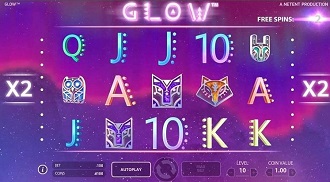 If living north of the equator, you are probably starting to feel a little sick and tired of winter. Not to mention that a mega-storm is scheduled to hit the north eastern United States tomorrow, and every municipality on the coast is on high alert. In short, it looks like many people are going to be snowed in and looking to kill some time while they wait to get dug out.
This is where NetEnt has come to the rescue by releasing Glow Slots. This game is filed as a "new release" because up until last week it was only available as an exclusive game on one specific website. However, that all changes with its full release on every casino that offers NetEnt games.
As evidenced in the screenshot above, this game has a bunch of cool symbols conjuring up images of space, a psychedelic desert sky at night, and even flashbacks to the movie Tron. There are 15 fixed paylines, and of course, multiple coin values available to the player. The Wild in the screenshot above can double the wins it creates on specific lines, as well as morph into other game symbols to maximize payouts.
We will be sure to update readers as soon as we determine which casinos are offering free spins for Glow and associated promotions.