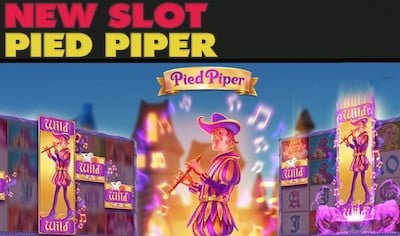 The January weather has kept us indoors for almost every waking moment this month so thankfully we have a few new slot games to keep us entertained until the snow melts. This batch follows the latest trend of "historical-based releases" which has companies reaching back to classic stories or characters as inspirations for their creations. It goes without saying that most are based on stories not protected by copyright and are available for anyone to use. Click on the videos below to get a sneak preview of what each has to offer.
First off is a rather generic title that won't have many too excited due to its basic game play, but those appreciating classic designs will want to give it a shot. An homage to the 1920s, Deco Diamonds Slots by Microgaming is sure to have toes tapping with its big band soundtrack while enjoying its 3 unique wheels full of prizes. Familiar symbols of cherries, bells and sevens will appeal to traditionalists, but have those craving action searching for another machine since no unique bonus rounds are to be found. With risk amounts between 10¢ and $50, and a RTP of 96.02%, those who dive in better be ready for some unpredictable swings in balances.
Next is a medieval-inspired title from NextGen Gaming with a crazy stone board and tons of bright gems across the reels…oh and 4 adorable dragons flying in the screen's corners. The imaginatively named Dragon Wins Slots has a background of a beautiful sky with floating islands and wispy clouds, and the soundtrack is a whimsical score that will have you thinking of the movie Dragonheart while you chase cash prizes.
Stacked and Expanding Dragon Wilds accompany 2 unique free spin modes, with one issuing extra Wilds and the second giving a boost with 3 reels full of Wilds for each turn. These additions should ensure dragon fire is shooting around the wheels highlighting big wins along its 40 colorful paylines. Not to mention, each of the cute dragons can blast some of their own hot breath onto the reels to increase returns as they watch things unfold from the sidelines.
Lastly for today is Pied Piper Slots from up and coming software provider Quickspin, transporting users to the wonderful mouse-filled German town of Hamelin. The colors are absolutely stunning, with Piper himself sporting a luxurious purple outfit that will have most green with jealousy. Special features make the fairy tale come alive via an Expanding, Walking Piper Wild marching across in blasting his flute, getting both mice and cash to follow him.
The majesty of this creation is constantly reinforced by classical horns blasting to punctuate big hits, especially when lucky enough to see a batch of bonus symbols triggering Big, Super or Epic Wins. Also, a hidden respin feature can arrive on the last turn of Piper Re-Spins to award an extra five credits to help pump balances higher.
We expect hands will be full with these three fresh machines, but we'll be back with more new releases soon.