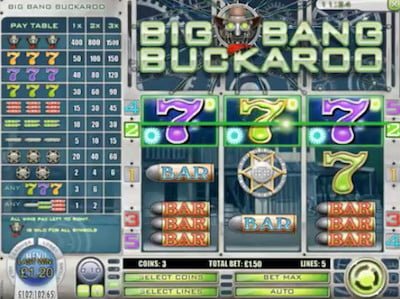 Well it didn't take long for software companies to release some fantastic new titles in 2018 and today two of the better ones are profiled. Both fall into the category of "fantasy space sci-fi" due to outlandish characters and strange graphics, so get ready for a wild ride. Each is fun in their own way, as long as you have a good imagination and aren't too attached to this particular planet.
First is Big Bang Buckaroo Slots from Rival Gaming, which stars a robot cowboy surrounded by traditional Bars and 7s, making this one of the few "space cowboy" games ever seen. Anyone looking for an extremely simple endeavor should try this one out since it only sports a 3×3 grid of symbols surrounded by a minuscule 5 paylines. At a time when software developers are constantly pushing out titles with more and more reels, rows, and ways to win, it's nice to see a machine going back to basics.
A main complaint with this Rival release is unique bonus features weren't included and the only break from the constant spinning is the free spins mode, not to mention, the largest prize available is 7,500x risk amount. Technically, these points do compliment the "simple theme", but it did end up getting boring after a short while. Oh, and hopefully Rival is paying royalties to Disney Corporation because this robot's voice is exactly the same as the Imperial Probe Droid on Hoth, or maybe was just "inspired" by it.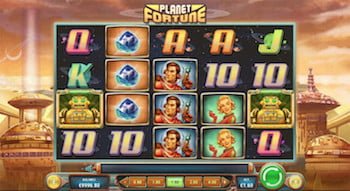 Next on the list is another futuristic title starring robots called Planet Fortune Slots, released two weeks ago by the good time guys over at Play N' Go. This retro space age delight will have many remembering the old TV show Lost in Space while rocking out to the funky theremin-dominated soundtrack and wacky sound effects.
The more winning combinations hit, the angrier the ridiculous robot becomes, as he spits out coins and sparks while his eyes glow an evil red, and three or more of him together triggers the free spins mode. This game kept us playing for much longer due to its beautiful background, detailed symbols, and awesome graphics.
Those wishing to access the "Magnetic Mayhem" of Planet Fortune or the traditional ambiance of Big Bang Buckaroo can head on over to Videoslots, currently extending a great sign up bonus usable on either. Just make sure not to get sucked into a black hole on the way.