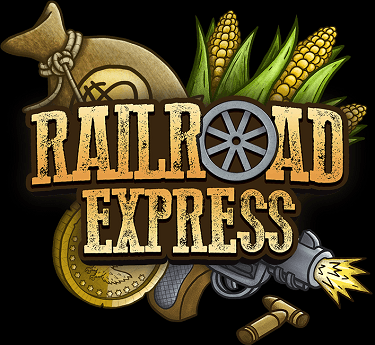 Last month was a busy one, and we wanted to look back and make sure that more of the new slot games released in March got the attention they deserve. The themes of these titles vary quite a bit, but we wanted to mix it up.
Railroad Express Slots is one of these titles, recently released by Magnetic Gaming, set in the early 1900's desert. We like the Gold Rush theme and the fact that it offers multiple bonus games, progressive jackpots and the titles of the bonuses complement the theme: Gold Mountain, Railroad Builder and Coal Wagon. In all honestly, the game moves at a slower pace and it doesn't have a soundtrack that we'd be writing home about. The only real music this game has to offer is when you hit a win – "Oh My Darling Clementine" will become your mantra.
That all said, these factors didn't reduce our enjoyment and it's worth checking out if you like a slot that has great winning potential and fun visuals. It has a quirky charm, particularly when the character Moe Dollar is introduced, the station master laying rail tracks on his quest to Gold Mountain. Part of the adventure of this slot is that Moe needs your help to move more quickly, given that he's a bit old and slow, but hey, you might get paid! The return on your efforts could yield up to 4 bonus games and 2 progressive jackpots,
Changing gears a bit, if you are a fan of bingo maybe you will remember that we are too – something we highlighted in our 888 Casino review, which has great bingo offerings. If you are of a similar mind, Slingo XXXTreme slots is one you will definitely want to check out .
In this title the Jokers act similarly to wilds, allowing you to check off any number you want from that particular column, but even better, the Super Joker lets you check off any number from any column. For every spin, you receive five 11 number drawings that can be used in your Slingo grid. But don't worry, if you've only come close to winning at the end of these 11 spins, you can purchase additional spins to potentially complete up a line and win. This game also offers free spins at various points, leading to cash prizes.
We should warn that Slingo XXXTreme only has a 95% Return to Player, if that's something that concerns you, but it's also pretty fun and offers a max payout of $250,000; still pretty enticing in our books.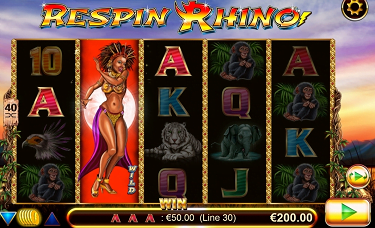 On to a slot with a theme that we love – animals! Lightning Box has created the Respin Rhino Slots, featuring a 4×5 grid and 40 pay-lines. This game has a soundtrack that we can get down with and quality graphics, taking you on an adventure across Africa, in search of the horned rhino. The rhino is not the only wild thing you will encounter, because you'll also see chimps, tigers and strangely, wait for it…female dancers? The dancer is considered a Wild in this game, something that we find strange and sort of offensive, but we'll try to overlook this fact. Ahem.
Now lastly, we also stumbled across something that makes us feel like we can start spring a fresh, and ring in the new year how we wish we could have first time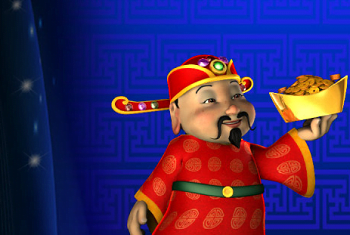 around. Gong Xi Fa Cai Slots is a new title created by IGT, featuring four enticing jackpots, the Dynamic Symbol Replacement bonus feature, as well as free spins and  multipliers galore.

What we really enjoy about this slot game is that it features animated 3D symbols that come to life with each spin. The wild symbol is very obvious in this title – spoiler alert, it does not feature a female dancer – and can be used as a substitute for other wilds. The scatter is also prominent in this game, ornate, featuring a Chinese character that writes out Gong Xi Fa Cai. When it comes to bonuses though, the free spins really are the money maker, awarding up to eight Free Spins when scatter symbols fall on certain reels.
As we've mentioned previously, 888 Casino are releasing new games like these all the time and have some great bonuses to players from Canada, the United Kingdom, and other non-US countries. Keep your eyes peeled for more slots like these!