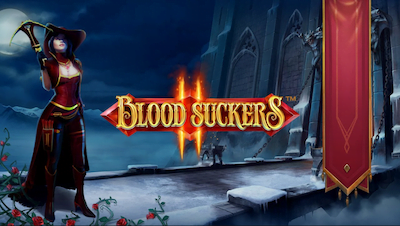 It honestly seems like October is the busiest month in the internet gambling world and that batches of online slots are released every day. There must be a lot of people out there who love being scared while they spin and now there are two new games for you to feast on, with one being a little more traditional than the other.
First we have a sequel to one of NetEnt's wildly popular Halloween-themed games with Blood Suckers II, which has you chasing down all sorts of creatures of the night. There is definitely a "classic vampire" theme here that will harken memories of Tom Cruise in Interview with the Vampire, with puffy shirts and petticoats being the style du jour. The dark mood is intensified by evil symbols and characters who look at you with disdain while you spin on the 25 payline game.
The graphics in Blood Suckers II Slots are absolutely off the wall with demonic locks and treasure chests glistening in the bonus rounds, and the game stars a sexy vamp who is more skilled with a cross bow than Daryl from The Walking Dead. Some players of the original version will be sad to learn that NetEnt dropped down the Return to Player percentage (RTP) from 98% to 96.9%, but that's still a lot better than a lot of games out there. The payouts are helped by a 3x multiplier during free spins mode and bonus symbols that fall throughout the game to double or triple your winnings.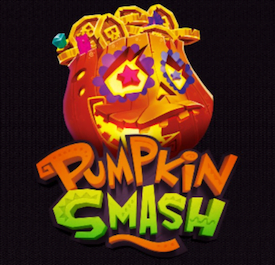 Next we have a milder game from the bizarrely-named casino software company, Yggdrasil. It's a 20 payline game called Pumpkin Smash Slots starring a bunch of creepy looking, hollowed out jack-o'-lanterns that will leave you feeling uneasy. They must have been designed to be unsettling because there's just something about the dopey look on their swollen orange faces.
This scary slot has a generous RTP of 96.2% that is buoyed by a free spins round that can give you up to 16 games, random 2x to 7x multipliers, and cash bonuses of up to 875x your wager amount. There's also a cool feature that allows you to protect the larger multipliers that you gather throughout the game and pad your bankroll. Anyone living in Canada or England can check either of these games out by signing up a new account at VideoSlots Casino and then going into their free games section.
And for those wanting a little more "Smashing Pumpkins" in their lives this Halloween season, this video is for you. (Surely I can't be the only one who remembers these guys!)