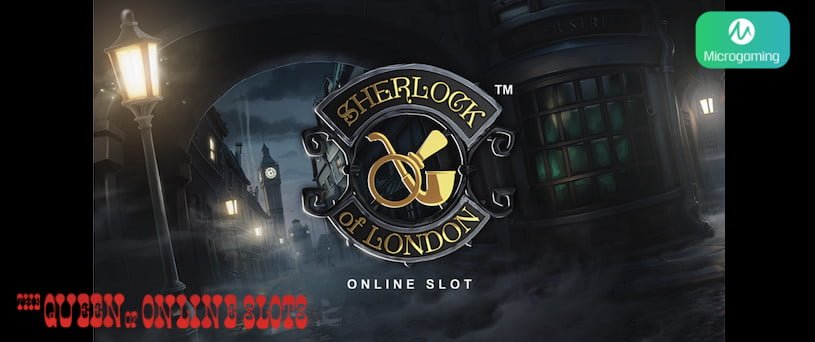 The legend of Sherlock Holmes has been captivating audiences around the world since Sir Arthur Conan Doyle first published A Study in Scarlet in 1887. Many iterations of him launched throughout the years, including a few that appeared in some great online slot games that paid tribute to him and his detective skills, and one or two of them even threw in his sidekick Dr. Watson for good measure.
Now Microgaming has created a new chapter in this British saga with Sherlock of London Slots to transport customers straight to foggy city streets at the turn of the twentieth century. Well, it was actually built by subsidiary studio, Rabcat, but that certainly doesn't change anything as the software was impeccably designed.
Boasting a traditional structure of 5×3 reels and 25 lines, it also carries a special treat of Connecting Wilds, triggered when more than one arrives in a spin. They bond together and morph others on the line to maximize payout potential.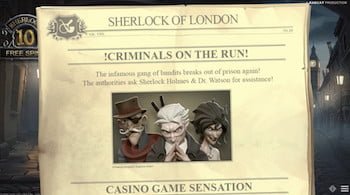 Then if two Wilds fall beside one another, they combine to ignite a double win feature, multiplying earnings by two. If all this didn't cause enough wonderful confusion, respins arrive when a Wild lands on reel #1 or #2, locking into place while other symbols rotate again to hopefully yield some extra coins. The game's stars can even drop in as Expanding Wilds since Holmes and Watson are able to grow to cover the whole reel, obviously dishing out more money in the process.
Thankfully, the storyline itself is easy to follow, with 3 bumbling thieves have stolen a safe and it's up to Holmes and Watson to bring them to justice, awarding credits and free spins along the way. The chase is on throughout the madcap action, accentuated with a rollicking soundtrack dominated by a swanky clarinet and swinging beat. It's the classic tale of "cops and robbers" laid out over the gritty cobblestones of Europe's worst metropolis.
We are delighted to bring Sherlock of London to Microgaming's award-winning portfolio, beamed Thomas Schleischitz, CEO of Rabcat, as he accentuated the statement by blowing a few bubbles out of his oversized prop pipe. After the cheers and laughter from assembled media died down, he placed his impeccably polished magnifying glass on the podium in front of him and sternly addressed the crowd, Our team have had a brilliant time pulling together the murky, fog-filled world of criminal rogues and sleuthing geniuses, and we are confident that players will have as much fun exploring the game as we've had creating it.
Yes, you should be optimistic, Thomas, there's certainly a lot going on in this machine. Pip Pip!
Play Sherlock of London Slots Free
Play Sherlock of London Slots for free by activating the demo version below to open in either computer browser or phone. No download needed nor extra steps to take.
Good luck solving the case!