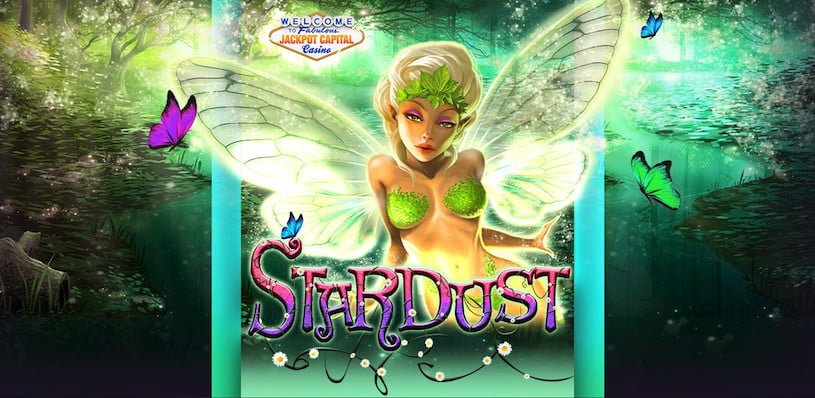 Across the nation we're starting to wind down from a long, hot summer and getting ready for cooler weather, back to school, and more time indoors to enjoy some of our favorite pastimes. Thankfully, it seems as if we're going to have tons of new slots games to choose from, with one of the most anticipated titles being Stardust Slots – a supernatural experience that's sure to have you questioning reality.
This fresh release stars one of the sexiest Fairies you'll ever come across, and you'd better not be shy because this fairy is stone cold naked…except for some well placed pond scum on her naughty bits. Yowsa! You're also treated to exotic and mystical objects like Magic Mushrooms and Delicious Crystals so this one is definitely for those players who like to experiment now and again. The game's five reels are translucent and display the images beautifully in front of the aqua green kingdom, and there are plenty of free spins to chase as well as mystical bonus multipliers that will have your eyes rolling back into your head.
Anyone living in the United States can try out Stardust Slots at the Jackpot Capital Casino who are giving players 30 free spins when they make a real money deposit of $45 or more, enabling you to try it out to see if you like it. You'll also get a 100% Match Bonus up to $500 that you can use to play any of their other wonderful games. So what are you waiting for? Sprinkle some of that stardust on your face and "break on through to the other side" today!