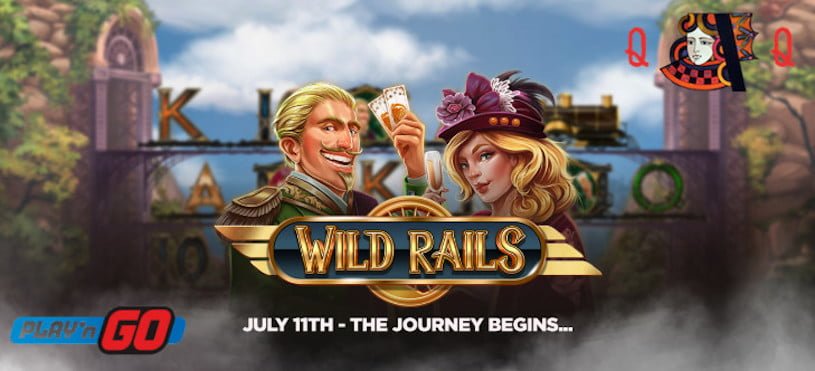 All aboard! The train is leaving the station and you'll want to make sure that you've got a seat because this trip is going to be like nothing you've ever been on before. The new Wild Rails Slots from Play'n Go has reels that spin horizontally, turning the traditional vertical board on its head, and you can see the crazy action for yourself by clicking on the free play demo below.
There are four rows of tracks bridging four tunnels between two mountains and the design is absolutely wonderful, with lush vegetation and a blue sky in the background with just the right amount of puffy clouds. The elegant scene is accentuated by the whimsical soundtrack of strings and wood instruments that will transport you directly to the stuffy days of Downton Abbey. Just make sure to bring your own tea and crumpets.
There are four unique character symbols that adorn the unconventional reels, with both the males and females looking extremely pompous and snooty. Their wardrobes burn off of the screen with vibrant colours and their blinking eyes and physical gestures add a very realistic touch to the steam-powered action. There are of course the standard elements of Wilds, Scatters, Free Spins, and win multipliers contained in this 30 payline online slot, giving players the elements that they will be expecting.
As a company, we love trying out new concepts and ideas, confirmed Play'n Go CEO, Johan Törnqvist, as he adjusted his fake monocle and gently rubbed a button on the front of his bright blue steam punk suit at the launch event. He then leaned in and unexpectedly bellowed into the microphone, We're currently on TRACK for our most successful year ever, and it is innovative games, like Wild Rails, that are going to continue that TRACK and lead us into the future! The assembled media then reportedly groaned audibly at the prepared pun as Törnqvist's wide smile quickly disappeared and he hurriedly moved on to his closing remarks.
So if you'd like to hop on board this "wild" ride and experience something you just don't see every day, head on over and open an account at Videoslots Casino now and get ready for some freaky horizontal coal-fuelled action.
Play Wild Rails Slots for Free
We obviously can't just tease you with a revolutionary game of this nature and not provide you with any proof of its greatness, so here's a free play demo for Wild Rails that will allow you to see exactly what this crazy slot machine has on offer. There is no download or registration required – just click "Continue" and it will immediately launch on your screen.
So strap yourself in, put on your conductors hat, and tell the engineer to heat up the boiler…