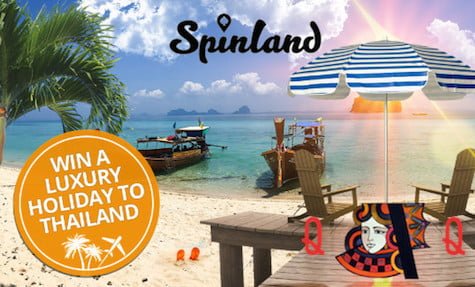 It's becoming more and more popular for the best online casinos to shower their players with luxurious prizes such as automobiles, electronics, and even once-in-a-lifetime vacations. One such website has taken this to a new level with their continuous monthly promotion that rewards one lucky person with an all expenses paid trip to Thailand that is sure to be life-changing.
The operator in question is Spinland, who are not yet a household name but are starting to attract those who are looking for something new but with all of the bells and whistles that they're accustomed to. They have tons of table games like blackjack and roulette, and of course a huge list of one-armed bandits spanning dozens of different software companies.
Now they're giving you a shot at dipping your toes in the white beaches of Thailand to live out your dream holiday simply by playing online slots for real money as you normally would at any other website. However, Spinland will go the extra mile and give you 5 Land Points for every £50 you wager and when you hit 1,000 they'll place you in the special prize draw for the trip. The only fine print to concern yourself with is that you can't travel during the peak seasons of Easter, Christmas, or July and August, and obviously you'll have to earn new Land Tickets each month if you don't win.
Think they might be trying to do this one on the cheap? Not a chance – the entire package of flights, hotels and spending money is worth £10,000 and if you don't want to go Thailand you can go on a South African safari instead. Those who have a fear of flying can simply stay home and opt to take a cash prize of £7,500 and go to a local beach to find some relaxation: it's not quite the same thing but some people will certainly find this preferable.
This great promotion is available on top of their normal welcome bonus of a 200% match up to £/$/€3,000 so visit Spinland Casino today and get in on these generous offers before they come to their senses and remove them from the site.