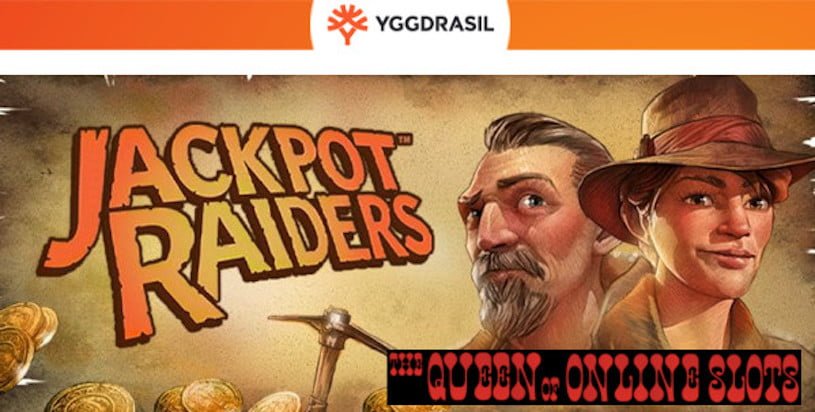 When it comes to specific types of games, nothing is more popular at the moment than online slot machines that are based on adventure, ancient books, or archeology: especially amongst German players for some reason. They simply can't get enough of "Indiana Jones style" action and imagery so software companies have been trying to feed this hunger over the past six months.
Therefore it's not surprising that we received an announcement this week about the new slot game from Yggdrasil which bills itself as an "epic journey in search of hidden treasure", so you just know that it's going to get some attention. It's called Jackpot Raiders Slots and it features 5 reels, two unique bonus rounds, two different freeroll areas, and a whopping five jackpot prizes. There are also numerous in-game decisions that the player can choose from to create their own unique adventure experience.
The stars of the release are Sam and Bear who are constantly on the lookout for the treasures of the Sunken City. You're in charge of who you play with as you can select either of them every time the "Treasure Hunt" feature is activated. Sam will give you larger cash amounts with less of a chance to make it across the fierce river while Bear has better odds to make it but with a smaller prize to hand over. So whether you like high volatility action or lower volatility, everyone will find a little something in this machine to make them happy.
Jonas Strandman, Senior Product Strategist at Yggdrasil, exclaimed, "This is the ultimate game for jackpot hunters! The smaller jackpots will drop left and right, and the biggest jackpot will grow BIG." You can tell by Strandman's enthusiasm that the company feels this title has the potential to revolutionize the entire genre – will they be right? Only time will tell.
In the meantime, if you want to see Jackpot Raiders for yourself, head on over and visit the Videoslots Casino today and load it on up and start spinning. Don't forget to grab their awesome Welcome Bonus while you're at – happy treasure hunting!