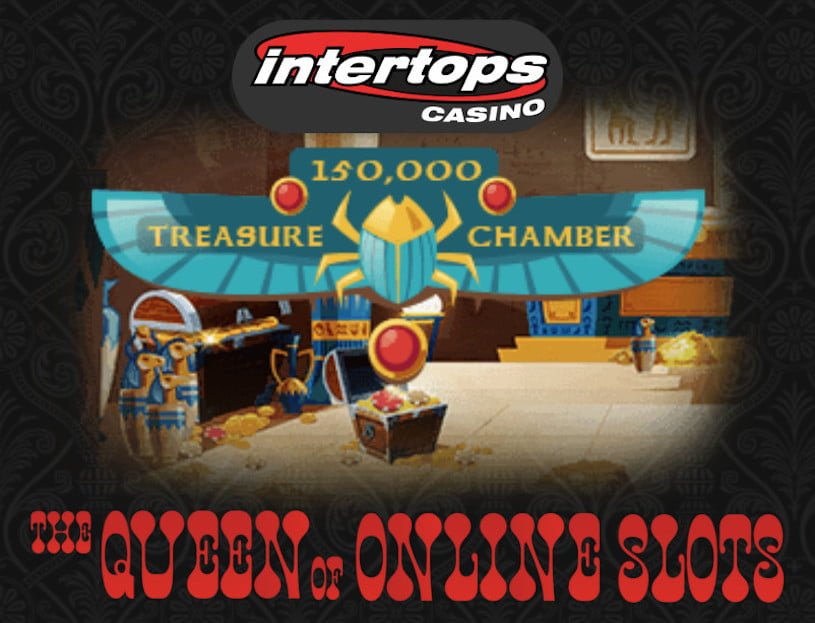 Ever since we played The Mummy Slots a few years ago we've been obsessed with both treasure and chambers due to its amazingly fun bonus round that has you searching the basements of pyramids for riches. Now there's a new online casino promotion that perfectly brings these two things together for players across America who are looking for a little extra fun in the month of June.
Some may want to read up on the host first, so feel free to check out our honest review of the Intertops Casino for USA players that explains why they're one of the most trustworthy operations on the internet today. For starters, they were actually the first betting website to come online back in the mid 1990s and they haven't missed a beat since. In addition to tons of slots and table games they also have a full sportsbook to wager on the NFL, NBA, and MLB, as well as a racebook that accepts wagers on all Grade A horse tracks in America.
Now they're stepping things up for June with their "$150,000 Treasure Chamber" promotion that will dish out cold, hard cash to the 300 lucky players who finish on their leaderboard every single Monday. The rules are easy: for every $100 you wager on any game in their casino during that time you'll earn one point, with everything being added up and the participants ranked in order on the board. If you finish in the Top 300, you get a prize – it's as simple as that.
For the next five weeks they'll award $30,000 in prizes to the top point-getters and all you need to do to qualify is deposit $75 or more with them before you start. In addition, they'll be giving everyone involved up to $500 in bonuses just for showing up and participating in the festivities.
If all of that wasn't enough, they're even going to award $1,000 to a random person who finishes anywhere in the Top 20 players at the conclusion of the contest. So if you want to join in on this fun treasure hunt, go sign up at Intertops Casino today and start stacking up the points.