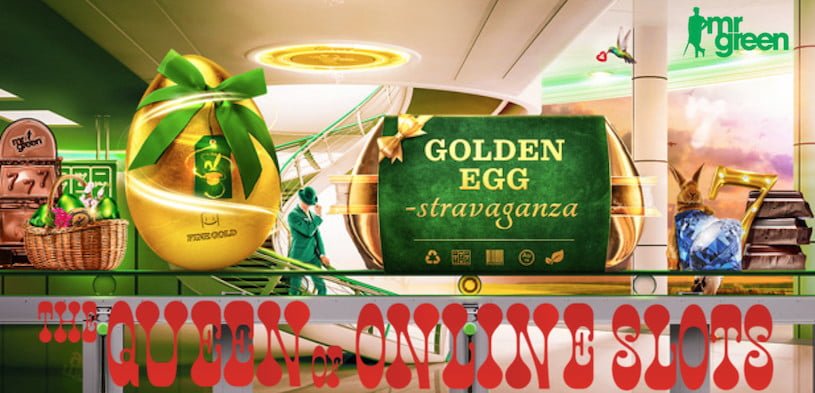 We knew that the Easter promotions would be great for 2019 but we certainly weren't expecting something like this. Over this coming holiday weekend players in Canada, the United Kingdom, and Europe have a chance of winning a real gold egg – yes, real gold.
First off, anyone who has never heard of this operator will want to read our honest review of the Mr Green Casino in order to fully understand that PR stunts like this one are nothing new for them. They're always hatching new promotions to wow their players and make headlines around the world so this one was almost to be expected from them.
So what's the deal with this prize? Well, it's a solid 18 Karat Golden Egg worth approximately $10,000 that you can display anywhere in your house – just imagine the conversations you can have with your friends about this! If the gold would clash with your current living room furnishings you can simply opt to receive 80% of it's value in cash. Just make sure that you check your email every day because they'll only try to reach you for 72 hours after the draw before awarding it to someone else.
All you need to do to qualify for the draw is play 100 spins of at least $0.50 on any of the following holiday-themed games and you'll get an entry, with 200 spins equalling 2 entries, 300 equaling 3 entries, etc. The random draw will then take place on April 24th and then that golden egg is going to have a new home.
Qualifying games:
Lucky Easter
Mystery Reels Megaways
Lucky Fortune Cat
Jack in a Pot
If the chance to win an "oeuf d'or" wasn't enough, Greenie will also give you 30 seconds of free playtime on Lucky Easter Slots every time you qualify for a ticket. It's basically infinite free spins within the time frame to try to stack up some gratis cash. Oh – and if you live in Denmark you'll also get an extra 50 spins just for registering with them and there's absolutely no deposit required.
This promotion ends on April 23rd, 2019 so you'd better hop on over an sign up at the Mr Green Casino today to take your shot at egg-stravagance.