Last week, a new deposit method for slots players in Australia was launched and today more great news arrived for readers "Down Under". This time it's from Joe Fortune's marketing team announcing that going forward, first transaction amounts will be doubled for rookie clients.
Yes, this obviously translates to a 100% match bonus, but there's something a little special about this particular promotion. For quite possibly the first time ever in iGaming history, no limit restrictions are attached to receivable amounts, conceivably issuing tens of thousands of dollars in free money or even more. Not putting a maximum on a welcome offer is completely unheard of and causes one to wonder if maybe Joe had too many VB stubbies before approving this one.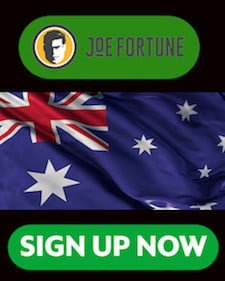 Countless individuals are confirming they're thrilled with the products and level of customer service at Joe Fortune, without a single complaint lodged in over three years. They top our list of best Australian online casinos for numerous reasons, steadily charming punters from Perth to Paraburdoo.
To be fair, the only gripe someone could have is that it presently takes a while to receive payouts, however, this is absolutely normal and simply part of the island continent's current landscape". As the main withdrawal method is still a check sent by mail, it can take up to 3 weeks to collect winnings, but that's a small price to pay for playing somewhere totally safe and honest.
Those seeking to double first deposits and receive unlimited welcome bonuses should sign up at Joe Fortune to take advantage before they sober up and take it down. This one's a real shocker.