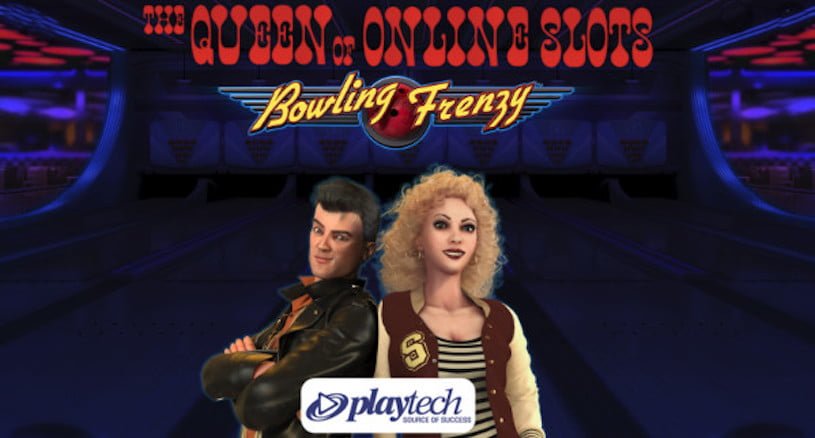 Whether it's Kenny Rogers and Dolly Parton or Tom Petty and Axl Rose, everyone loves a good collaboration – especially if it results in something unique. Well, now we're seeing what Playtech's Vikings and SUNFOX studios can do when they put their heads together and the creation that they birthed will have you waxing nostalgic in addition to waxing your balls.
That's right, we now have a bowling-themed slot game that's gonna knock you over like you were a pin on the receiving end of a ball smashing into a 4-10 split. It's called Bowling Frenzy Slots and it has 3D graphics, two different free spins modes, and an immersive bonus round that will put you directly in a neon alley to toss balls down the lane – the more pins you knock over, the more Wilds you'll get added to the reels. This is all in addition to the "King Pin Cash" option that you can choose if you trigger the special features.
There are tons of bowling-themed symbols on the board like a greasy hamburger with french fries, freshly-disinfected rental shoes, and a classic pink American automobile. These are mixed in amongst the stars of the game who will immediately remind you of Danny and Sandy from the movie Grease because she's dressed in jeans and a varsity jacket while he's in a bad boy leather jacket and wearing his hair in a greased pompadour. Not to mention, there's a frantic 1950s-inspired soundtrack that will have your toes tapping and your head spinning.
Playtech are well-known for their movie-themed releases that focus on DC Comics superheroes like Superman, Batman, and Aquaman, just to name a few. However, they have also branched out into science fiction, launching the hugely-popular The Matrix Slots last year to much fanfare.
The great value of the multiple studio format is that each one brings their own distinct strengths to the table, bragged Playtech Casino Director, James Frendo. We're very excited that two of those studios have worked together to create a graphically innovative title with compelling gameplay and a classic retro appeal.
So if you want to take a trip back to the fantastic era of the '50s, go register at Casino Cruise today and start rolling with this greasy, neon machine that will work you into a Rock N' Roll frenzy. Don't forget quarters for the jukebox!