It looks like the folks over at Pariplay have released yet another perplexing yet prosperous title that will amuse some players and confuse others. They have a long tradition of making daring creations that elicit strong emotions from the iGaming community and the one they just dropped this week will definitely fall into that category.
When you first see The Prancing Pony Slots written out on a screen your first instinct is to assume that it's going to be entirely based in the Wild West and feature large-headed cowboys battling each other in some variation of an old timey shoot em' up. However, these assumptions are dead wrong and you'll have to go much further back in time to get a handle on what the scene is here. Let's just say that it's absolutely nothing like John Wayne Slots and you'll be more than a little surprised with what you find in this town.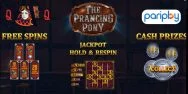 The title of the new game actually comes from the name of the tavern that you'll be hanging out in, and be ready because this watering hole attracts tons of weird characters. How weird? Well there's wizards, dwarfs, and even a hobbit or two – this place clearly needs better security. Anyway, get ready for some strange looks as you try to snatch their golden treasures and add to your personal riches.
This one-of-a-kind video slot sports a whacky 5×6 set of reels and 50 paylines, ensuring that you'll be glued to the action to keep tabs on what's going on in front of you. Prancing Pony also has tons of possibilities for freerolling thanks to its 5 unique free spins modes (which can all be re-triggered) and the Jackpot Respins feature that really jacks up the win amounts. Every thing comes together to offer players an average return of 95.97% putting it squarely in the middle of the pack in terms of payout averages.
This is really one of those machines that you have to play for yourself to understand because everything just feels so weird – especially when you realize that they included Pariplay PXplay which allows for fully customizable user controls. Just wait until you accidentally move that spin button in front of the reels for the first time!
If you'd like to visit this crazy tavern for yourself you can play Prancing Pony Slots for free with the demo version below. Just make sure you keep an eye on those creepy hobbits!