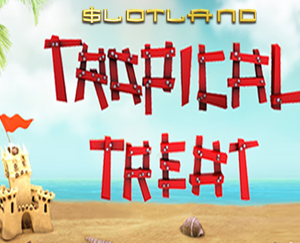 The first days of summer 2017 are almost upon us, and our thoughts move to sunshine, water and vacation fun. With this in mind, we are very excited about a new slot introduced by Slotland called Tropical Treat.
This slot game features sun, surf, and sand castles, enhanced by the beats of the tropics playing in the background. It features high end graphics, and various ways to win, and even though the bonus rounds don't have flashy speedboats like Baywatch Slots, you'll still have lots of fun in the sun.
With $.01 to $4 wagers per payline, even the buttons fit into the tropical theme. When selecting your wager amount, choose from pebbles in the sand. When selecting the number of lines to play, instead click on a sand castle. As you place your bet, beautiful butterflies flutter across the screen.
This 50 payline game has features that can lead to some very enticing wins, one being the Double Wide feature. Additionally, this game has a progressive jackpot, tied to the Slotland progressive jackpot pool. Achieving the Five Compas or Global Symbols on a payline can lead to this very large jackpot, currently with a value of over $180k! Players can also trigger ten free spins when earning three scatter symbols which will multiply wins by five times.
Interestingly, the progressive jackpot at Slotland regularly pays out over $200,000, and also happens to be one of the most often won progressive internet casino jackpots. This game is also offered at Bet365 Casino, where several players have already been lucky in winning the progressive jackpot on this game.
Tropical Treat will give you a head start on your vacation, relax you, and give you something to do on rainy summer days. We expect there will be many more fun slots to be released in June, so keep checking back for new announcements.